Responding to trends in interior design while offering surfaces that are durable and perfect for high demand areas like the bathroom and kitchen, CRL Stone has updated its CRL Quartz range with several new colours.
Tapping into the move towards nature-inspired materials and dulcet, muted tones in the kitchen and bathroom, the three new CRL Quartz shades complement the existing collection brilliantly.
Emulating classic marble, with a natural feel that helps bring the outdoors in year-round, CRL Quartz Vesuvius, pictured above, features a bold and distinctive pattern that makes the surface an instant focal point.
Also new in the CRL Quartz range for 2021 is Staccato, a dark and sophisticated surface that has all the beauty of marble, including a white veining running throughout. Lighten the mood by contrasting Staccato with light coloured furniture or combine with similar dark shades for a sultry look.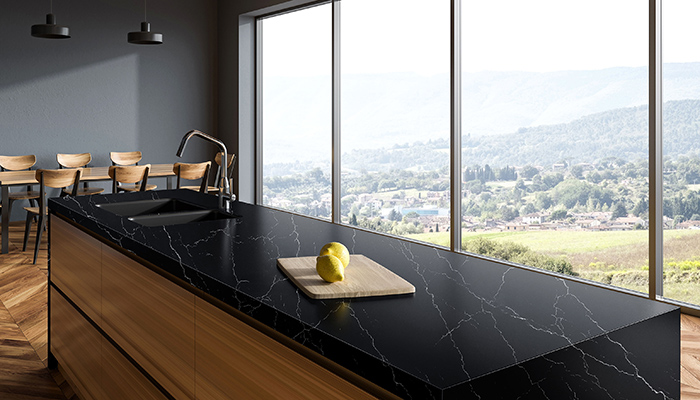 Joining these two stand-out surfaces is the timeless and elegant Urban Grey. This versatile colourway is given a new twist with a subtle fleck running through the quartz, making it simple to combine with virtually any décor.
To support the launch of the new surfaces, CRL Stone has also published an updated CRL Quartz brochure, encompassing the full range. With stunning real-life photography, the brochure aims to inspire consumers, while full product specification details gives retailers all the information they need at a glance. With each collection within the CRL Quartz range clearly categorised, this is an easy-to-use guide, that encourages consumers to browse at their leisure.
Alongside full product descriptions and photography of each surface, the brochure also includes a comprehensive list of features and benefits of the material, plus care instructions, enabling consumers to instantly see why choosing CRL Quartz for their kitchen or bathroom project is a good investment.
For copies of the new brochure visit www.crlquartz.co.uk, or call CRL Stone on 01706 863600.