Four months after unveiling their biggest ever product launch during lockdown, Masterclass Kitchens Sales Director, Steve Tough, reflects on their product launch and how it's been received through their network of retailers across the UK.
Creating More Opportunities For Retailers
"We have created even more sales opportunities for our retailers. Our unique selection of storage solutions not only perfectly co-ordinate with the cabinetry, but more importantly, they cannot be purchased anywhere else and form an integral part of our ever-growing Signature Collection."
"In addition to this, our new collection of wood and stone-effect work surfaces and accessories allow the designer to perfectly co-ordinate the entire kitchen design. Used as worktop, splashback, upstands, shelving or even as an entire kitchen, this means everything will arrive from us at the same time, allowing you to complete the project and walk away, while maximising profitability and maintaining complete control."
Masterclass Platinum Partner retailer, Owen Williams Kitchens, has shared his views on how the launch has given his customers more choice than ever before, leaving them with no need to look anywhere else. He commented: "We've got several kitchens being delivered in the coming weeks using the new products, which we can't wait to get some photos of! The new décors mean that we can now offer our customers such a huge choice, that they really don't have to look anywhere else. As ever, we've been really impressed with the range of unique products in the new launch – the metallic painted handle rails have been particularly popular."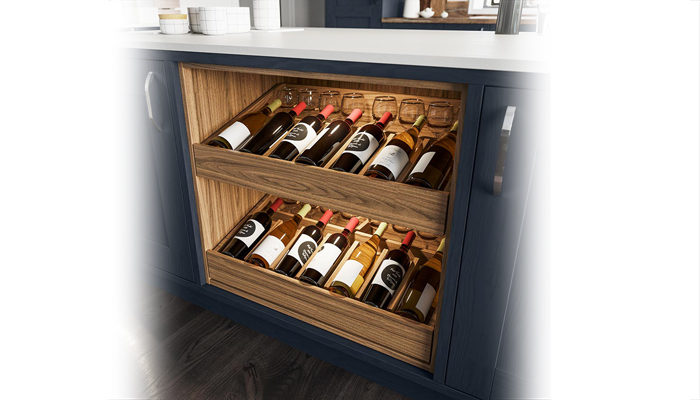 An Innovative New Way of Launching Products
Says Steve Tough: "This is without doubt the biggest and best product launch I have ever been involved with and to be one of the first in our industry to do this entirely digitally has been absolutely invigorating, albeit challenging at times! Our customers have been eager to plan and install new displays and their time in lockdown was spent wisely. This has resulted in them being able to showcase and sell the new products to their own customers, within weeks of the launch."
"We are super excited and very much looking forward to the next 12 months and remain encouraged by how our network of retail partners are responding to the current climate. We have seen a 125% increase in website traffic, as well as a 253% increase from social media over the past 6 months, so don't hesitate to contact us if you want to find out more! This really is the Next Chapter in Kitchen Design."
Stand out from the crowd with Masterclass Kitchens: masterclasskitchens.co.uk/standout