As summer has drawn to a close, students of all ages are now heading back to education and it's the perfect time for retailers to offer customers the 'must have' addition of a new study zone. Crown Imperial's furniture portfolio features an innovative choice of Lifespace desk and storage solutions, accessed through a central design palette to ensure a seamless fusion for any room in the home.
Multi-functional bedroom & study design
Crown Lifespace and bedroom furniture is featured here in a multi-functional scheme, achieving a harmonious organised style, with a dedicated study zone, ample storage for essentials including space for the latest devices. Locano is showcased in a white and grey matt finish, adding a light and airy feel while meeting the needs of modern lifestyles. Locano is available in 6 colours and 3 wood styles.
Crown Lifespace provides the perfect platform to create a combined bedroom and study area, presented here in a two tone mix of Zeluso grey pale and graphite. The double wardrobes maximise floor to ceiling height, while achieving an informal room divide between the sleep and study zone. The Lifespace modular tiered shelving creates a feature storage wall with a matching desk to achieve a unified design. Zeluso is available in 11 matt shades.
Dual kitchen living & study design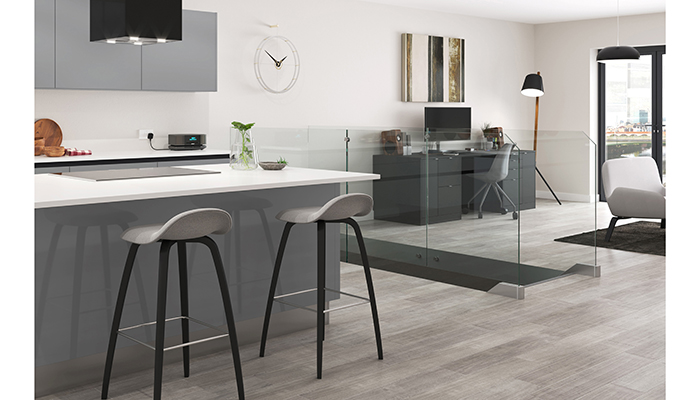 Designed around customers' individual needs, Crown Lifespace boasts a variety of flexible configurations and modular furniture options. A living and study zone is an ideal room choice for where space is of a premium, featured is a dedicated desk away from the action in Zeluso matt black, including clutter free storage options and easy access to everyday essentials.
Explore the latest Crown Lifespace and bedroom collection online – www.crown-imperial.co.uk/bedrooms
www.crown-imperial.co.uk Telephone – 01227 742424