Perfect for autumn bedroom inspiration, renowned British manufacturer Crown Imperial offers a stunning choice of modern and classic furniture styles. Get set for the season with its new Rimano collection, offering retailers an elegant palette of 22 painted shades to create a relaxing bedroom sanctuary.
Rimano epitomises a modern yet classic feel, boasting a delicately proportioned bevel design in a subtle off white shade. The entire Crown bedroom collection boasts a host of style choices including matt, gloss, wood effect and painted wood, ideal to mix and match to create an individual scheme. Designers also have access to a versatile choice of furniture configurations to effortlessly personalise the storage needs of its customers.
Ideal for modern lifestyles, Crown's Lifespace range is designed to achieve a work-life balance, with a flexible choice of home working and storage solutions. Zeluso is presented in a fresh contemporary multi-functional bedroom and Lifespace work zone, showcased in an eye catching midnight blue and white, achieving a seamless fusion.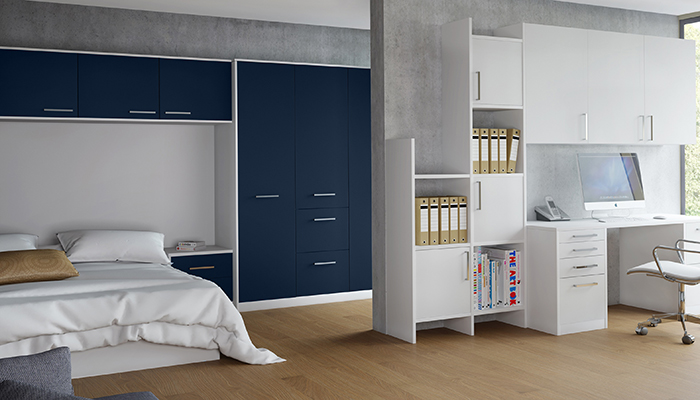 Crown Imperial's fitted bedroom furniture offer a choice of four flexible wardrobe height options and over 50 stylish handles, as well as a bespoke panel service to maximise every centimetre. Find design inspiration at www.crown-imperial.co.uk or request the latest 'The Bedroom brochure'.
01227 742424