With the UK underfloor heating (UFH) market increasing year on year and becoming a preferred heating option within residential and commercial properties, Gail Alcock, flooring director for Malmo, talks through the compatible flooring options available and the benefits offered by Luxury Vinyl Tile (LVT).
"Many consumers choose water-piped UFH as it's an excellent heating source for large, open-plan rooms and ideal for achieving streamlined aesthetics. By replacing radiators, which often take up valuable wall and floor space, UFH can also provide greater design freedom for room planning.
"Bathrooms and kitchens are the most popular rooms in the home for UFH as it's an ideal way to keep them cosy and warm underfoot. It distributes heat evenly to deliver a constant, ambient temperature, and works on a lower flow temperature than radiators, which increases efficiency and saves homeowners money over time. With an efficient heat output setting at around 27°C (compared to radiators, which are usually set to around 75°C) to heat up a room effectively, UFH consumes less energy and can lower bills by around 15%.
"Choosing a floorcovering that will be compatible with the system is important because not all flooring can cope with the fluctuating heat and high temperatures. Engineered wood, stone, ceramic tiles, laminate and LVT are all among the best options for UFH systems. LVT is currently the fastest-growing floorcovering in the market and our Malmo range is available in rigid click and stickdown options, which are both compatible with water-piped UFH, giving it the flexibility to be installed over the heating system in any room of the home.
"Heated floors naturally expand and contract as the temperature fluctuates, and both the fully bonded stickdown LVT and rigid LVT are well equipped to cope with these movements without impacting the floor's integrity. As LVT is thinner than stone and ceramics, the heat naturally rises and passes through the floor material meaning areas will heat up quicker. With LVT also being naturally warmer underfoot than tiles for example, installing without UFH will still give a cosy feel and stylish look.
"Not only is stickdown LVT well-suited to UFH, its fully bonded and adhered installation means it can also cope with sunlight 'hotspots' in conservatories and rooms with floor to ceiling glazing – as is the ongoing interior trend.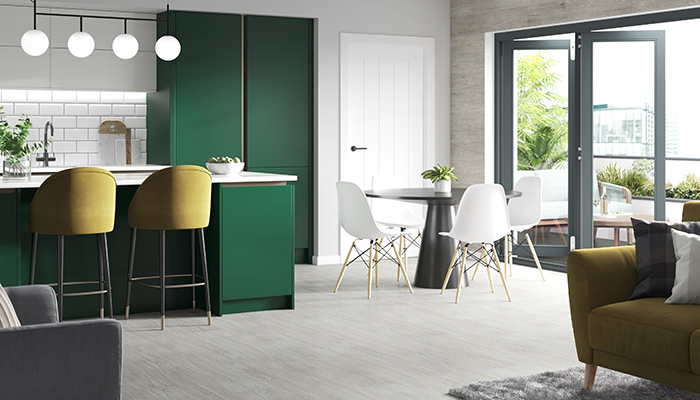 "LVT flooring offers the additional benefits of being high performance, easy maintenance and in the case of rigid LVT, very easy to fit. Design-wise, LVT ranges such as our Malmo collection have come a long way in recent years, due to the product's ability to deliver stylish and authentic looks. We've just added 13 new design-led finishes to our Stickdown fully adhered range that keep it on point for a range of styles and tastes. In the past, vinyl flooring has had a bad reputation for looking and feeling cheap with poor imitations of real materials. Unlike traditional sheet vinyl flooring, the new generation of LVT comes in tile, plank and herringbone formats and is available in a wide variety of colours and textures that authentically mirror natural materials and which are more economical than their real counterparts. Our Malmo Senses rigid collection in particular has garnered industry awards for its sophisticated, natural appearance created by the innovation of registered embossed textures.
"We're seeing more and more retailers and consumers viewing LVT as a real alternative to tiled and real wood floors thanks to its long-lasting performance, flexibility for installation in any domestic or commercial setting, and its superb creative scope that continues to reflect the latest consumer tastes and interior trends. The material also harnesses the benefits of easy cleaning and no ongoing maintenance compared to natural stone and real wood flooring alternatives, so it is very much in tune with today's enhanced hygiene requirements. With or without the addition of underfloor heating, LVT makes a stylish and beneficial flooring choice for everyone."