As the doors open to the new Domus tile showroom in London's Clerkenwell, Amelia Thorpe talks to CEO Jon Newey to hear about the latest developments, and how he has Birmingham and Manchester in his sights next.
Known as a leading supplier of tiles, mosaics, stone and wood to the residential project sector, Domus has just opened a new showroom in Clerkenwell. After the lease expired on its previous store on the same street, the company has downsized to a 2,800sq ft showroom, about half the size of before. "It is an important area for our architectural community where we've forged a good presence and had some amazing success, but we didn't need such a big space," says CEO Jon Newey. "Crucially, at our new store, we have two lovely external spaces which make everything feel bigger and more comfortable."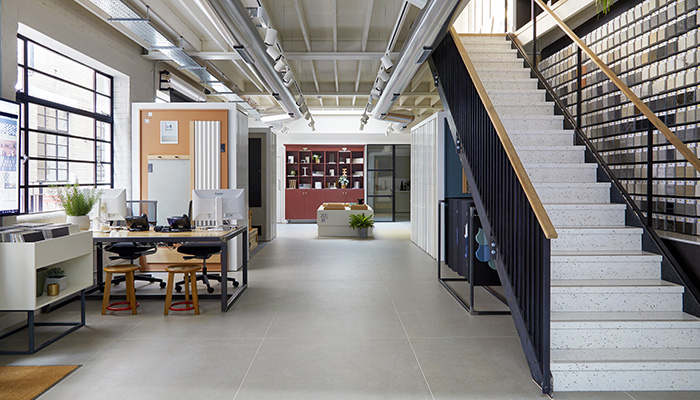 "Since COVID, I don't think we can expect – in the short term or even the medium term – that the volume of footfall will return or that customers will use showrooms in the way that they did before, so we have scaled things to what is probably a more relevant level," he continues. Situated at 1 Sutton Lane, EC1M 5PU, the two-storey space has dedicated areas for client meetings and hot-desking, a bar and lounge, plus a tile reference library, known as the "dispensary", of over 250 tile ranges in all colour and finish options. There is also a photo booth to allow clients to create and document mood board concepts.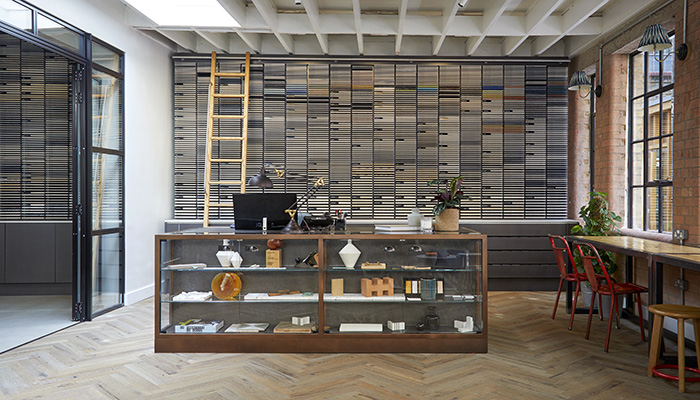 The new showroom joins existing stores in Battersea, W1 (Fitzrovia) and the HQ and outlet at West Molesey. Next on the cards is a new showroom in a Victorian former metal pressing workshop in Birmingham's St Paul's, due to open just before Christmas. "This is a whole new venture for us," says Newey of Domus' first showroom outside London and the South East. "There are many development projects taking place in and around Birmingham and exciting things happening, including support from HS2, and it's a growing market for us."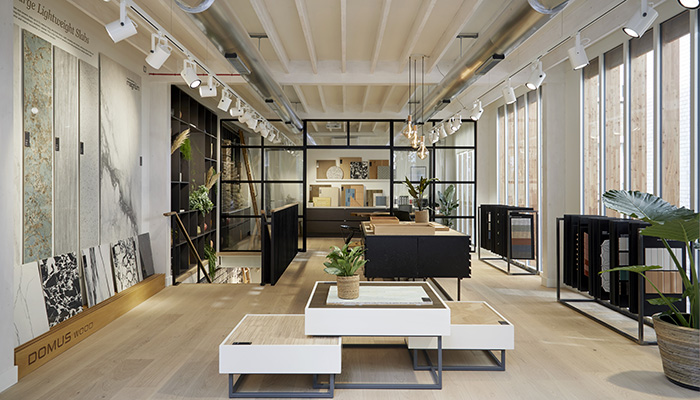 And why should kitchen and bathroom designers consider Domus for their projects? "We are a very established business, having been founded in 1964, and what makes us different is our people – very professional individuals who are committed to what we do," says Newey. Service and knowledge are key, but so, he says, is the design flair of his team and the "everything you need for floor and wall" choice proposition: there are about 500 tile collections, plus engineered wood flooring – a sector for Domus which has "grown very rapidly in the last 5 years particularly" – and engineered laminate and vinyl.
Annual turnover is "currently around £25million" and the business has been owned by Europe's leading floorcoverings distributor, Headlam Group Plc, since 2017. Its new owners have facilitated the recent move into a new warehousing and distribution centre in Rochester, now fully operational, and are also behind the plan to develop regionally. "We've got Manchester coming after Birmingham – we are the market leader in what we do and would like to extend that leadership across the country," says Newey.