Isabel Fernandez, director of limestone, marble, and porcelain flooring and wall tile supplier Quorn Stone, reveals the 10 key kitchen flooring trends set to dominate in 2022.
1. Large flagstone
For centuries, estates and country homes have used flagstone flooring, thanks to its hardwearing characteristics and classic appearance that have stood the test of time. Now more than ever, people are wanting to create this timeless look in their kitchens by choosing large-format flagstones. Most commonly, the 'free length' or 'random length' tile size is opted for, by which the widths are fixed (usually 500mm or 600mm) and then lengths are a random selection ranging upwards to 1000mm. This free-length flagstone has the ability to work in all kitchen sizes and creates maximum focus on the beauty of each tile.
2. Dijon limestone
Dijon is a neutral-toned limestone tile that complements an array of colour schemes with its soft beige and light grey hues. The minerals, fossils and calcite veining evident in this limestone tile make it a forgiving and classic choice for both interior and exterior applications. It's also available in a variety of finishes and tile sizes – our most popular finishes being 'tumbled', 'brushed' and 'seasoned'.
3. Buff sandstone
A big kitchen flooring trend for 2022 is buff sandstone tiles – offering the ultimate neutral with soft pale wash tones and unique texture. Sandstone, like limestone, is a hardwearing and practical option ideal for kitchens, and the texture also provides grip underfoot. Buff coloured tiles complement the much-loved modern country look and also work with an array of different paint colours.
4. Grey limestone
Grey is a colour that has come and gone throughout the years – while warmer tones are also popular options, there is something so classic about a grey limestone tile. Whether it's a soft pale grey or a rich grey with variation from tile to tile, the beauty of limestone is that no two tiles are ever the same – we think a grey limestone adds depth and character to any kitchen space.
5. Tumbled effect porcelain
A big trend for 2022 kitchen floors is tumbled effect 'stone look' porcelain. Together with the character and variation from tile to tile, this soft tumbling effect lends itself beautifully to rustic, and modern country-style kitchens. In fact, many of the tumbled edge porcelains out there are hard to distinguish from a natural limestone.
6. Beige
While for many years grey seemed to be the only kitchen flooring tile everyone wanted, we have recently seen a shift towards warmer tones, with the beige trend set to stay. The beauty of beige stone-effect porcelain is the variety of prints and tones on the market – from industrial-rustic beige stone tiles to a creamy beige country kitchen floor, there is something for everyone in the stone-effect porcelain tile industry.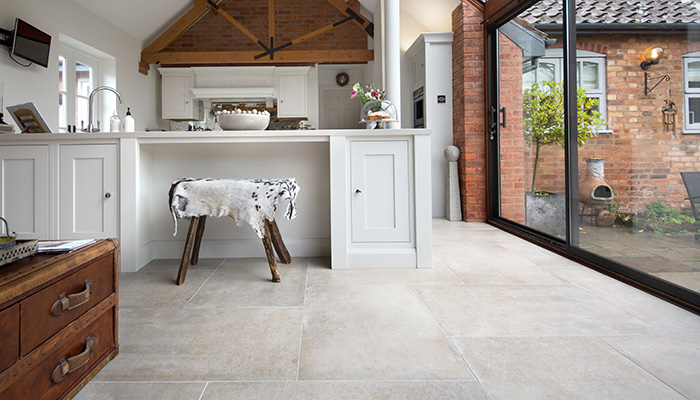 7. Large-format porcelain
With state-of-the-art machinery advancements, large-format porcelain is becoming an on-trend and popular tile size to choose. A large-format tile works in open plan kitchens and helps to minimise grout lines and maximise the focus on each tile. Another consideration is whether you lay the tiles width or length ways from the point you stand (from a doorway or viewpoint). For narrow spaces, width ways will make the space appear wider, while for shorter spaces, length ways will make a kitchen appear longer.
8. Oak wood look
Wood-effect porcelain flooring is a more practical choice to solid wood floor and the prints and tones available certainly do mimic the look of real wood! Oak wood-look kitchen tiles offer an authenticity and warmth just as real oak does, working beautifully with oak beams – an ever-popular feature to have whether it be in a new build or an original element of character properties.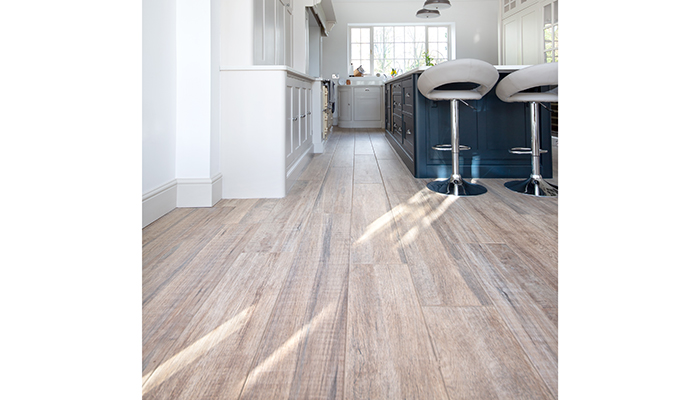 9. Herringbone and chevron
One kitchen floor trend for 2022 has to be herringbone and chevron formats. Whether it is a smaller parquet wood tile or a larger wood-effect tile, these alternative laying patterns add something a little different to a kitchen. The key distinction between herringbone and chevron is that herringbone tiles meet at a 90-degree angle for an effective zigzag look, whereas with the chevron format they meet neatly together at one point. Traditionally, parquet kitchen flooring is laid in a herringbone format.
10. Whitewashed and coastal wood look
If you're wishing to create a light and airy feel in a scheme, then the whitewashed and coastal kitchen floor trend will work wonders. The soft neutral tones in wood-effect tiles help to create a calm and inviting kitchen space with a coastal feel. The Belsford porcelain collection offers a lovely driftwood-effect kitchen floor tile that fits the style perfectly. The distressed look of this tile also provides a forgiving surface for everyday busy homes.