As C.P. Hart launches a raft of new products and unveils its exclusive designer room sets, Amelia Thorpe takes a tour of the Waterloo flagship showroom to see what's new.
Premium bathroom retailer C.P. Hart has set out to reinforce its leading position by unveiling 14 new product ranges, many of them exclusive, and 4 specially commissioned room sets at a Wellness Reimagined event at its flagship showroom in London's Waterloo on 24th November.
"Well-planned storage has become an absolute essential in bathroom design today," says Yousef Mansuri, director of design, of the reason for the launch of 6 furniture ranges. They include exclusive Alexander and Quadra contemporary glass vanities from Italy, an Art Deco-inspired Nostalgia collection from Ex.T, plus exclusive Rowan, Hazel and Hawthorn classic vanities.
Fluted finishes were amply evident – on Karol Signature and Fusion vanities to Aura Pedestal basins in concrete, while choice of finishes was the order of the day in brassware, including 14 options on the latest Gessi Venti 20 brassware collection.
Also unveiled was the UK's first Dornbracht Design Studio, an area dedicated to displays of brassware from the premium German brand, including the new CYO collection and steel basins from sister brand Alape. For C.P. Hart itself, exclusive brassware launches included Switch contemporary shower fittings with innovative push button technology and Italian-made P1. "The interest in industrial style shows no sign of abating, but we are definitely seeing the look become more refined," notes Mansuri of the P1 collection, which features minimalist deck and wall-mounted spouts, 4 handle styles and 4 finishes.
But it was probably the 4 room sets that caused the most stir at the event, thanks to the individual approaches to bathroom design. Interior designer Eva Sonaike celebrated her Nigerian heritage with a room inspired by beach houses on West Africa's Atlantic seashore, featuring her signature Odi wallpaper and C.P. Hart's Delfo vanity units and green Alga gloss wash bowls.
Architects George Bradley and Ewald Van Der Straeten of Bradley Van Der Straeten created a sanctuary-like design which leads around sound-softening curved walls clad in bamboo ply, to a secluded showering space, then a Bettelux Oval bath at its heart. "Plants, curved walls, light, air quality, acoustics: these are all things that are rarely seen in the design of bathroom spaces," say the pair.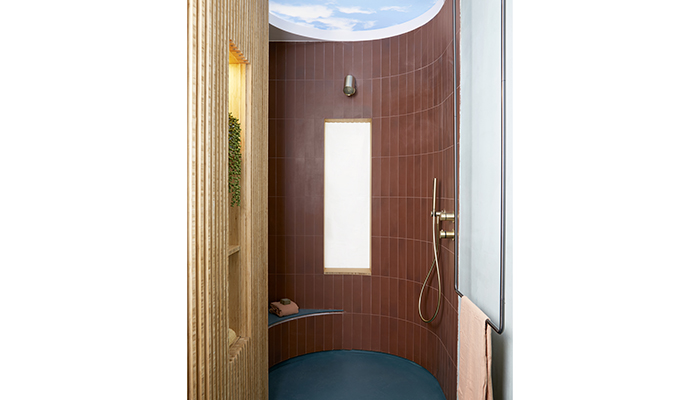 Fun to see interior designer Charu Gandhi of Elicyon create a canvas tented bathroom-scape with touch of safari chic. "Given the recent challenges around travel and the need to discover special places at home, we've sought to create a fantastical space – one that transports you elsewhere," she says. The design features a copper bateau tub from C.P. Hart, a jade green onyx hammam, wallpaper from Rapture & Wright and bespoke vanity made from reclaimed timber.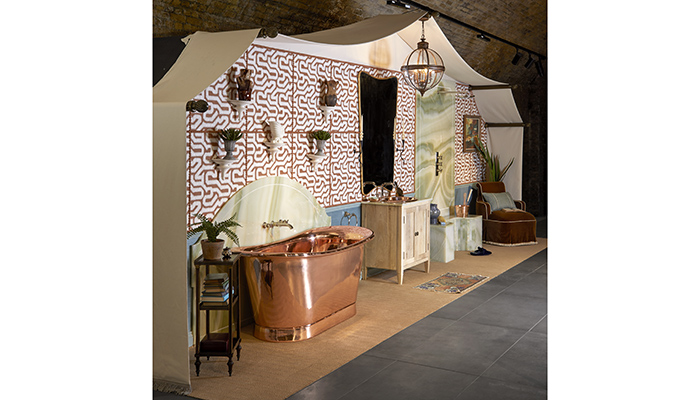 To complete the room sets, award-winning interior designer Karen Howes of Taylor Howes Designs drew on Japanese influences to create a calm, meditative bathroom. Featuring curved polished plaster walls, a Youku S Shelf 45 sauna in heat-treated aspen and a freestanding Tosca basin in Brunito Terracotta, the design uses soft recessed lighting to lend warmth and comfort.