There's been a real change in the perception of bathroom accessories in recent years. While still highly functional, these little gems are now also super-stylish and can help consumers inject real individuality into their bathroom spaces. Nicola Hanley takes a look at this growing market.
For a long time, accessories were seen as practical essentials that provided the finishing touches to a bathroom and were often considered something of an afterthought. And while this is still the case for some designers and homeowners, more and more are viewing them as key parts of a complete bathroom design.
"There has been a noticeable shift in the importance of bathroom accessories and their significance as part of the overall design of the bathroom in recent times," says Paul Bailey, leader, category specialist UK, Lixil EMENA, responsible for Grohe bathroom product category in the UK. "Consumers now have a greater choice with many opting to co-ordinate accessories, taps and ceramics to achieve a complete and seamless look."
Manufacturers have really upped the ante and are constantly innovating and extending their ranges, offering complete accessory sets and providing homeowners with more designs and finishes that combine aesthetics and practicality in equal measure. "Consumers are looking for functionality with style and individuality. Forget boring and clinical. It's all about expressing their individual style," says Sofia Charalambous, sales and marketing director at Bathroom Origins.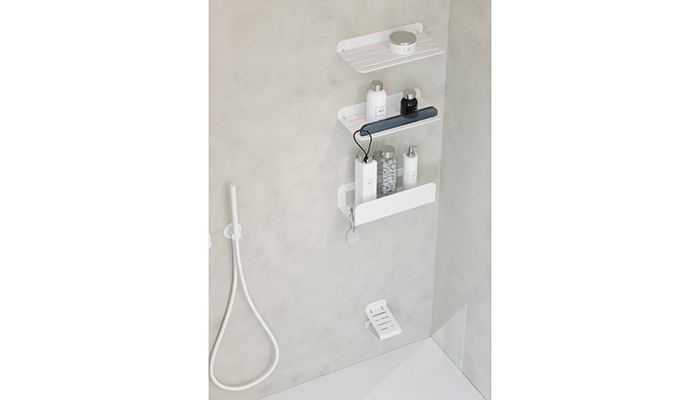 So what colours and finishes are trending in the bathroom? "Accessories are mirroring taps in terms of finishes and styles and we have seen a shift away from chrome-only ranges, with options including matt black and brass being particularly popular," notes Ben Bryden, sales and marketing director at RAK Ceramics.
Bathroom Origins' Charalambous says matt black, matt white and brushed finishes including nickel and brass are winning over consumers. It's a similar story at HiB. "We have seen a strong increase in sales of black accessories and have also recently released our brushed brass finish, which is growing in popularity," says sales director Ash Chilver. For Grohe, bold metallic finishes and warm golden and deep graphite tones offer a stylish edge, says Bailey.
Also seeing an increase in demand for stylish, high quality accessories is PJH. Product manager Julie Lockwood says sales of its Italian Accessory Collection grew by 62% over the last year and believes more interesting finishes and textures are really tempting consumers. However, she says there's another factor also at play. "Much of this increase in sales can certainly be attributed to lockdown periods as consumers have been spending so much time at home, updating their interiors. Bathroom accessories can make for a perfect, quick and easy bathroom makeover, won't cost the earth and will instantly refresh any bathroom, en suite or cloakroom."
HiB's Chilver predicts that we'll see more unique finishes coming to market. "Manufacturers will continue to provide more textures and colours to offer customers more choice," he says. Multifunctional products that cater for the UK's small bathrooms will also be a focus according to Grohe. Bailey says the brand has seen demand for accessories that offer storage and convenience and will be adding hairdryer holders to its collection in 2022.
"It's exciting times for the bathroom design market including the bathroom accessory category," says Bathroom Origins' Charalambous. "As more consumers look to their homes, especially their bathrooms, as a space to escape and retreat from the frenetic world we live in, they will want to invest more in the way their bathroom functions, looks and feels."