The bathroom mirror is the designer's friend, but it's not just an opportunity to reflect light and create visual depth in a space – it's a chance to introduce an added layer of elegance, and take a scheme to that next level in terms of both style and sophistication. Emma Hedges rounds up 10 of the latest launches.
1. The new Docklands Capsule from Origins Living is an addition to the brand's highly successful Docklands collection, and featuring organic, flowing curves, it's perfect for the client who is keen to add a sculptural element to a scheme. Measuring 500 x 800mm, it can be hung either landscape or portrait depending on requirements, and comes in a choice of Brushed Brass, pictured, or Black finishes.
2. The RAK-Hestia illuminated mirror from RAK Ceramics has touch sensor controls, making it a practical addition to a bathroom environment, ensuring that there is adequate task lighting right where it is needed for shaving and applying make-up. Featuring a demister pad to keep it steam free, it's available in four sizes – 500 x 700mm; 600 x 800mm; 1000 x 600mm and 1200 x 600mm, all with a projection of 55mm.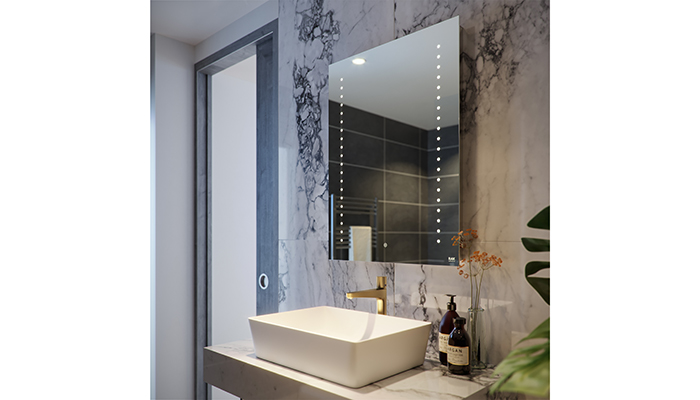 3. The Bellus round mirror from HiB features an intricate patterned border that can be illuminated via touch-free operation, and comes in 600mm and 800mm versions. The chamfered diffuser on the back of the mirror is said to create a delicate, ambient glow across the wall, and the colour temperature of the light can be changed from cool to warm, while a heatpad keeps the mirror surface condensation free.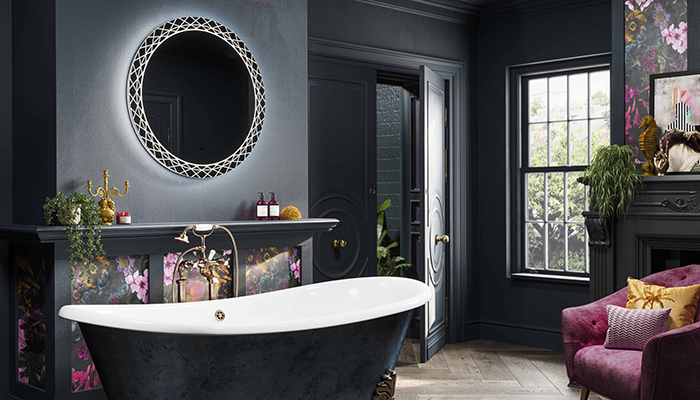 4. The elegant Curved Mirror from Burlington has a chrome finish and comes with an anti-shatter safety film, along with a seal that prevents the mirror blackening at the edges due to exposure to moisture. Measuaring 700 x 700mm, its styling works in a traditional setting, or to add a vintage touch to a more modern one. It comes with a 5-year guarantee.
5. The latest addition to the Origins Living City range is the contemporary-style City Shelf mirror, which comes with a handy and compact integrated shelf area to provide a little extra useful storage in a minimalist setting. Made from stainless steel, it comes in two on-trend finishes – Black and White – and measures 500 x 750mm.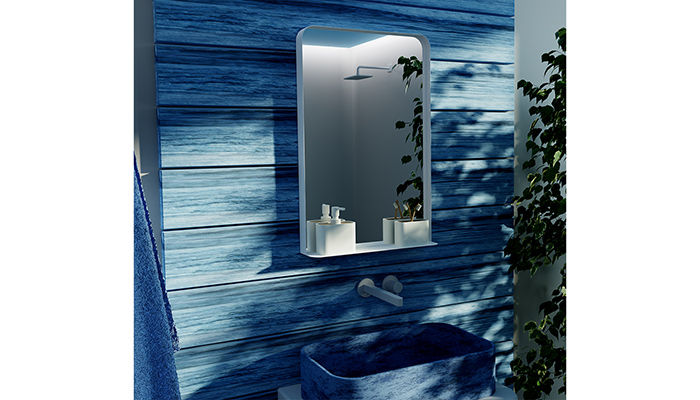 6. Roca's Iridia mirror with integrated perimeter light is available in several different rectangular and round dimensions. Emitting a warm glow from all sides of the mirror, it helps to create a relaxing bathroom atmosphere. Iridia's light is activated by pressing one of the two integrated buttons – the other button activates the demister device, which is automatically deactivated after one hour.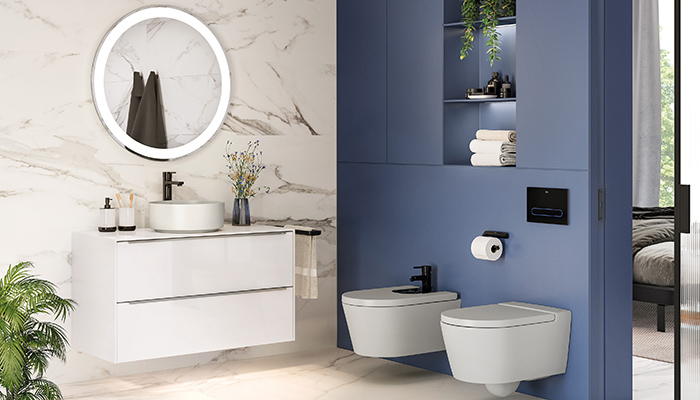 7. The industrial-inspired Rio LED mirror from Bathrooms to Love by PJH has a black metal frame that can be teamed with other black finishes and metallic accents throughout the bathroom – from brassware to lighting and accessories. Features include backlit LED lighting distribution and touch sensor operation, which allows the user to easily switch lighting on or off with touch. It comes in two sizes – 1200 x 800mm (as shown), or a smaller 600 x 800mm, and can be hung either landscape or portrait.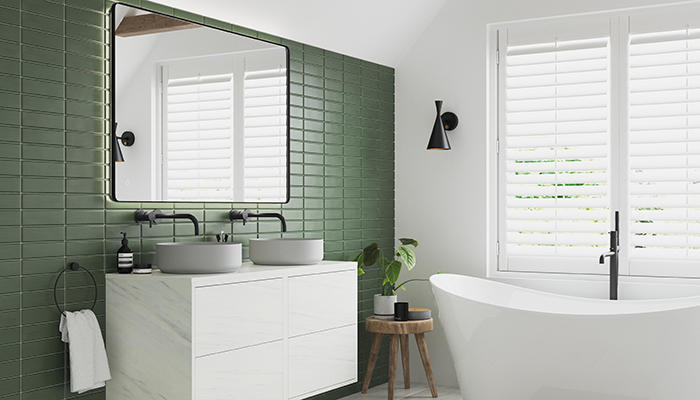 8. Crosswater's Glide II Ambient Lit circular mirror is said to feature the latest LED technology, which enables users to change the colour temperature of the mirror so that it adapts seamlessly from cool, bright task lighting, to a warmer glow that creates the perfect relaxing bathroom ambience. The mirror also includes a demisting feature and charging socket for a toothbrush or a shaver.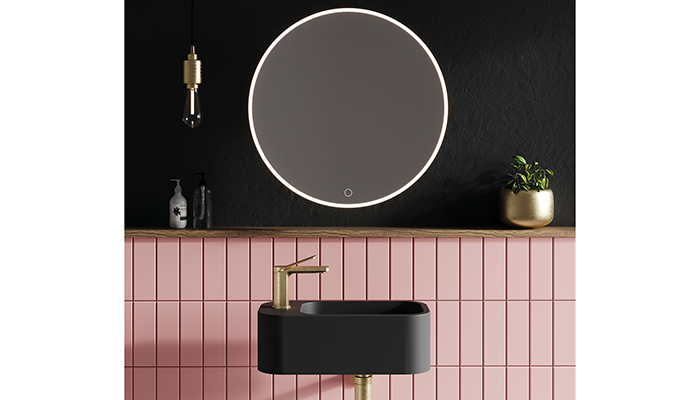 9. The Platform illuminated mirror from HiB comes with all the benefits of storage, thanks to a convenient shelf, which has a glass surface that reflects light and provides ample space for essentials. As well as featuring a heated pad in the mirror surface to reduce condensation, Platform also includes a wireless phone charger that is concealed in the glass shelf and a toothbrush charger, maximising practicality. It comes in three sizes – 814 x 500mm, 814 x 600mm (pictured here) and 614 x 800mm.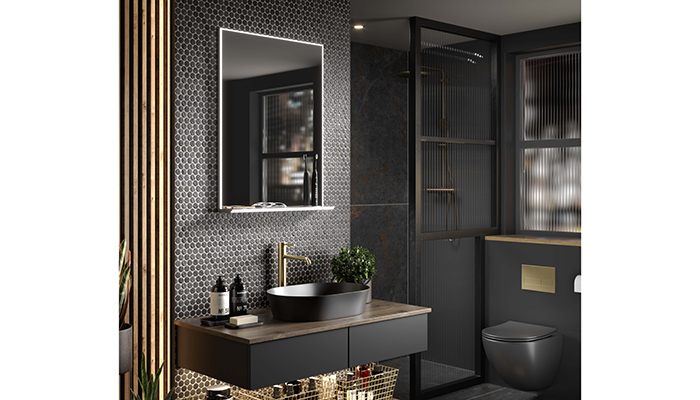 10. Another new addition to the successful Docklands range from Origins Living is the Docklands Octagon – a bold geometric design ideal for clients going for an individual style to suit a more decorative look. Measuring 600 x 600mm, it comes in a choice of two finishes – Brushed Brass and Black (as shown here).