Shower trays with anti-slip properties are ideal for bathrooms that need to suit the requirements of family members of all ages – Emma Hedges rounds up 10 products that have been created with user safety in mind.
1. The SENSTEC anti-slip shower tray is made from solid stone resin, and features an innovative 'dimple' on the surface that has been developed with the aerospace industry, and is said to provide grip without impacting on either comfort or cleanability. The trays are compatible with all standard shower enclosures and are available in any colour at no extra cost, and in over 40 different shapes and sizes from 800 x 800mm to 1800 x 1000mm. Anti-slip properties are guaranteed for the lifetime of the tray.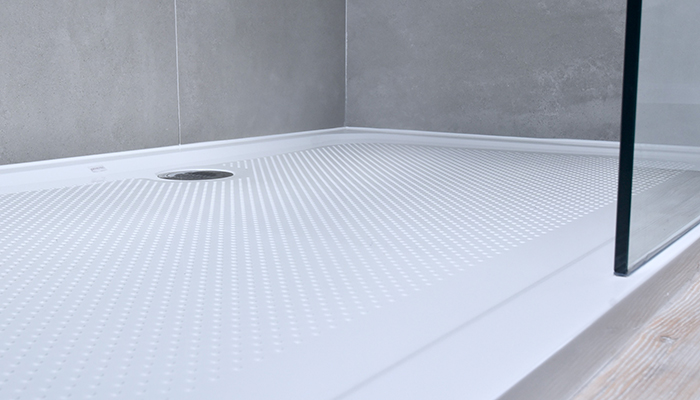 2. Naturals, the latest collection by JT, has the anti-slip solution built into the construction of the tray, offering Class C level of slip resistance. Naturals by JT come in four popular colours – Flamborough White, Malham Grey, Runswick Cream and Howarth Black, all of which are said to be inspired by the Yorkshire landscape. They are available in 27 size options including square, rectangle, quadrant, and installed flat-to-floor. The products also come with a 25-year guarantee.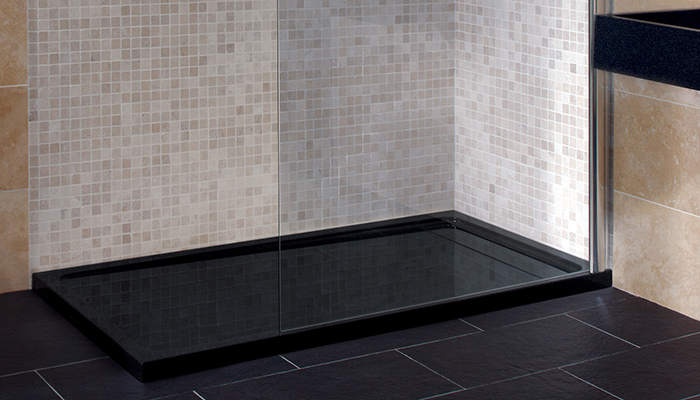 3. Acquabella's Smart Quiz tray is constructed from Akron – an anti-slip compound of polyurethane and mineral fillers that offers Class B slip resistance. The Red Dot award-winning tray features an innovative finish that consists of three different high-definition textures – Beton, Zero and Ethnic – while standard sizes range from 70mm to 2000mm, but they are available in any size as a bespoke option. There is a choice of over 2000 colours – pictured here is Crema, one of the standard colours.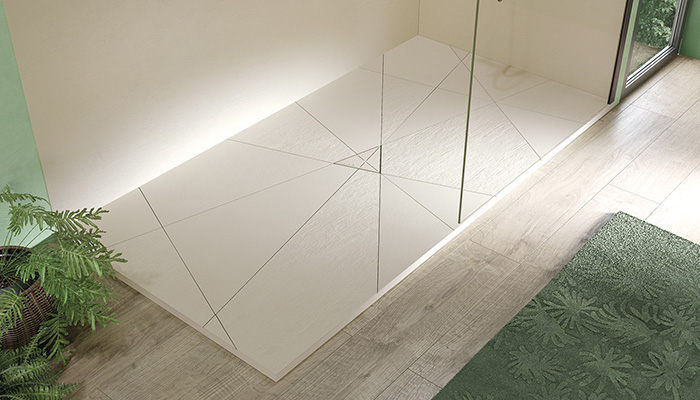 4. Roman's Matt White, pictured, and Matt Grey anti-slip tray options are among its most popular products due to the matt finish and anti-slip properties. The trays have been tested to DIN Class C – the highest international test for anti-slip properties – which means the user effectively has to lift their foot to move it during showering. Sizes available are 1000x800mm; 1200x800mm; 1200x900mm; 1300x800mm; 1400x900mm; 1500x800mm; 1500x900mm; 1600x700mm; 1600x800mm; 1700x800mm, and they can be installed directly to the floor or using a riser kit.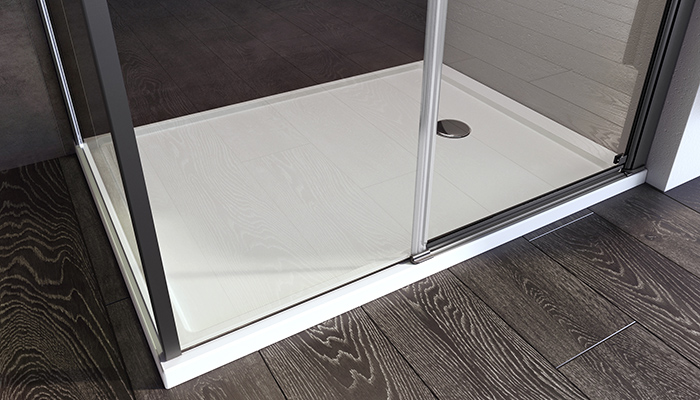 5. The Anti-Slip Sense shower tray from Bette has a glossy, smooth and easy-to-clean anti-slip surface that provides the highest level of slip protection on shower trays – DIN Class C. It features a new type of surface treatment on Bette's glazed titanium-steel which is almost invisible, and the anti-slip effect occurs when the pressure of the body weight and water come together. The trays come with a 30-year warranty.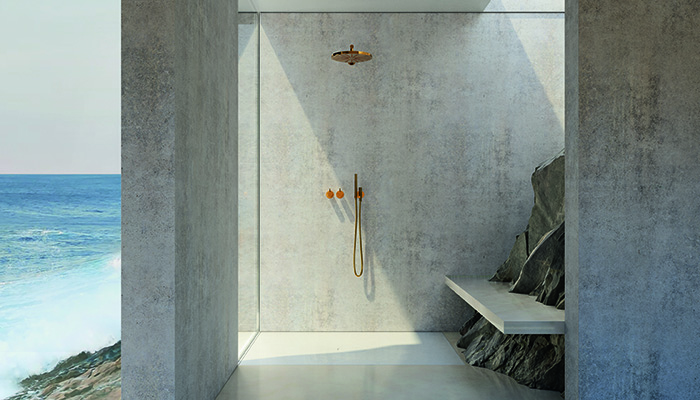 6. The recently launched Superplan Zero shower floor from Kaldewei was developed by the award-winning product designer Werner Aisslinger and offers an absolute floor-level finish. There are over 50 different dimensions from 700mm to 1800mm, diverse surface variations and a wide range of colours. The shower surface is available with the anti-slip surface finish Secure Plus, upon request.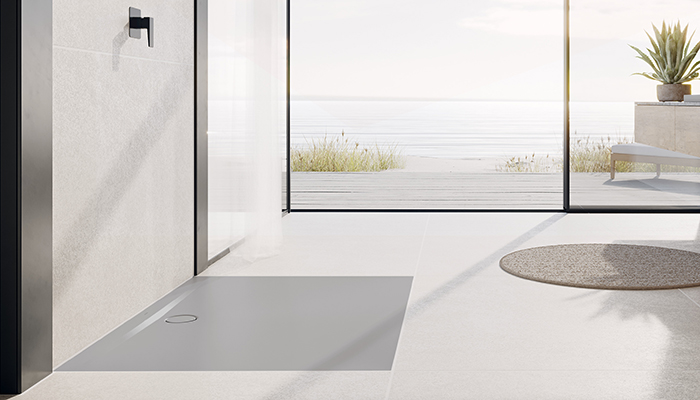 7. The Evolved by JT range is available in five exclusive colours, and this uniquely designed 25mm tray installs flat-to-floor, or on legs, to offer the look and feel of a wetroom, but with an anti-slip option on request. It comes in 13 sizes along with a broad selection of colours from Sage Green and Pastel Blue, to Mistral Grey and Astro Black, pictured, and square, quadrant and ractangle shapes are available.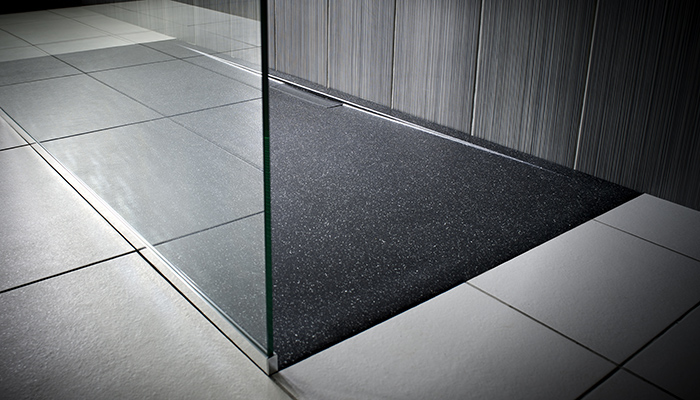 8. Slate Effect shower trays and floors from Matki have a DIN Class A anti-slip rating, and are manufactured from cast stone resin, with a hardwearing gel coating. Available to order in any colour, via Tile Matching, RAL or Pantone, the Slate shower floor goes up to size 2000 x 1000mm and is supplied in over 60 standard sizes and then any bespoke size from 700 x 760mm to 2000 x 1000mm. The Slate Shower Tray is available in standard sizes only.
9. Made from stone resin, Merlyn's new Level25 slip resistant shower trays have a DIN Class C rating, and feature a matt white finish that is said to be comfortable under foot. At only 25mm high, the rectangular trays can be fitted flush to the shower floor, encompassing all the benefits of a wetroom without the costly wetroom installation, and come in a wide selection of sizes. They come with a 25-year guarantee.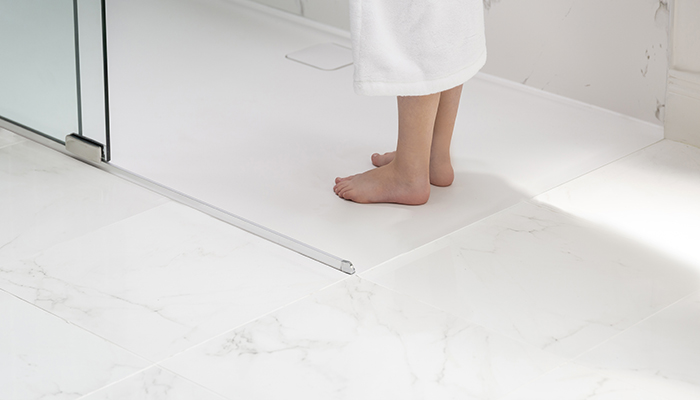 10. The Stonetto shower tray from Duravit features a matt surface offering the appearance of authentic stone and comes in Anthracite, White, Sand and Concrete. All Duravit acrylic shower trays come with an antislip transparent primer coating that is said to reduce the risk of slipping on a wet surface and guarantee sureness of footing. The shower trays fit flush to the floor, and are said to be ideal for barrier-free applications.