KBB Birmingham 2022 didn't disappoint, reuniting the KBB industry after an unprecedented two years, with over 12,000 visitors passing through its doors over the four days of the show. As always, it delivered an outstanding launch pad for showcasing new product launches to a captive market of KBB retailers, designers and specifiers. Lisa Hibberd looks back at a fantastic few days and chooses some kitchen highlights.
1. The revolutionary pocket door system by Blum was debuted by Rotpunkt, taking its full-height kitchen doors to a new level of convenience and practical luxury and helping to ensure the stand was a hive of activity throughout the show. The Fenix Green premium super matt finish in combination with Sherwood Flamed was shown on the popular Zerox furniture, the surface of which has benefits including being easy-to-clean, antibacterial, and anti-fingerprint, along with offering high chemical and UV resistance.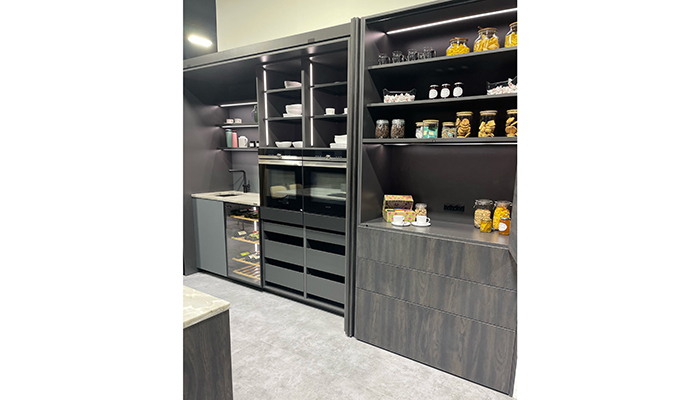 2. The House of Rohl stand was truly a sight to behold, and highlights for us were the fabulous new black sinks from the Shaws of Darwen brand. Taking its classic fireclay sink into the 21st Century, the new colourway is the perfect addition to any modern kitchen design. Adding colour to fireclay can be a difficult process, as achieving a consistent tone and finish is an art in itself. The launch of two new colours – Black and Grey – is something that Shaws of Darwen is exceptionally proud of, and these really caught our eye at this year's show.
3. Pronorm's showstopping stand proved the perfect setting to introduce its new standalone luxury brand, i-luminate. We were so impressed with this ingenious lighting concept, which is integrated into a handle lighting channel – patented by Pronorm – and is offered on both base units and tall cabinets. An LED lighting element within the handle diffuses the light along the channel, creating a continuous glow which can is designed to be both controllable and dimmable, so that the end user can enjoy flexible mood lighting that can be adjusted for the perfect ambience. It can be combined with a curated choice of 150 door frontals selected from Pronorm's extensive portfolio for upscale individuality.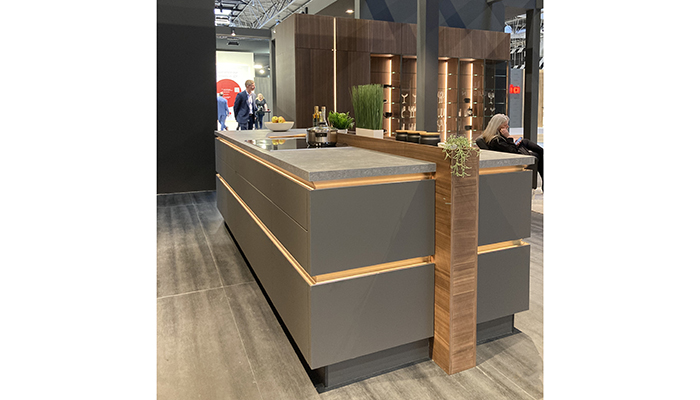 4. Among the downdraft hobs showcased this year, Novy's Panorama PRO 120 really stood out for us. The latest addition to the Panorama collection, this 120cm vented downdraft induction hob was at the centre of Novy's award-winning stand, with executive chef Dan Britten demonstrating its impressive capabilities. It features five uninterrupted cooking zones in a side-by-side configuration that can also be bridged to become a fully zoneless cooking area, offering maximum flexibility. Integrated within the hob's surface is the 110cm semi-transparent ventilation tower that rises by up to 30cm – directly behind the pans. It is super quiet, with a maximum continuous noise level of just 60dB.
5. The InSinkErator stand boasted a modern, on-trend style showcasing its elegant collection of specialist kitchen taps. Multi-award winning interior designer and brand ambassador, Kelly Hoppen CBE, joined the stand for an engaging conversation where she shared her thoughts on kitchen trends and the convenience of InSinkErator's products for today's homes. InSinkErator now offers a complete waste management system with the launch of its brand new flexible bin solution – this integrated bin system fits perfectly under the sink, out of sight, alongside an InSinkErator food waste disposer. Consumers can manage all their food waste, recycling and general waste easily, while keeping their kitchen organised and clutter-free.
6. BORA has always stood for innovative technology, and its latest development is no exception. Having expanded its product portfolio, KBB Birmingham saw BORA present the X BO – an ingenious design with a focus on healthy cooking and ease of cleaning. A steam extractor, steamer and oven rolled into one, its unique extraction function ensures a clear view and prevents steam from escaping when the door is opened, which both protects the food and saves energy. High-end glass surfaces and the black panel effect offer stunning good looks, while the multilevel LED lighting gives a realistic, true-to-life impression of the colours of the food when looking through the tinted front panel. The fully automatic programmes make cleaning simple, and the recyclable cleaning cartridges with their two-chamber system have been developed specifically to clean the BORA X BO, which ensures a longer service life.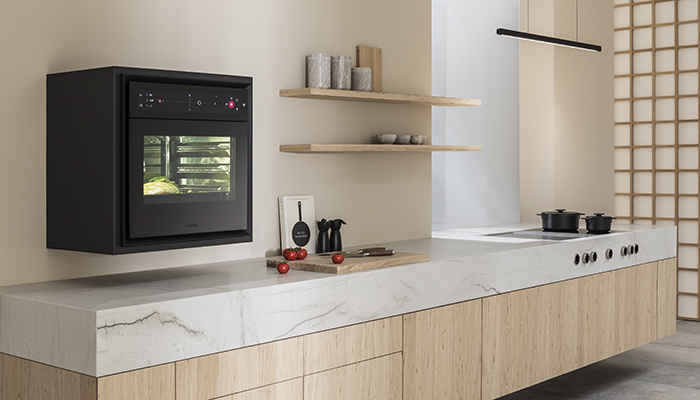 7. We we delighted to join open bottle host innovator Kaelo on its stand for a much-needed glass of perfectly chilled fizz. Kaelo used the KBB show platform to launch its new product range – meaning that designers now have a whole new range of possibilities when adding the experience of Kaelo's patented dry-cold technology seamlessly into any kitchen. The new, expanded range features the original Kaelo with a curved crown, plus two new Kaelo models – the Undermount and the Flush. The Undermount, hidden underneath the worktop, has a lid covering the Kaelo made from the same material as the worksurface. Kaelo now comes with three settings – original Kaelo mode, which maintains your drink to within a degree of the opening temperature; red wine mode, keeping the drink at the optimum temperature of 14-18 degrees; and boost which gives the option to chill a bottle to 3-4 degrees colder in 30 minutes. There is also a stunning rainbow-effect lighting which brings an element of theatre into the kitchen – perfect for clients looking to create a fun atmosphere when entertaining at home.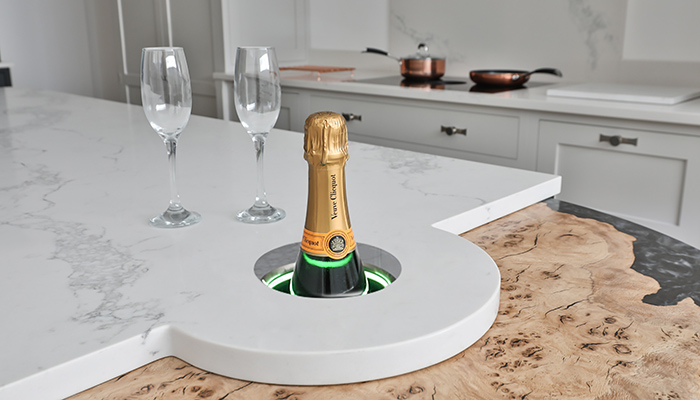 8. Scavolini's BoxLife collection was a real treat for many visitors to the show. Set to revolutionise small homes, this modular concept offers flexibility for consumers looking to create multi-purpose living spaces. A room can transform from kitchen, to office, to dining room, to sleeping space with the use of clever design and retractable and sliding doors. If a client's home office area is not in use, they can simply hide it away behind closed doors. Similarly, BoxLife makes it possible for homeowners to slide the doors shut on their TV while entertaining family and friends.
9. Caesarstone's presence at the show was hard to miss, with a large stand – nearly double the size of its stand at the last show – displaying a wide range of surfaces. Highlights included a preview of its first ever porcelain range, and the impressive Pebbles collection, which meets the ongoing trend for interiors influenced by nature. Inspired by tumbled pebbles associated with rivers, streams and oceans, the collection draws on the experience of Caesarstone's in-house design team and addresses the desire for a different approach to veined work surfaces.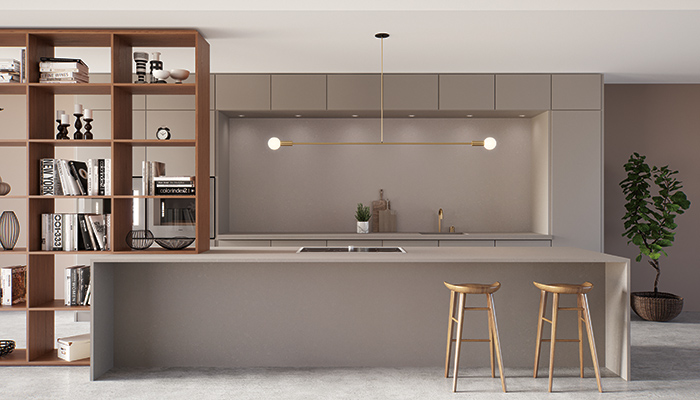 10. Virtual Worlds' stand proved very popular as it unveiled the latest version of its AR software. This new era in CAD graphics enables retailers to go beyond the limits of their physical showroom floor space, bringing the design process and product brochures to life. In a major new update to the innovative software, Virtual Worlds Professional Version 8 features an exciting new graphics engine which provides real-time rendering in a level of detail never seen before. This injects energy into the design whereby texture, light, reflection, shadow and sheen show their effect as it is being constructed. Retailers can obtain any product from the extensive product library simply by placing it into a room design and creating an AR code. Material mistakes grab the attention straight away, woodgrain depth in furniture comes to life, lighting schemes can be adjusted, and colours and paint finishes can all be fully appreciated in a way that is as true to life as it gets with CAD.