It's been hyped as the next big thing for 15 years, but after all this time, have our 'smart homes' really got any smarter? Where next for the Internet of Things? Our web expert Katrina Bell investigates.
It was back in 1990, when the world saw the Internet's First Thing – the Sunbeam Deluxe Automatic Radiant Control toaster. It would take just a year before the connected device was declared obsolete, however, the new version included a robotic arm – and with that, the starter's pistol was fired on The Internet of Things (IoT).
According to a 2021 Smart Home Week survey in 2021, 57% of homes in Britain now contain a smart device, with one in six of us controlling them while we are not at home. The UK is ranked third after the US and China in household penetration. The EcoExperts estimate that there are 2.22m smart homes in the UK, a 'smart home' being defined as one with a central hub, smart speaker, control panel or app, that's linked to two or more devices.
While the majority of IoT applications are B2B such as healthcare, manufacturers of consumer products are exhaustively looking at the benefits from two standpoints. What can the data and machine learning tell the manufacturing process about downtime or failure rate of the end product? And how can the addition of IoT bells and whistles tempt and benefit the consumer in the coming years?
Give the customer what they want?
What the consumer expects is a minefield – a 2019 study I found stood out because it was mostly nonsense. The top 30 included a gadget to stop your other half snoring, which when I last looked was an elbow in the back. Or perhaps a kettle that boils on request. So that's after you have filled the kettle, you then move your hand away from the switch to pick up your phone?
When they weren't nonsense requests for human-like robots, it was curious how many already existed. An oven that cooks at different temperatures depending on where you put food in the oven, controlled heated flooring, a vacuum cleaner that runs when the house is empty, and one that opens the curtains by voice request.
So what comes next?
There is speculation that the smart home market is suffering from 'pilot purgatory' – when innovation is stuck in launch mode and hasn't yet realised the benefits of key performance indicators or large-scale rollout. So what should we consider?
1. Enhanced security protocols – levels of consumer confidence regarding the safety of their data – is not improving. I'm not sure we have really moved on from when a toilet supposedly got hacked in 2013 and headlines from reputable outlets such as Forbes suggested your loo might scream at you. Multinationals and nationals alike have every incentive to sign up to a protocol that puts the consumer first.

2. Greater energy efficiency and convenience
The bills are going up and consumers are frustrated at the cost of living. But it has to be quantifiable. In rural areas, in particular, availability of smart meters is sketchy so there is work to be done there. And what of life's annoyances? Who wouldn't want a TV that recognised the doorbell ringing and automatically paused what you are watching?
3. Interconnected operability – the Big One
The appliance sector is showing considerable forward momentum in terms of utilising machine learning and predicting consumer desirables.
Miele's network capability is a sure-fire way to ring-fence a buyer's behaviours. It's logical – if you can control all your appliances from one app, why would you go elsewhere? From a usability standpoint, in-oven cameras and controls that are automatically silenced when you approach are straight from the Internet of Luxury Things playbook.

BSH too is harnessing its multiple brand power via HomeConnect (https://www.home-connect.com/gb/en/) to produce a seamless environment. It's no surprise that BSH has linked in with Amazon to include Alexa voice-control, though trust in voice-activated interactions is still a juvenile skill in the UK. Seems that over here we still like to press buttons.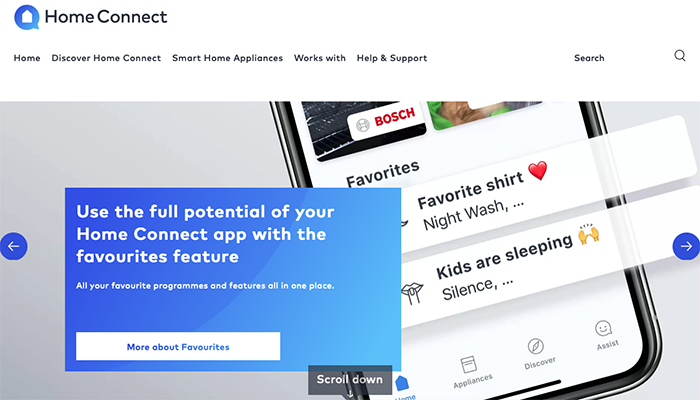 Interconnected operability is the only next step that makes sense. The IoT has to go beyond single-app interactions and Wi-Fi-enabled small electronics.
The real revolution can only happen when users can control more from less – meaning centralised apps and protocols as opposed to a proprietary approach, and meaning partnerships with innovators to create a less fractured IoT. Who wouldn't want to link their weekly grocery shop to their fridge so it can tell them when food is going out of date or running out?