A soothing blend of Japanese design and Scandinavian style, the Japandi interiors trend has led to contemporary, wooden furniture taking centre stage in spa-style bathrooms. Nicola Hanley takes a look at this simple yet effective aesthetic.
The perfect fusion of Japanese design and Scandinavian style, Japandi is the ultimate east-meets-west interiors trend. Offering a relaxed, minimal and modern aesthetic and characterised by natural materials and neutral colours, it's a look that has captured the imagination of designers and consumers keen to create tranquil, spa-style bathrooms.
Japandi is not a new trend, but it is one that has gained traction in recent months, with contemporary wooden bathroom furniture leading the way. "Largely due to the stresses of the pandemic and the home being transformed into a multifunctional workspace, individuals find themselves in desperate need for that sanctuary space to take time out from the stresses of everyday life," explains Holly Aspinall, channel marketing manager for retail and GAC at Geberit. "Japandi style achieves this with combined simplicity, natural elements and comfort. It's no surprise we're seeing more and more people combining the rustic minimalism of Scandinavian interior design with sleek Japanese functionality. The fusion has come along at the perfect time, blending function and form, focussing on clean lines, bright spaces and light colours."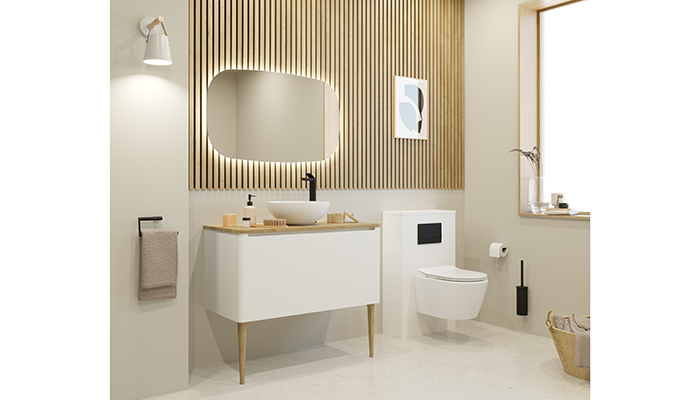 Favouring sustainable furniture, Japandi design is "a clear antidote to one-off, fast-fashion interior design purchases, with wooden bathroom furniture the obvious choice," continues Aspinall. "The natural finish creates a sense of warmth and cosiness, whilst also delivering on functionality and longevity."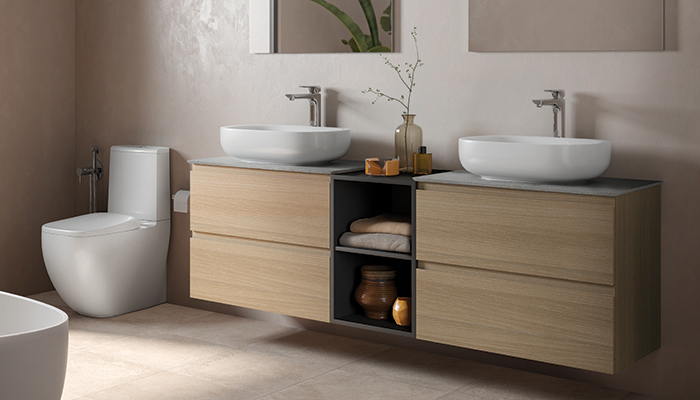 Ben Bryden, sales and marketing director at RAK Ceramics, agrees. "The trend creates a very clean, minimal look which is always popular in the bathroom," he says. "Nature-inspired materials bring a sense of calm and tranquility into the home, something that is very important to people, particularly at the moment. Light coloured wood furniture is also very versatile, so it can be added to existing decors or combined with lots of other colours and materials quite happily."
Another noting the popularity of contemporary, Japandi-style wooden bathroom is Helen Clark, head of marketing at Utopia, who attributes its popularity to the ongoing 'back to nature' move, with homeowners enjoying the soothing, harmonious feel of natural materials and the sanctuary they create. "It's a look that's typified by very clean lines, simple styling and a definite organic dimension," she says.
Ash Chilver, sales director at HiB, shares this view. "The Japandi trend has stemmed out of a love of simplicity," he says. "It can appeal to those who like the functional Scandi style but with a warmer base palette and a pared-back minimalism that creates a sleek, sophisticated look. The tones and textures of wood work well with stone and whites so there is an appealing aesthetic when these are used together for bathroom furniture units and countertops. Wood has natural warm tones so it blends well with fresh, clean ceramics and therefore it is popular with Japandi designs. It is a material that has been used for thousands of years and each piece of wood is unique, which nicely links to the Japanese idea of imperfect beauty – 'wabi-sabi'."
Incorporating contemporary wooden bathroom furniture into a new or existing design is an effortless way to inject some relaxed, Japandi style to the bathroom without dating it, says RAK Ceramics' Ben Bryden. And, adds HiB's Ash Chilver, designers have plenty to work with: "Either freestanding or wall-hung wooden units would be suitable as long as they complement the requirement of simple, minimalist style with a clear, functional purpose," he says.