As Mereway Kitchens launches its new stand-alone Aura Kitchens brand, MD Mark Mills and national sales manager Stace Alibone tell Nicola Hanley about the new collaboration with Uform and what's next for the business.
"We're still riding on the crest of last year's wave," says Mereway Kitchens MD Mark Mills. "It started off relatively quiet but we ended up having a good, profitable year. Most people in 2020 didn't have a great year so it was nice to get back to profitable ways and we've seen some record weekly order intakes – so we're doing extremely well at the moment."
Last year, family-owned Mereway Kitchens racked up an impressive 35 years in business. Fresh from marking the milestone, Mills kicked off 2022 with the launch of Aura Kitchens, a new stand-alone brand of 'stylish, colourful, high-quality and very affordable kitchens'.
"Aura is very much entrenched in the middle market," explains Mills. It sits between the existing low-to-mid-market Trend and mid-to-high-end Mereway brands, and really completes Mereway Kitchens' offering, adds national sales manager Stace Alibone: "It means we can now offer a good, better and best solution for everybody."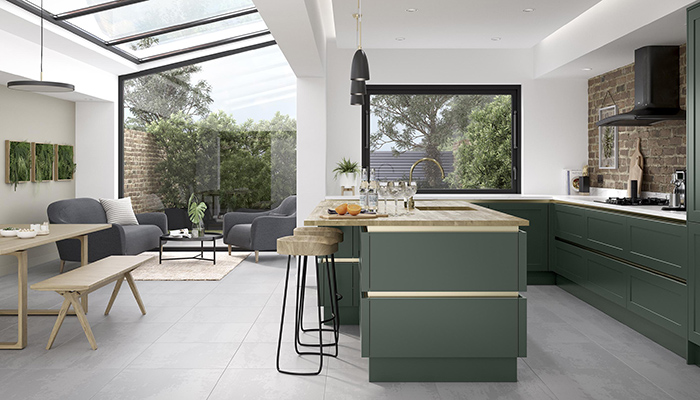 The new brand sees Mereway Kitchens collaborate with Northern Ireland-based Uform, which is also a family-owned business, for the first time. "Uform were looking for a well-established, quality cabinet manufacturer who could provide their products as a complete offering on a national basis and Mereway fit the bill," says Alibone, who worked for the kitchen door and component manufacturer before joining Mereway in November 2021. "It was the right fit for Uform and it was the right fit for Mereway." Mills agrees, and adds: "We feel Uform offer a vast array of innovative products and they sit well with the way Mereway work."
Available in a choice of three styles – Shaker, Handleless and Slab – Aura Kitchens incorporates 38 painted colour options, 30 foils and 18 stained across 22 choices of Uform door on Mereway's 19mm cabinets. There's also a vast array of accessories, which Mereway and Uform are working closely together on. "It's going to be offered exclusively to retailers but it's not exclusive," explains Mills. "So you have to put it on display in a showroom but then equally someone five or six miles down the road could also have access to that product. So it is non exclusive, but builders, fitters and the trade who aren't independent retailers won't have access to the Aura product."
With Aura, Mereway Kitchens is looking to take on German brands, along with other complete manufacturers. "As daft as it sounds, Aura will also compete with Mereway and with Trend," says Mills. "But obviously the sales team and Stace will manage that to make sure we're not diluting our sales."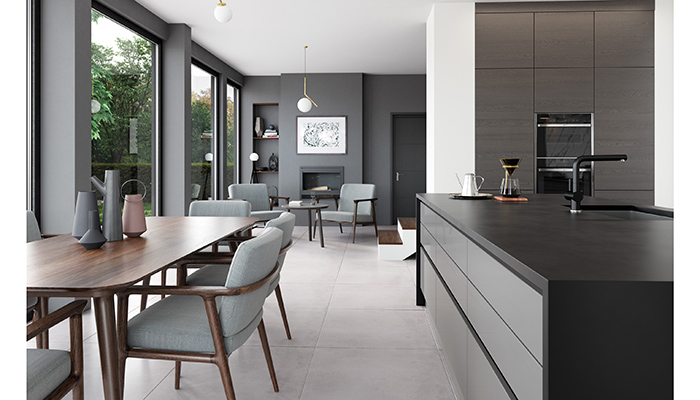 And just how successful does Mills think Aura Kitchens will be for Mereway? His target is for it to turnover £2m within 12 months and for it to help increase Mereway Kitchens' customer base by between 20-25% in the next two years. "I'd imagine within the next three years it'll be about a quarter of our turnover. So within 3-5 years you're looking at £5m or £6m. But it's not just about what Aura does or can do for our turnover, it's also what it can do for all of our customers."
Like most manufacturers, Mereway Kitchens has been affected by Brexit, the pandemic, and the current troubles in the Ukraine. "We're still seeing unprecedented price increases, which we'd hoped might have settled down this year, and disruption in the supply chain," says Mills. "I think it's fair to say we've had problems like every manufacturer but we're dealing with them as best we can with our customers and I think they appreciate what we go through to get kitchens complete and on time."
Next up, says Mills, are new products within Trend for bedrooms, with glass and mirror finishes joining the range. "We expect to double the bedroom turnover within 18 months. It's a smaller part of our business at about £1.5m. So it's ambitious but it's achievable. Within Trend we're also having a kitchen launch in May and then in June there is a Mereway launch with a new colour palette, new doors and new accessories. So we're looking at the gaps in the ranges and filling them.
"We're expecting to have a good year and for it to be much better than last year, which was a good year in itself," says Mills. "We're expecting maybe a 15% increase on 2021."