Dornbracht's recently appointed UK head of sales and marketing Craig Johnstone tells Amelia Thorpe how growth is underway – with innovative new products, improved service and expanded markets.
After more than 20 years at Kohler Mira, Craig Johnstone took over as the UK head of sales and marketing for luxury brassware brand Dornbracht in October last year. And why the move? "When I was approached about the role, there was great appeal around the ambition for growth and investment, not just in the UK but also globally," says Johnstone, 52. "It was that, combined with the stability of the company and recent investment from the Knauf family, now the major shareholder."
Taking over from David Nicholls, who worked at Dornbracht from 2016 and has since moved to floorcovering distributor Headlam, Johnstone says his experience across bathroom retail and project sectors leaves him well placed to develop Dornbracht's business in the UK. "Selling through showrooms, working with architects and designers, and on residential developments and in the hotel sector, they are the key channels that we continue to focus on," he says.
"We had double digit growth in 2018 and 2019, though obviously 2020 as the Covid year was a challenge, but we returned to double digit growth in 2021," says Johnstone. "We are also anticipating strong growth this year." He attributes this to focus on developing sales with existing customers and on new business. "We also have an amazing range of products – with investment in new products coming that are clearly going to be a massive influence in terms of how we achieve growth."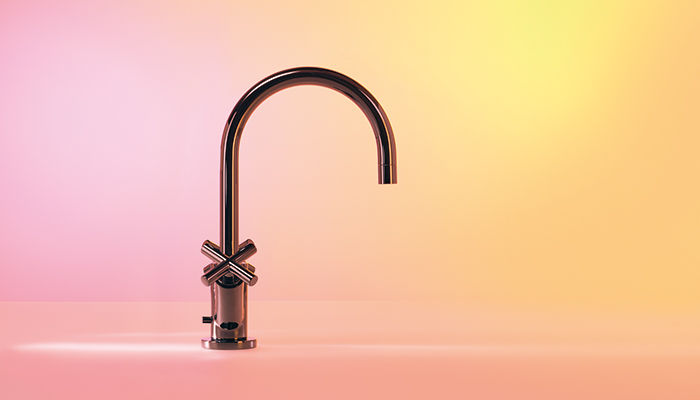 It is well known that the innovation rate at Dornbracht, founded in 1950, had slowed, prior to the investment by the Knauf family in 2020 and introduction of new brassware collection CYO in 2021. Now Dornbracht has launched a range of touch-free products, new finishes for its classic Tara range first launched 30 years ago, new showering products, and new XCross and Xcut washstands from sister brand Alape, known for its glazed steel products. "There will be more exciting new designs which will come with the consistent reliability that you would expect from Dornbracht and Alape," he says. The company has been carbon neutral since the end of 2021, with most raw materials and preliminary products coming from within a 200km radius of the factory.
"How we improve our service levels remains a key strategic pillar us," continues Johnstone. "Certainly in my first six months, it is definitely something that we are improving – I'm not saying that we are there yet, but it's something that we're working hard at." Products are shipped to customers directly from the Dornbracht and Alape factories in Germany with current rates of delivery performance "in excess of 90%" on time and in full, with plans to drive "north of 95%'".
"We have always operated in the luxury market, but we also have the ability - with certain products and with Alape – to also operate in the next tier below," says Johnstone. "For example, in a hotel, typically we would provide products to the suites, but we may sell more into the standard rooms." Growth, he says, remains his focus. "Clearly there are some headwinds around – that everybody is facing – but absolutely our intention is to continue the double digit growth, and with our new product development programme as well, we have plenty of opportunities."