The latest hot tap designs come in an array of unusual colours and finishes to offer you scope for your designs, as well as homeowners ultimate functionality – Angelica Hedges rounds up 10 of the latest launches.
1. The Heritage Bridge collection from Wödår comes in six different finishes: Brushed Brass, Chrome, Black, Gun Metal, Gold, and Copper, shown here, with a choice of white or black ceramic handles. Available in both single-lever and traditional bridge versions, these instant taps have fully insulated compact tanks, and come with WRAS approval and a 5-year warranty. A national fitting service is also available to help support consumers.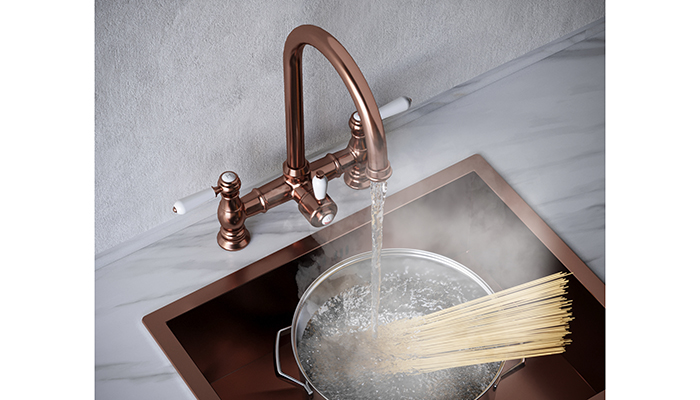 2. The Grohe Red hot tap provides water heated up to 99°C, ready for instant use at all times. Pictured here on the left is the Grohe Red Mono tap, and on the right is the Grohe Blue Home Duo tap, both in a Warm Sunset finish. These taps feature a smart ChildLock and the energy-saving 'holiday' mode, capping the maximum water temperature inside the boiler at 60°C. Additionally, the Grohe Red filter reduces limescale and heavy metals in the water, extending the life of the tap and boiler.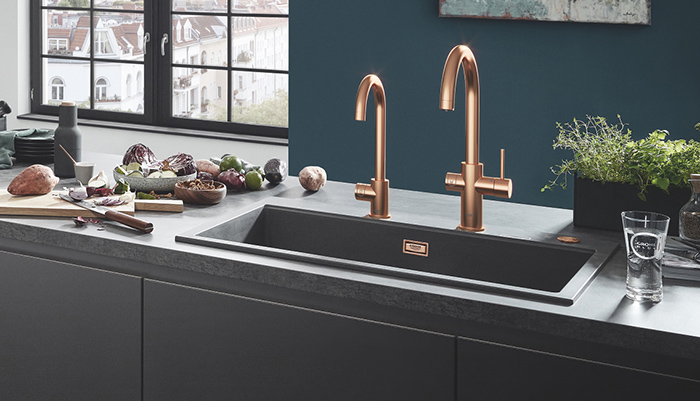 3. The Fusion Square boiling water and mixer tap from Quooker, pictured here in a Gold finish, also comes in four other colours – Stainless Steel, Black, Patinated Brass and Chrome, and both square or round styles. Safety features include a child-proof double push-and-turn handle, warning light ring, insulated spout, and fine aerated spray. Hot, cold, and boiling water comes out of a single tap with a straight spout.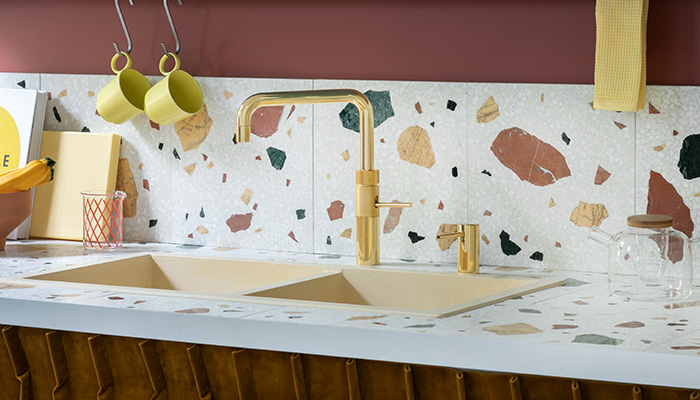 4. The EVOL-S Pro 4-in-1 tap from Blanco, pictured here in Matt Black and also available in PVD Steel, delivers hot and cold water with two spray options via the mixer lever on the right. The EVOL-S control and measuring dial allows the user to select filtered cold or boiling water, and set the dial to deliver the exact amount of water required. The selected water is delivered through a second insulated spout, separate from the main spout. Water of 100°C can be accessed instantly in a controlled anti-spray stream, from a 4-litre titanium hot water tank.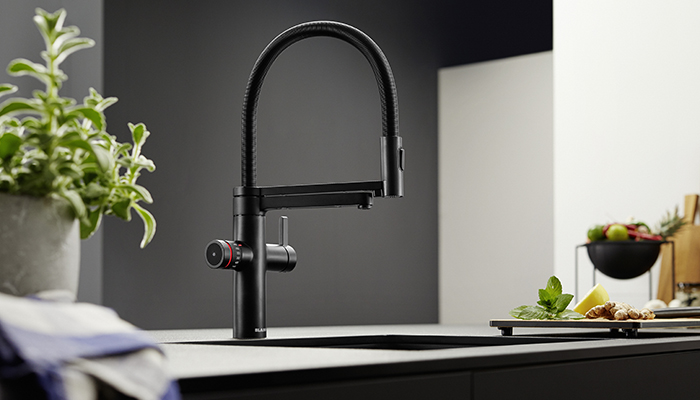 5. The 4-in-1 Touch Tap from InSinkErator is available in three finishes: Brushed Steel, Polished Chrome and is pictured here in Velvet Black with a J-shape model. The tap dispenses filtered boiling water, filtered cold water, and regular hot or cold. With a self-closing, easy-to-grip hot water handle with a push-lever safety locking system and a NeoTank of 2.5 litres, the WRAS-approved model also offers a digital adjustable thermostat, enabling users to set their desired temperature of water from 88° to 99°C.
6. Franke's Minerva Helix 4-in-1 electronic J-spout tap comes in Industrial Black, Copper, Stainless Steel, Champagne Gold, and Anthracite, shown here. Minerva features a user-friendly push-button functionality, and pre-set 30 and 60-second programmes, dispensing two litres of water at 100°C boiling or filtered cold. Suitable for high-pressure systems, Minerva has a five-litre water tank fitted behind the plinth, and the tap comes with a 2-year warranty on working parts.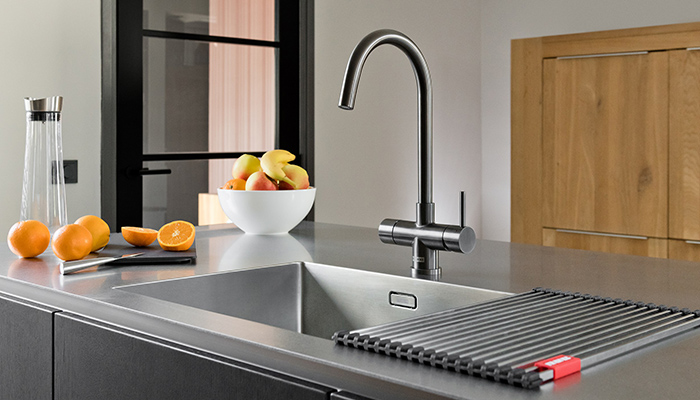 7. Qettle Signature taps are UK designed and engineered. Pictured here in a Gunmetal PVD finish, they also come in Brass, Copper and buffed Stainless Steel, and are made from premium grade stainless steel. The taps deliver 100° boiling water and filtered drinking water, with regular hot and cold flows available. There is a choice of three boiler tank sizes: 2L, 4L and 7L, all with the option of an additional chiller unit.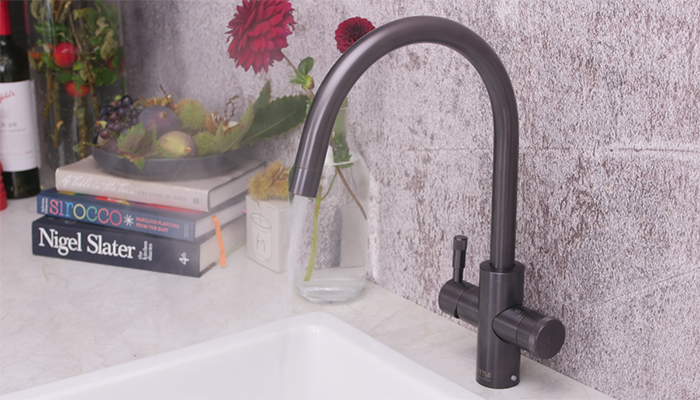 8. The Pronteau ProTrad 4-in-1 steaming hot water tap by Abode comes in three different finishes – Chrome, Brushed Nickel, and Antique Brass, shown here. Available in both 3-in-1 and 4-in-1 varieties, the ProTrad offers instant filtered steaming hot water at 75°-98°C, with the addition of regular hot and cold. The stainless steel PROBOIL.2X under-sink boiler offers toolless installation, and is an insulated model with quick re-boil times and simple digital controls.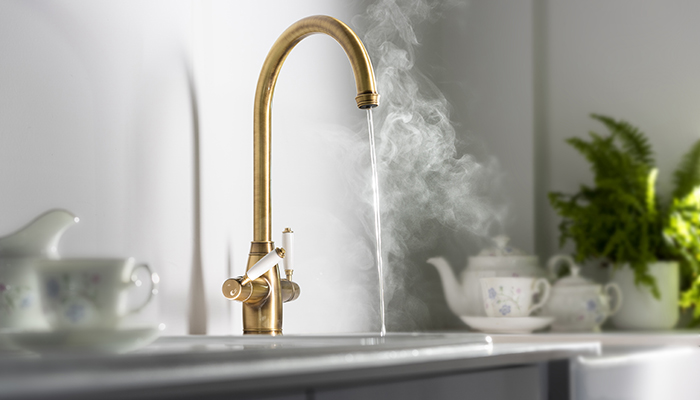 9. The Perrin & Rowe Armstrong 3-in-1 hot tap, pictured here in Polished Brass, is available in other finishes of Chrome, Nickel, Pewter, English Bronze, and Gold. Additionally there are two special 'living finishes' that will patina over time: Satin Brass and Aged Brass. The Armstrong delivers steaming hot water at multiple pre-set temperatures from 75°-98°C, as well as regular hot and cold water, and has a 2.4 litre tank capacity.
10. The 3-in-1 steaming hot water tap from InSinkErator is available in finishes of Polished Chrome, Brushed Steel, Velvet Black, and Rose Gold, shown here, and comes in both L-shape and J-shape versions. With a hot water handle and push-lever self-closing locking system, it comes with a five-year in-home warranty. The 2.5 litre NeoTank features an adjustable, digital thermostat, allowing users to set temperatures from 88°-99°C, and the model also offers regular hot and cold options.