Leading British furniture manufacturer Crown Imperial is delighted to showcase its latest colourful kitchen furniture styles, perfect for summer design inspiration. Tony McCarthy, Commercial Director of Crown Imperial comments, "injecting colour into a kitchen scheme is a great way to create warmth and a vibrant feel to a family open plan space. The recent launch of our kitchen explorer tool is helpful for both retailers and customers to experiment with colour and kick start their next interior project".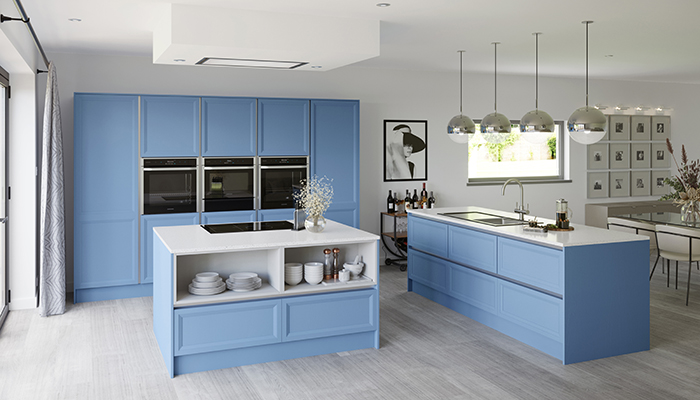 The modern Rimano collection showcases a distinctive bevelled design and is styled in a striking sky blue. An open-plan kitchen layout features dual islands, with a main cooking hub and separate washing zone. Design inspired, the Crown Boxworks solution offers practical open storage and adds the finishing touches to this multifunctional space. Rimano is available in 22 bold and neutral painted shades.
Ideal for adding colour, Furore offers retailers a choice of 10 bold and neutral gloss shades to create a personalised kitchen. Setting the style standard, Furore is presented in a grey aqua and white, its reflective tones giving a feeling of space and light to achieve an elegant modern feel. It's easy to create a seamless style fusion between kitchen and work zones, by adding Crown working from home furniture in matching colours.
Discover the Crown Imperial furniture collection at www.crown-imperial.co.uk and experiment with the new kitchen explorer - www.crown-imperial.co.uk/explorer.
www.crown-imperial.co.uk – 01227 742424.