With summers getting hotter and outdoor kitchens soaring in popularity, Angelica Hedges rounds up 10 outside designs that take the exterior to the next level in terms of luxe and usability.
1. This outdoor kitchen in Palm Springs has been zoned for a homely feel, with separate areas for dining and relaxing, but also a hardworking food prep and sink area. Bringing the scheme together are patio pavers, stone veneers, a polished granite countertop, a polished marble bar top from Indiana Limestone, and a corrugated steel roof to finish off the design, all fitted for functionality with the Wolf outdoor grill, side module gas burner, and warming drawer, and an outdoor refrigerator from Sub-Zero.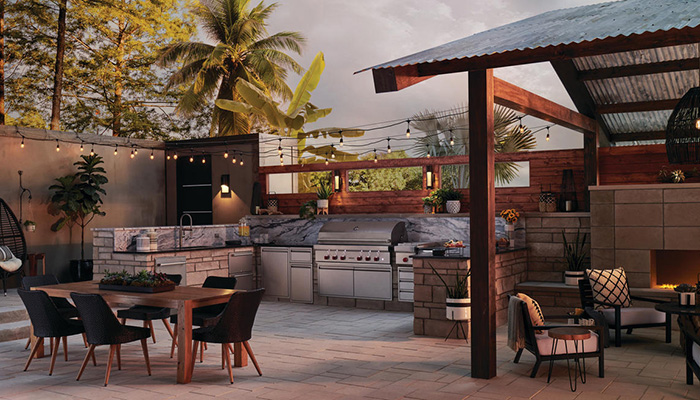 2. This outdoor kitchen featuring Blue Silk from Lundhs Real Stone was the result of a close collaboration with interior designer Linda Steen from Scenario Interior Architects, and designed to integrate smoothly into the surrounding environment of rocks. The natural design is complemented by wood accents, angular lines and metallic details. In addition, Lundhs Blue is resistant to water and heat as well as scratches and stains, suiting the outdoor environment not only stylishly but effectively.
3. Lundhs Royal Larvikite was chosen to complete the surfaces of this exterior kitchen as part of an outdoor transformation show, hosted by interior designer Halvor Bakke. The worktop itself is made from Lundhs Royal in a silk matte finish, to complete a scheme that's perfectly suited for entertaining and socialising. Though this is the lightest stone in the collection, the material is water and stain resistant, creating a worktop suitable for sharp temperature changes, and is also said to be easy to maintain.
4. This patio area was designed by 2LG Studio to bring an interior and comforting feel to the outdoor space, connecting the garden to the home. The Vlaze Adapt modular outdoor kitchen pairs functionality and homeliness with its Vlaze worktop and outdoor bar set-up, which is placed between the dining table to the left and sofas on the right. The Vlaze pieces are constructed from stainless steel with a vitreous enamel surface, making the it hygienic, stain resistant and heatproof.
5. This outdoor kitchen scheme features units from the Vlaze range at 120cm and 240cm wide, designed to work smoothly with grills from Big Green Egg and BeefEater, and outdoor fridges by Blastcool, creating well configurated zones for cooking, dining, and a comfortable seating area. Also pictured is the Adapt Island in Indigo Stipple and 120 unit in Graphite, with a convenient and elegant overhang bar for stools, available in 5 colours all with castors for wheeling into position.
6. This rooftop outdoor kitchen design features elegant Palm Shade with a white base and subtle veining from Caesarstone's Outdoor Collection to form separate zones, such as the seating area for relaxation on the side, and the standalone island bar feature, looking onto the cooking zone to create an open and interactive atmosphere. The white quartz, which has a Concrete finish, works seamlessly next to the sleek stainless-steel barbeque.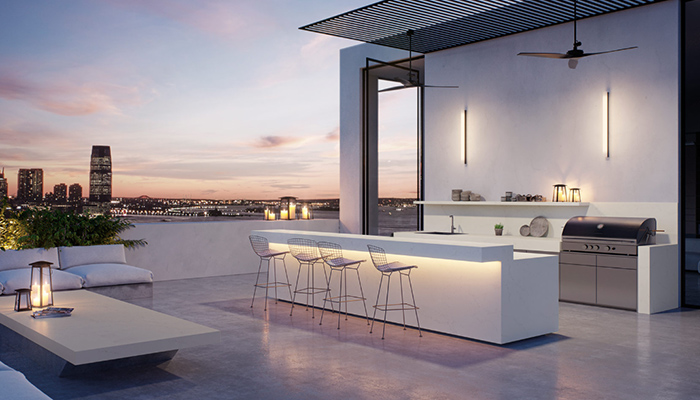 7. Designed by Nick Lord of Hog's Back Kitchens and Zara Christie from Zara Christie Designs, this poolside scheme featuring the KönigOutdoor kitchen from Königstone has a social layout to encourage good times and conversation. The kitchen has doors, panels, and durable worktops in Neolith's Estatuario Silk, with bar-style seating and a fully equipped Sub Zero & Wolf grill with cupboard space, and a Blastcool refrigerator and Vitrifrigo freezer drawers. The stylish worktop space is perfect for food prep, with the additions of a Barazza sink, Quooker boiling water tap, and a Alfa Forni Nano Pizza Oven.
8. This outdoor kitchen from a property located in Lewisham features Sensa Black Beauty by Cosentino, which not only adds a touch of sophistication to the scheme, but since the kitchen is positioned along the wall, creates continuity and opens up the space from indoors to outdoors – ideal for entertaining and enjoying company. The kitchen, designed by Piqu, also benefits from the technical properties of Sensa, which is versatile and can be used effectively as part of an outdoor kitchen or bar.
9. This outdoor kitchen is kitted out with Caeserstone products for functionality and style, using the work surface along the wall, splashback and top of the dining table to subtly tie these two zones together, and create a cohesive but open atmosphere. The elegant 406 Clearskies quartz has a Concrete finish for a durable touch, and brings an earthy tone to the outdoor countertop, which is finished off with metallic and black accents.
10. Gaze Burvill, the designer and manufacturer of this outdoor kitchen, pieced together the scheme using industrial themed Dekton Trilium for the sleek worktop, and including Sub-Zero & Wolf appliances. Trilium is inspired by volcanic stones with deep black and grey designs, made with up to 80% recycled material and part of the Industrial collection. It's exceptionally resistant to heat and scratches, making it ideally suited for use in outdoor kitchens.