With homeowners increasingly keen to create a personalised look in their bathrooms, colourful touches are growing in popularity. Angelica Hedges rounds up 10 coloured countertop basins for schemes that require an individual flourish.
1. The Ipalyss basin from Ideal Standard is part of its Atelier collections, and features a range of on-trend colours such as Glossy Black, Slate, Sage, Kashmir, Pomegranate, Glossy White and Silk White. Not only is there a selection of colours for creativity, but this range offers a variety of sizes, including 800mm, 650mm, and 550mm rectangular basins, 600mm by 380mm oval basins and 400mm circular products.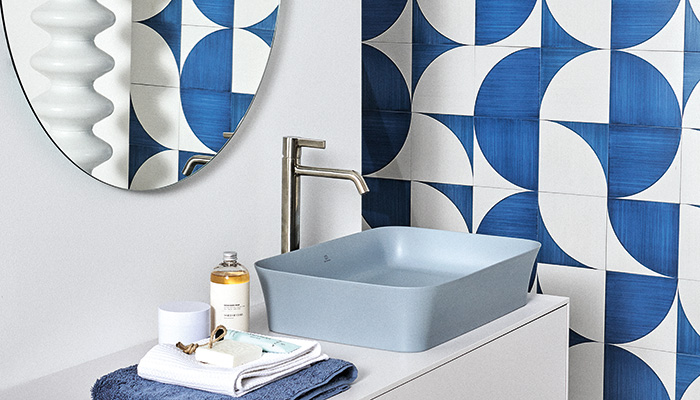 2. The Miena steel enamel washbasin from Kaldewei, shown here in Sweet Love, is designed by Anke Salomon, with a palette of bold colours from Black, Blue, Teal, and Purple to White, offering homeowners plenty of creative options to create a space with individual character. The steel enamel component of the basin makes it robust in spite of its slender edges, and easy to clean. It comes with a 30-year guarantee, and is 100% recyclable.
3. The Kurv basin from BC Designs' Cian, is available in White and a full spectrum of unique colours such as Gunmetal, Khaki Green, Mushroom, Power Blue, Industrial Grey, Light Fawn, Satin Rose, and Powder Grey. It's formed from BC Designs' unique technology and material – Cian – which is one piece of material throughout, warm to the touch and durable against daily wear and tear, and damage.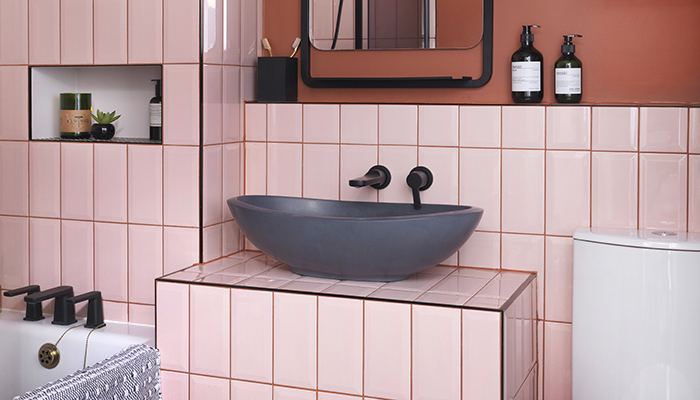 4. From Victoria + Albert Baths, the Ravello 60 comes in colours in the ranges of Brazilian Modernism, Belgium Minimalism, American Postmodernism, and core colours for a classic touch, Anthracite Grey, Jet Black, Pebble Grey, Stone Grey, Traffic White, and Light Grey. This stylish basin measures 117mm in height, 411mm in width and 612mm in length, and features a sculptural design that works in conjunction with the Ravello bath.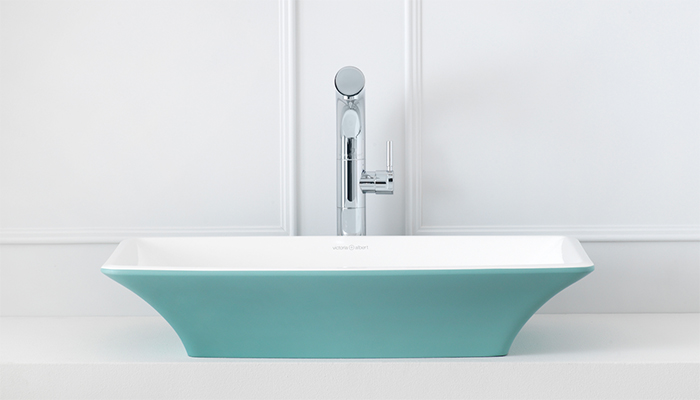 5. The On-Top Circle basin from Acquabella comes in over 2,000 RAL colour finishes, allowing homeowners to combine the interior finish with their own choice of textured finish on the exterior. Each colour is available in either a Slate or Beton texture bringing a more natural feel into a bathroom setting, and the basins measure 380mm across by 110mm deep.
6. The Round Basin by The Poured Project is a concrete basin and is pictured here in the colours Shard Green and Pebble Green. There is an extensive range of pigments, and the surface has been sealed for cleanliness and protection. Suitable for placing in small bathroom or cloakroom areas, this basin measures 422mm in diameter for a stylish and compact design that also works well as a pair.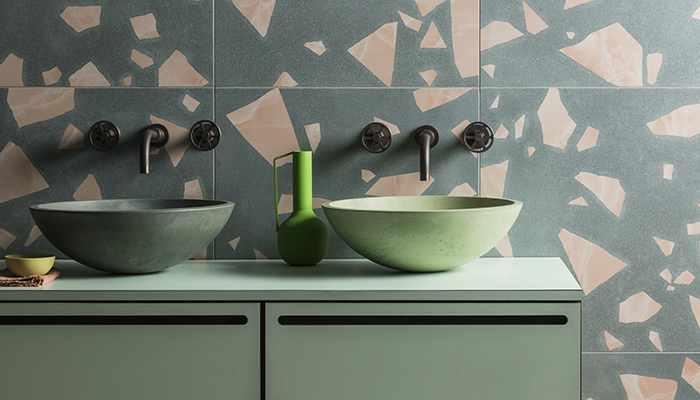 7. The Arla basin by Kast is available in 28 different colour variations, ranging from gentle hues to brighter, more intense colours from White, Ivory and Ash, to Teal, Ember, and Brick. Shown here in Blush, the concrete design is available in two sizes – 400mm in length and width, and 140mm in height, and 600mm in length, 400mm in width, and 140mm in height.
8. The Circus basin from Crosswater comes in a Brushed Brass Effect Exterior Finish, pictured here, and is also available in White and Brushed Stainless Steel. The basin made from vitreous china with a matt interior finish, is hand glazed, and can be paired with tall or wall-mounted basin taps. The basin itself measures at 400mm and comes without overflow hole.
9. From RAK Ceramics, the RAK-Feeling ceramic countertop basin is available in five colours – White, Greige, Cappuccino, Black and Grey, pictured here. The minimalistic design and matt finish add flexibility to bathrooms of any size, and matching sanitaryware is available to create a seamless and co-ordinated look.
10. The Patinata basin from BC Designs features an innovative blue Patinata finish, which contrasts with the copper interior of the basin. Due to its hand-crafted nature, the various shades and textures of the finish will be unique, bringing an element of individuality to the piece. The basin is finished with a lacquer coating for durability, and measures 530mm long, 245mm wide, and 180mm high.