The trend for using one vibrant tone for all the kitchen cabinetry is gaining traction with newly colour-confident consumers – Angelica Hedges rounds up 10 kitchens that show just how successful working in a restricted palette can be.
1. Pronorm's ProLine kitchen is shown here in a Dark Green matt lacquer, creating a vibrant scheme that blends with the natural garden environment and helps to bring the outdoors in. Dark Green is available across all four of Pronorm's artisan ranges – the Y-line and X-line handleless, Proline and ClassicLine – and the Calacatta stone-look laminate work surfaces add a touch of luxe.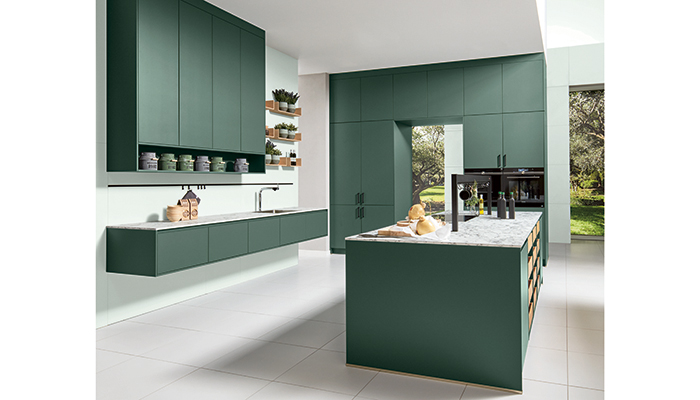 2. From Mereway Kitchens, the In-Frame kitchen design is a collection featuring three different styles – as well as the Signature style, shown here, the Classic Shaker embraces heritage design, and the Modern Classic encourages a more minimalist style for a subtle look. Pictured here in vivid Fuchsia, the collection comes in 26 unique colours, ranging from neutrals such as Cashmere and Light Grey, to the striking hues of Fuchsia and Dusk Blue.
3. The Solva range from Masterclass Kitchens features both neutral and more striking colours, from Coastal Mist to strong tones such as Claret. Their resonant bespoke colour Hunter Green, shown here, is used to pull together the various integral cooking, socialising, and entertainment elements in a large open-plan space.
4. From Pluck, this kitchen design has been created in conjunction with the architect Studio Pike, and features Coral Pink Ritzy cabinetry, with Farrow & Ball's Setting Plaster walls. The vibrant colour of the walls extends the tone of the cabinetry to create a glowing effect which brings light and warmth to all aspects of the compact galley space.
5. From Crown Imperial, the Rimano collection features a delicately proportioned bevel design, with a solid Ash frame and veneered centre panel. Pictured with a handleless door, this dual island design is shown in the uplifting shade Sky, and comes in a choice of 22 colours, in varying degrees of intensity.
6. The owners of this kitchen wanted a '1980s Miami vibe' and chose Pluck's Lido cabinetry in a fresh, minty colour to get the look. Tiles in a complementary cool palette add to the crisp tone of the kitchen, which creates a dramatic contrast with the salmon pink in the dining room next to it.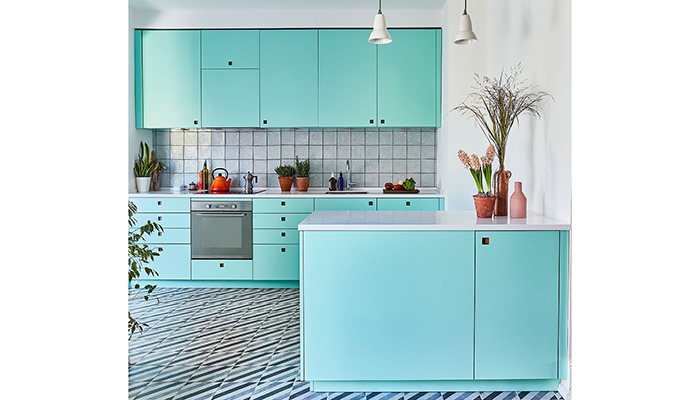 7. The Porter Kitchen by PWS is pictured here in the rich Bay Green colour with Outline Portal spherical handles. Available in a number of stock colours, this scheme features an elegant, modern slab door, which draws its roots from German design and is shown here with the cabinetry all in one colour including the splashback, linking together all the zones.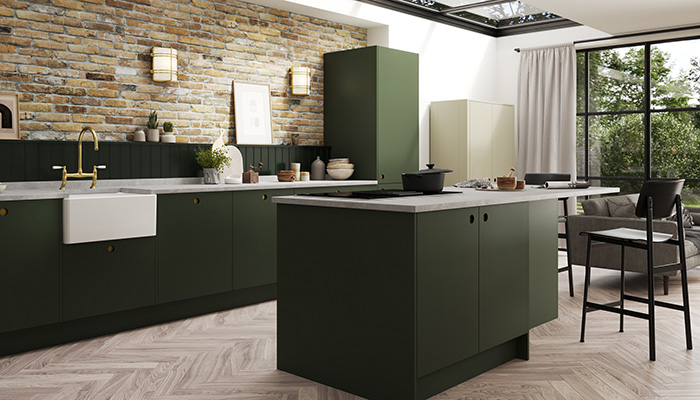 8. From bespoke designer Martin Moore, this kitchen features a vibrant teal colour from Farrow & Ball, which is working here in conjunction with Moore's New Deco collection, blending storage and functionality with style and personality. The central island functions here as the heart of the space, connecting the cooking area with the socialising and entertainment zone.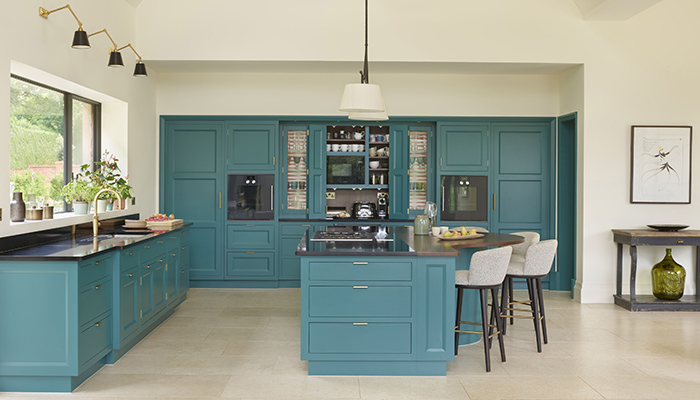 9. Schmidt's Arcos Supermat range features matt-finish cabinets with floor-to ceiling cupboards including internal drawers beneath the hob and 'floating' cupboards. Pictured here in the Claret Red Sirra design, this scheme is also available in Sencha, Everest, Caneo, and Black. Plentiful storage keeps the workspace clutter free, and the Nano Black laminate work surface is easy to clean, and fingerprint resistant.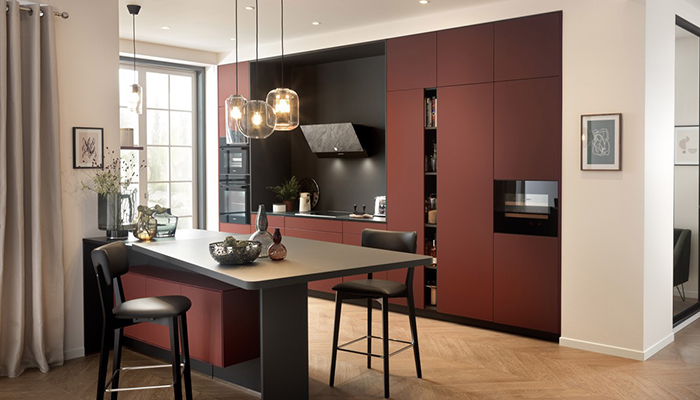 10. Inspired by the green hues of nature, this five-piece Cambridge timber Shaker range from TKC is pictured here in a bold Fir Green, which is featured across their Cartmel and Lucente ranges as well as the Cambridge line. This popular shade is also available as a Paint to Order finish, making it flexible across a multitude of different schemes and kitchen designs.