The hotel interiors show, HIX, returned to London's Business Design Centre on 17th and 18th November and the buzz was undeniable – Amelia Thorpe sums up the key luxe bathroom trends you need to know about now.
Representing 148 exhibitors from the bathroom, surface, technology, furnishing and fabric sectors and attended by some 3,728 visitors across the hospitality design and specification professions, the mood at HIX this year was upbeat. It boasted a 16% annual increase in attendees and presented a full programme of events and show pieces, including the Mush Room bar, created by Belgian studio WeWantMore from interwoven fungus roots grown for the occasion. "From last year's theme of 'all together now', we felt that 2022 was all about great things growing and the return of hotels," says Joel Butler, co-founder of HIX. "This feeling of post-Covid recovery, next-gen thinking and optimism could be felt on the stands, in the aisles, the talks, and of course, the already iconic Mush Room bar."
1. SHOW STOPPERS
If evidence was needed that statement pieces can be used to elevate bathroom design in hotels, there were several attention-grabbing ideas on display. They included the new Il Bagno Alessi by Laufen freestanding bath with an asymmetric rim and Caffé exterior, Villeroy & Boch's Theano freestanding tub made entirely in Grey Quaryl, and Gessi's Origini collection of striking green brassware.
Exhibiting for the first time at the show, Ideal Standard showcased its Atelier Collections created in partnership with Italian design studio Palomba Serafini Associati, raising visitors' perception of the brand. "Front and centre of the stand was our Tipo Z basin, a flagship of our Atelier Collections, with an angular silhouette that really makes a statement," says Anil Madan, non-residential marketing manager.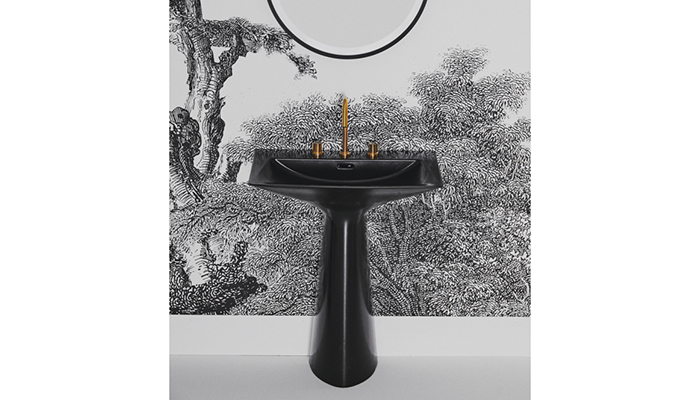 2. PINKS & PASTELS
"We are seeing plenty of interest in pastels," says David Osborne, CEO of Roman, of its translucent pink solid surface fluted vanity top, displayed as part of its solid surface solution offer along with its bespoke shower enclosures and screens. Pinks and soft blues and greens were also evident in basins from Imperial Bathrooms, Bagno Design and Ideal Standard, as well as custom radiators from Rutland London and vanity units from Catalano.
3. FLUTED LINES
"Fluted finishes are the trend in interiors right now," says Tom King, MD of Majestic, launching the firm's new Art Glass Collection of shower screens at the show, including Crystal Drawn Fluted glass. "People want to feel cocooned, so we are seeing a lot more interest in textures that bring an element of softness into the bathroom," he adds.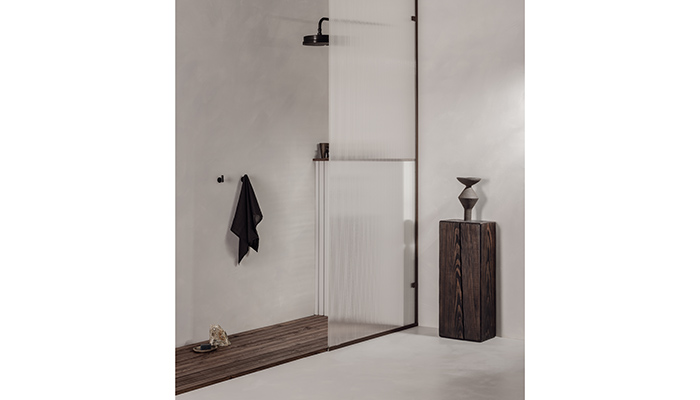 4. FINISHES
The move towards brassware, shower frames and radiators in a huge variety of finishes was amply evident, with barely any chrome on show. "Finishes are what it's all about now," says David Osborne, noting particular interest in matt black, brushed brass and nickel. Delia Lakwera, UK project specifications manager at Graff, highlighted the interest in luxe, opulent looks including Rose Gold and Onyx, as well as brushed brass, while James Sketch, country manager, Keuco, noted brushed bronze and nickel as favourites of the moment, and Rutland London displayed an impressive choice of 22 options.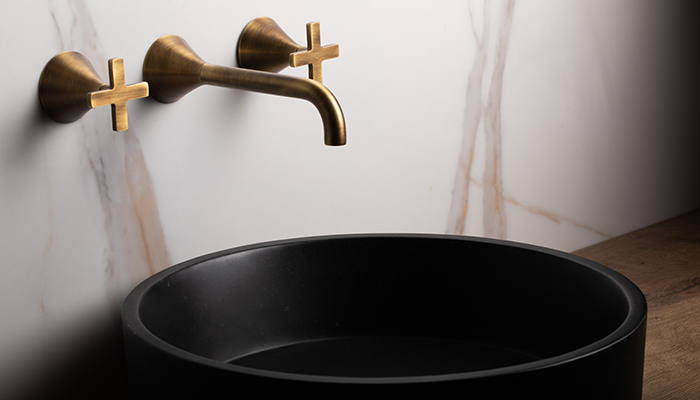 5. TEXTURES
Interesting textures not only soften the look and feel of a bathroom space, they can also be used by designers to introduce individuality – a message that some manufacturers were keen to demonstrate, judging by the choice of pieces on display. Laufen showcased textured ceramics in its limited edition Bohemian basin from the New Classic collection designed by Marcel Wanders, while Crosswater opted to display its Vergo bathroom furniture collection with a cross-hatched finish, creating an almost quilted appearance.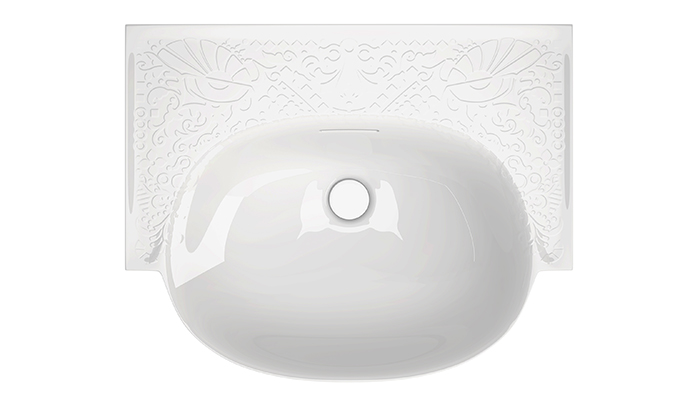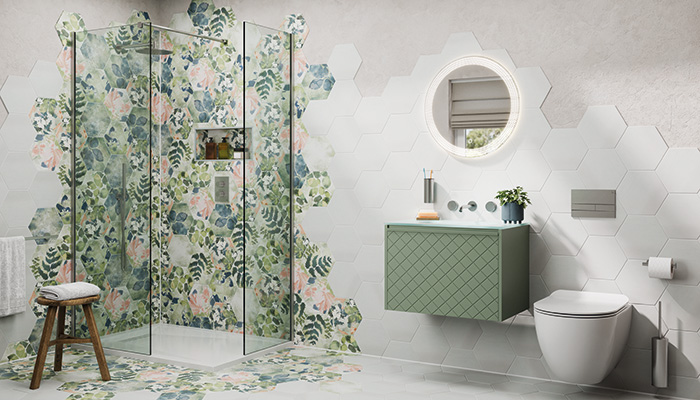 6. LUXURY MEETS SUSTAINABILITY
"Reduce water usage, save emissions – with water-saving technologies in all our products. That is our goal by 2030." So proclaimed a large sign on the Hansgrohe stand, which showcased its Axor Conscious showers, designed to reduce consumption to just under 6L/min in the EcoSmart variant. "Since we launched the first water-saving hand shower back in the 1980s, we have been working to perfect this technology, so it reduces the amount of water people use without compromising on the showering experience," says Steffen Erath, head of innovation and sustainability at Hansgrohe.
Roman, Grohe and Catalano also signposted their commitments to reducing environmental impact in their manufacturing processes and product performance – of keen interest to hotel designers, because of legislation, the need to lower energy costs, and desire to seek goodwill from guests.