With over 40 years of personal experience and research, design consultant and Symphony ambassador Adam Thomas has helped to transform many homes and lives throughout the UK. Here he reveals the 5 major considerations to take into account when planning an accessible kitchen design.
Multi-generational living is set to increase in the UK as adult children struggle to afford to fly the nest and families look to combine resources with grandparents to create living spaces for up to three generations. In addition, there are over 14million registered disabled people in the UK. Symphony has developed an inclusive and accessible kitchen range called Freedom that can be used by all ages and abilities, including those with mobility requirements. So, what are the most important things to consider when planning an accessible kitchen design?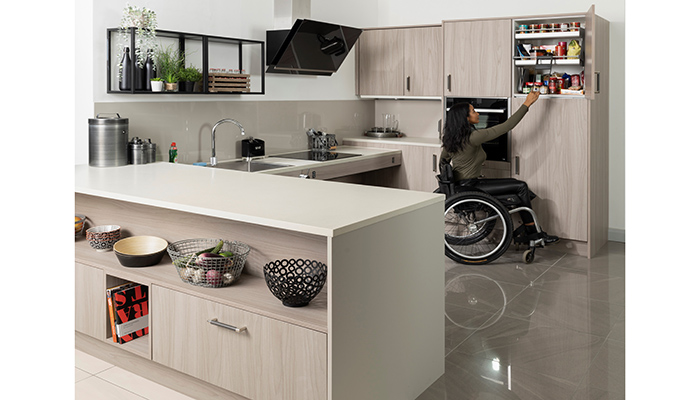 1. Kitchen Layout is Key
The overall layout and positioning of the key appliances play an important factor in determining how accessible a kitchen is. An important consideration when deciding on the layout is to reduce the overall number of steps between the cooking appliances and the sink. So carefully consider the placement of the oven, hob and sink, ensure they are not too far away from each other, to minimise the need to carry for example a boiling water pan across the kitchen before being able to drain it. Additionally, consider where the oven is positioned and whether there is a suitable resting space such as a worktop nearby. I tend to recommend that an oven is designed alongside a worktop, for the safe transfer of hot dishes.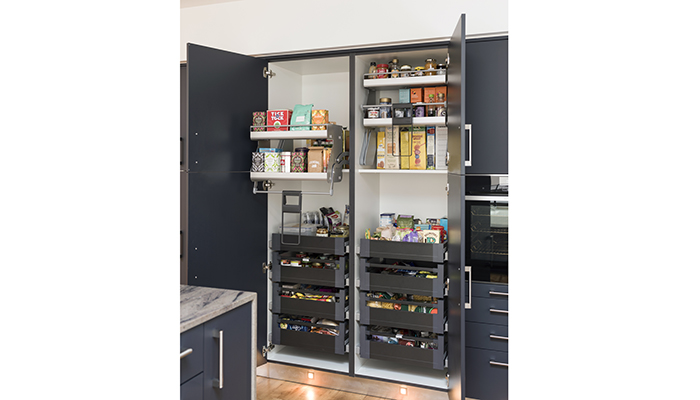 2. Accessible Storage
To reduce unnecessary reaching, crouching and carrying of items, safe storage solutions are a must! Consider the height that wall cabinets are fitted at to make them as accessible as possible and include pull down baskets which are an excellent way to make contents easier to reach for users. Many falls in the kitchen are caused by over-reaching and bending, so I recommend pull out larders and base cabinets with drawers to negate reaching into the back of cabinets. Adding internal drawers into larders is another great way to make storage easy to access. Finally, reduced depth cabinets can be a useful design choice so that all cabinet contents are within easy reach and items don't get pushed into hard-to-reach areas of deeper cabinet.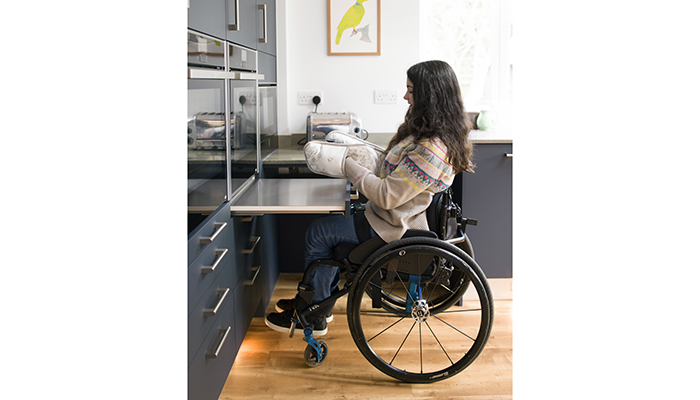 3. Choosing the Right Appliances
Ovens and hobs are the most used appliances, but also carry the greatest risk to the user of the kitchen. Traditional drop-down opening oven doors and even side opening oven doors present a barrier to a user safely accessing the oven and there is increased risk of the user touching the hot oven door. 'Slide and Hide' style ovens are an ideal option as the door can be pulled open and then hidden underneath itself. I also recommend a heat resistant pull out shelf underneath the oven to place hot dishes and for a wheelchair user this also protects the user's lap.
Elsewhere, induction hobs are strongly recommended over gas hobs as an open flame is not as safe. Induction hobs only heat up when a pan is placed on the zone, and it is easy to install if a flexible height worktop is chosen. Ensure the controls are positioned towards the front of the hob rather than the side, which again helps to reduce reaching or leaning over a potentially hot pan. Additionally select a fridge with pull out shelves that make access easier and extractors that are Wi-Fi enabled or remote control operated to negate the need to reach the extractor to operate it.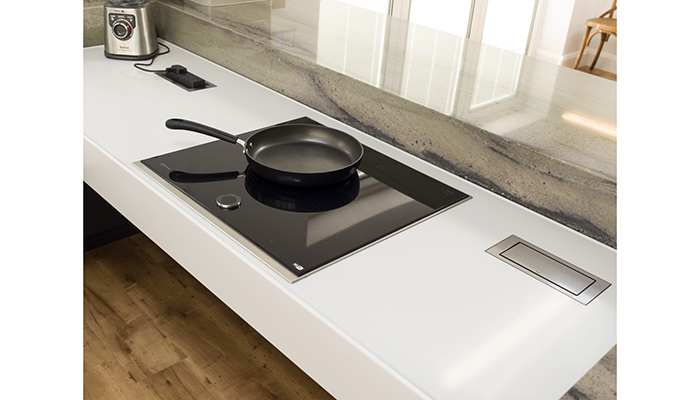 4. Worktop Solutions
Rise and fall worktops give greatest flexibility for a user to position the worktop at the optimal working height for them, plus they are ideal for multi-generational households of multiple users. These worktops can be raised or lowered to a safe and comfortable working height at the push of a button. For wheelchair users it is imperative to design the appropriate amount of leg space so that the user can get as close to the sink and hob as possible, as well as offering preparation space at a height of their preference.
Cabinets that include a pull-out table can also be used to provide additional work surface space, which is of particular use in smaller kitchens. These can also be used as dining tables if required.
Considering the worktop material used is also important. It is recommended that a worktop with a waterfall edge is used for the hob and sink work surface, the raised lip prevents liquids from spilling off a worktop either onto the lap or onto the floor. It not only reduces the risk of scalding but also slip risks from oil and water.
5. Plug Sockets
Think about positioning of plug sockets for items such as kettles and toasters; often sockets are located on the wall, which could lead to overstretching. Use solutions such as flip sockets that can be fitted in an appropriate area of the worksurface instead for ease of use.