Facing onto Imperial Square in Cheltenham, Roundhouse's new showroom is an impressive 2,000sq ft space with tall windows that wrap around the exterior of the corner plot – we talk to designer Jonny Morris to hear how he devised the layout of the premises.
Q: Why did you choose this location for your new showroom?
A: This prominent location is one of the prime retail sites in Cheltenham. Situated on the elegant Promenade it is a landmark for those driving by and the many pedestrians walking past.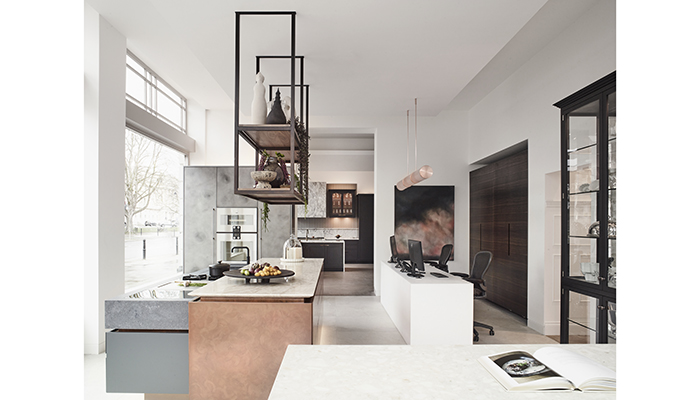 Q: Do you take customers through a particular 'journey' with the design?
A: The showroom is on a corner plot and we created a layout that allows visitors ample space to walk around the displays and ponder over the fine details of each individual design. We have created three distinct areas, each with its own unique feel, including two areas dedicated to kitchens, as well as an area focusing on wardrobes and living furniture.
Anyone coming into the showroom who is unfamiliar with Roundhouse, will be shown our range of furniture that we make bespoke for each individual client to give them a flavour of what we do. The showroom is inspirational, and they can discuss their projects with our experienced designers in the calm surroundings, choosing from our significant number of finishes and styles.
Q: How many displays are there?
A: There are 10 displays that include a combination of living, bedroom and kitchen furniture.
Q: How did you decide on the styles of the displays and which products to showcase?
A: It was quite a challenge to create the right showroom ambiance; showcasing what we do and making everything work together. We have designed three distinct areas, which complement each other. Although they are standalone pieces it was important to get finishes that do this and create a calm atmosphere.
Q: Are there any working displays?
A: We have three working displays that feature three different appliance manufacturers that we use for cooking events. This includes full working kitchens from Gaggenau and Sub Zero Wolf together with a hob and extraction system from Bora.
Q: In your view, is there anything different about this showroom compared to other kitchen showrooms?
A: We have received really positive feedback since we opened. The displays are different to other kitchen showrooms as we have included a wide mix of materials and finishes which include a split-level copper wrapped centrepiece island, sawn oak veneers and beautiful natural stone worktops.