A kitchen splashback can add interest to a scheme through colour, tone, pattern or finish – we round up 10 statement designs that create a stunning visual centrepiece.
1. Caesarstone surfaces are resistant to moisture and heat, which is said to make them the perfect material for kitchen splashbacks. Extremely easy to maintain, these surfaces are ideal for wet areas such as sink countertops and splashbacks, as they are non-porous and easy to clean. This dramatic surface is 5100 Vanilla Noir.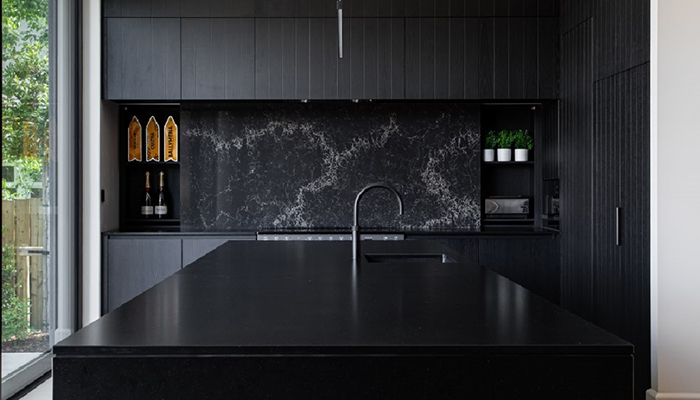 2. For a really statement piece that looks incredible when illuminated, the Picasso Gem multi-coloured panel from Cullifords features an assortment of coloured semi-precious stones of various sizes set into a beige/ochre background. With a thickness of 200mm, the panels feature a polished finish and are said to be stain resistant.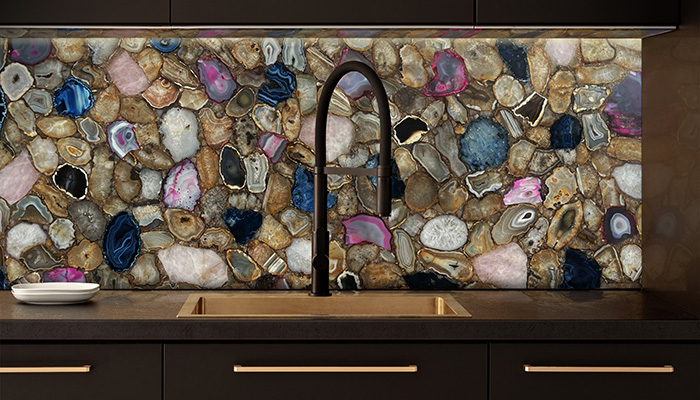 3. CRL Quartz Cristallo Azure from CRL Stone makes a stunning visual impression, while the durability of the quartz material ensures it will stay looking beautiful with minimal maintenance. The striking intensity of the sea-green colour makes it the perfect choice for a more design-led project, where it contrasts beautifully with neutral shades.

4. Armani Marble from RAK Ceramics is a bold surface that brings a little bit of luxury to the kitchen. The dark grey of the porcelain surface is interrupted by delicate fine white veins running throughout, providing an elegant contrast and really drawing the eye in.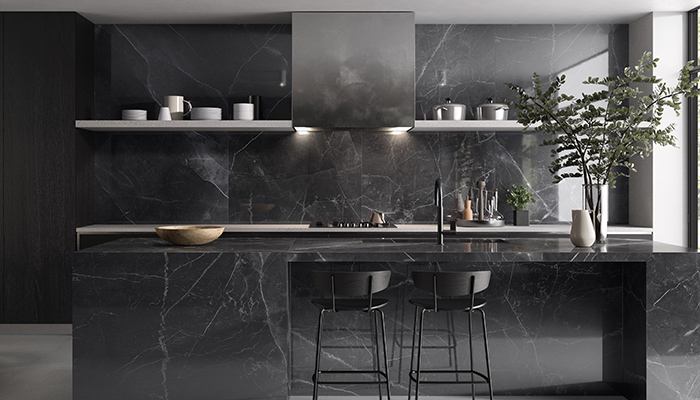 5. The Osaka collection by Spanish tile brand Realonda comes in 5 colours – Aqua, Grey, White, Black and Charcoal, pictured – and features a graphic design inspired by traditional hydraulic tiles. The hexagonal porcelain tiles measure 285 x 330mm, can be used on floors as well as walls, and have a matte finish.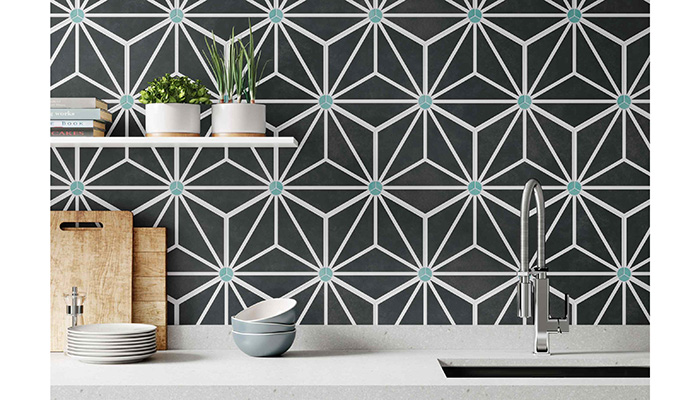 6. This bespoke glass splashback in Atlantic Ocean is from the Earth Collection by Sally Coulden at Red Dog Glass Design. Totally original and displaying a vibrant array of blues, it is exclusively made to order and installed by Optidek.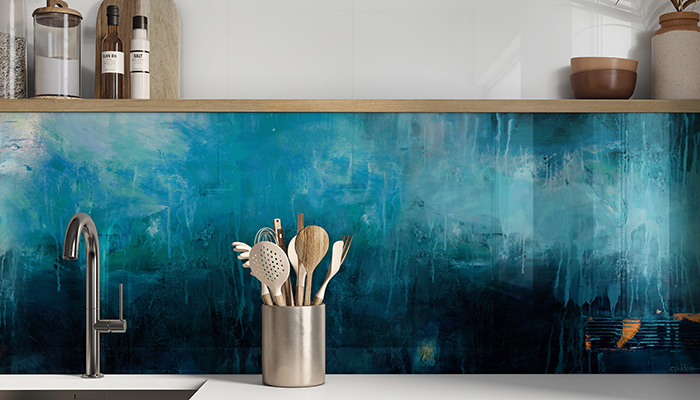 7. The Grace collection from Spanish brand WOW Design is an elegant and unusual decorative wall tile with rounded edges. This shape allows for the creative use of coloured grout and creates a fascinating geometric effect when installed. Available in 7 colours and measuring 75 x 300mm, it features either a translucent crystalline glaze or a smooth matt finish, and also comes in a rectangular version.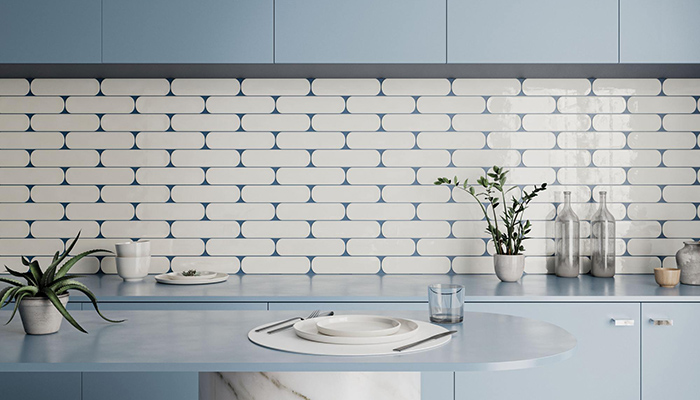 8. A striking material, like this black-veined quartz Calacutta splashback in a scheme by bespoke kitchen specialist The Main Company is vibrant and eye-catching, as well as durable and hardwearing. Non-porous, and stain, heat and scratch-resistant, quartz is a popular choice for many homeowners as it can be cut and polished to suit individual tastes and requirements.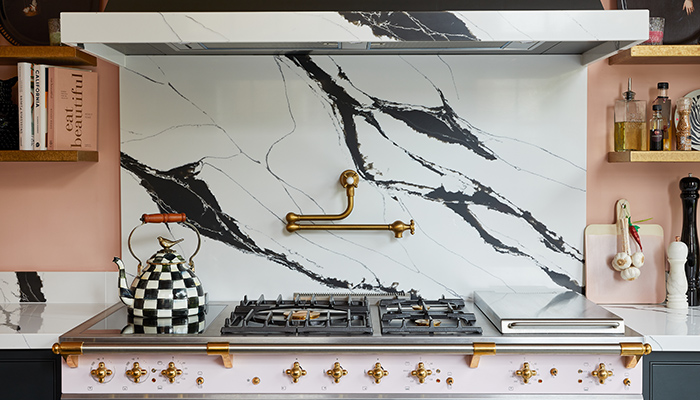 9. The Rubik by Harmony Inspire is a 123 x 123mm porcelain tile, presented with a completely smooth surface in a matte finish and rustic edges, with the tile's simple shape intended to accentuate the colour. The collection consists of 9 vibrant shades – shown here is Sage – providing a wide range of possibilities. Each color offers a significant tonal variation, to add character to any space.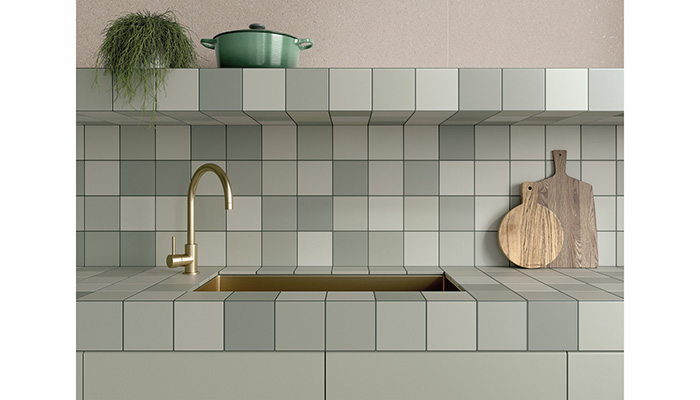 10. The Coco porcelain wall tile from Equipe comes in 8 colours, measures 50 x 150mm and is available in a choice of both gloss and matte finishes. Shown here in moody Blue Night Brillo, for added interest this splashback is arranged in a Herringbone laying pattern creating a pleasing zig-zag effect at the top.