Nowhere in the home does functionality need to meet design more than in the kitchen. The material choices for this room need to be based on practical advantages and aesthetics values almost in equal measure.
This was certainly the case in a recent project from Crouch Design, when creating a family kitchen for a property in Surrey. The room itself was generously proportioned, with folding glass doors opening directly on to the rear garden and fill it with natural light. As a multifunctional kitchen-living area, it was important for the designers to maximise on space wherever possible, achieving this through a variety of means including an island seating area with storage under and many other details that turn the room into a hub of the home.
As with all kitchens, the worktops play a huge part in the overall design scheme; always visible, worktops take up a significant expanse of space and as such are key to tying the look together. As well as being an important visual element of the kitchen, worktops are very often in use and this can be for a variety of tasks as from food preparation and meal times, particularly when the space is as multifunctional as this Surrey kitchen.
In this instance the team at Crouch Design were determined to make the worktops a real focal point of the room. With a grey and white colour scheme chosen to achieve a timeless elegance in this family home, light coloured worktops were favoured to add contrast to the dark cabinetry and painted walls. A stand-out feature of the finished space while working in harmony with its surroundings, CRL Quartz Polar White surfaces were supplied and fitted by Stewkley Stone.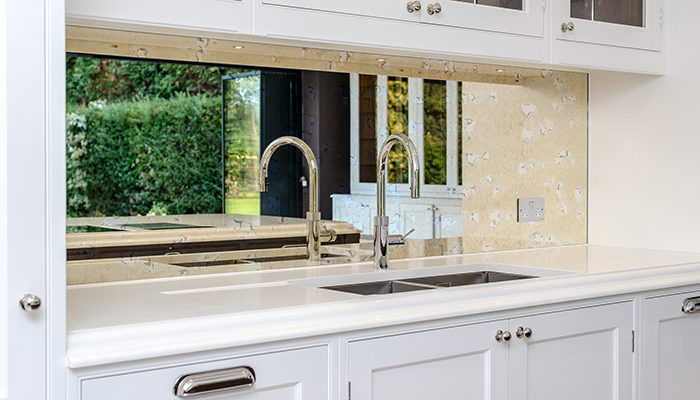 Adding an interesting aesthetic and in keeping with the timeless elements of the room's design as a whole, the Hilton Ogee profile on the quartz worktops is one of the finer details of the project that add character to the space. Bold and stylish, CRL Quartz Polar White features small grains within the surface that give it the resemblance of natural stone, and as a quartz surface it is extremely durable and easy to care for.
Combining effortlessly with other elements of the room's design, from the mirrored splash back to the glass fronted units, the quartz worktops have a polished finish too, helping to reflect the light and adding to the feeling of spaciousness.
Thanks to the ease of maintenance of CRL Quartz, the worktops will be as timeless as the design itself, with no requirement for sealing and a simple wipe clean with a soft cloth and mild detergent all that is needed to keep them sparkling. Scratch and stain resistant, any spillages can be quickly wiped away, ensuring that this family kitchen can be lived in comfortably while it always continuing to sparkle.
For more details on the White Collection by CRL Quartz click here.
For inspiration for your own kitchen design, visit our gallery here.