2021 is a landmark year for Crown Imperial, commemorating a remarkable milestone with the celebration of its 75th anniversary as a leading British furniture manufacturer. It also marks a new chapter of working at home and presents new design opportunities for retailers to help customers embrace a new work-life balance. Crown Imperial offers a versatile choice of stylish bedroom and Lifespace storage solutions, accessed through a central design palette to ensure a seamless fusion throughout the home.
Multi-functional bedrooms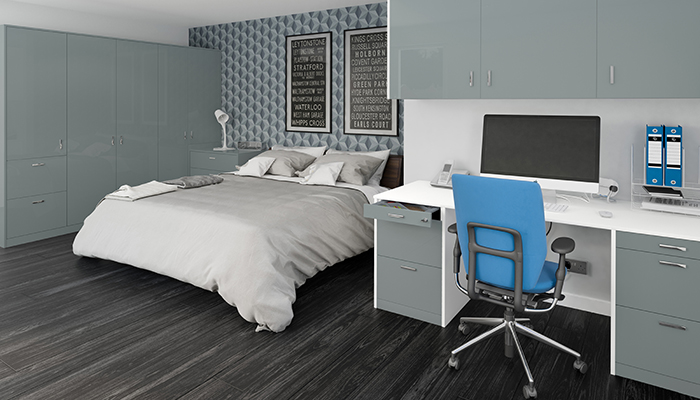 Crown Lifespace and bedroom furniture is featured here in a multi-functional scheme, achieving a harmonious organised style, with defined relaxing and working zones. Furore is showcased in a Grey Aqua gloss finish, adding a light and airy feel while meeting the needs of modern lifestyles.
Work and living zones
Lifespace provides the perfect platform to create combined working and living zones while maximising floor to ceiling space. The design features a focal storage and media wall coupled with a home working area, using the same style theme to achieve a sleek contemporary look.
Dual work and leisure spaces
Designed around customers' individual needs, Crown Lifespace boasts a variety of flexible configurations and modular furniture options. A dual work and leisure zone is an ideal room choice for a happy work-life balance – featured is a dedicated desk space, tiered shelving, and units for organised storage, while providing easy access to everyday essentials.
Explore the latest Crown Lifespace and bedroom collection online:
www.crown-imperial.co.uk/bedrooms
www.crown-imperial.co.uk Telephone - 01227 742 424