Consumers may have had to scramble to adapt to the new working from home norm, but kitchen designers aren't short of options when it comes to offering integrated solutions. Emma Hedges rounds up the latest inspiring design ideas.
With homeowners keen to reconfigure their living spaces so that they can comfortably meet all their needs going forward, the opportunities for retailers and designers are clear. But what are the best ways to integrate a working from home zone so that it complements the overall design rather than impacting on it, or detracting from it?
"The kitchen is the hub of the home and through zonal design it is possible to achieve a cohesive style fusion, whether by creating different levels to balance the entire scheme or by designing a dual work and leisure zone away from the daily hubbub of the kitchen," says Tony McCarthy, commercial director for Crown Imperial.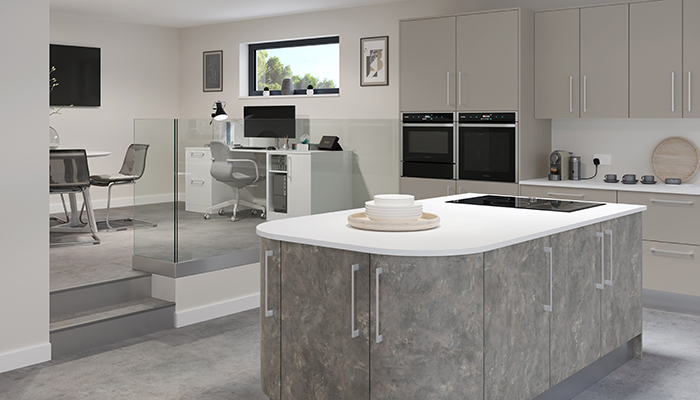 If space allows, an adjoining area that features a similar aesthetic so that zones flow seamlessly into one another is ideal.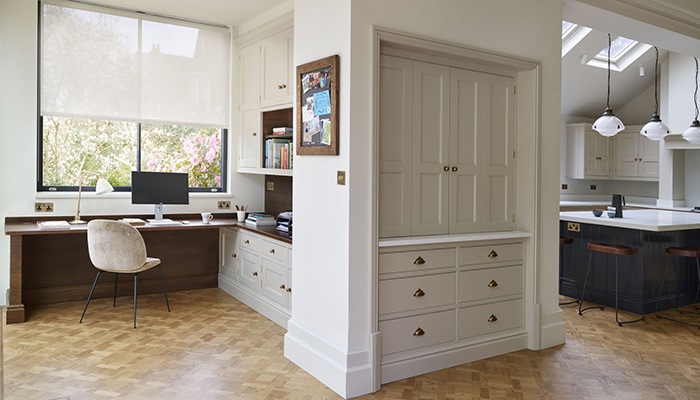 "Furniture that is luxurious and non-specific has the ability to blur the boundaries from room to room," says Simon Bodsworth, MD at Daval. "Fitted furniture has therefore become the go-to for whole house interior design, using contemporary designs with classic styling to conceal utilities, expand to other rooms in the home and maximise storage in a more ergonomic and uniformed way."
However, if extra work space to the side of the central kitchen area isn't an option, devising an office hub within it is always going to be when an imaginitive designer can really come into their own.
"The kitchen is likely to be under more stress as people work from home and it's vital to ensure it can withstand it," says Neil Taggart, marketing manager for TKC. "From a practical perspective, it's easier to build a dedicated homeworking hub into larger kitchens by making use of excess worktop space and strategically placed open shelving."
But if a concealed office area is what is required, then a 'cloffice' could be the answer. According to the 2021 Pinterest Trend Report, the search term 'cloffice ideas' doubled in popularity last year and it's easy to see why – an office tucked into a closet might sound a little homespun, but in reality it can be elegant and ergonomic.
"The best way of making the kitchen truly multifunctional is to create a work station within the run of cabinetry which includes shelving and drawers that can be concealed behind pocket doors," says Searle & Taylor MD, Darren Taylor. "When the office is in use, the doors will open fully into side recesses, to reveal a clearly defined space in which to work. Once business has ended for the day, the doors close to hide away computers, routers and files so that the aesthetic of the kitchen remains uninterrupted."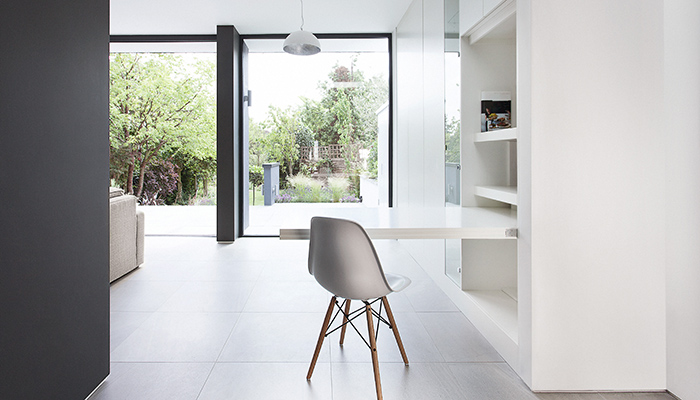 Such is the demand for working from home solutions, Neptune has taken the popular cloffice concept a step further and developed a modular version. Its freestanding workstations come in two sizes and feature a classic look in keeping with the brand's kitchen cabinetry styles. When the working day is done and the doors are closed, it looks just like a dresser and perfectly in keeping with the rest of its kitchen surroundings.