The COVID pandemic has triggered a change of strategy for Teesside kitchen studio Haus of Design. Not only has owner Amir Kamiabi added to his luxury German and Italian brand portfolio, but he now offers a full interior design service to developers – Tim Wallace finds out more.
Q: How much impact has COVID had on your business?
A: Lockdown made me realise you're constantly striving to make money to grow and grow. But how big do you need to be? I want a smaller business, doing less work with more satisfying jobs. We looked at how we were going to get new business working with the minimum amount of staff.
Q: So you've become more specialised?
A: Yes – 90% of our work is new builds and self builds. I've set the business up differently so we're not competing. Our customer base is very small, but they come in for much more than just a kitchen. We're pushing ourselves to become much more of a design company. We will design the whole room, every light fitting, every piece of furniture, all the tiles – everything in that space. We do the kitchen, all the bathrooms, the utility…
Q: What about installation?
A: If you have fitters sub-contracting it costs a lot more money because you have to do all the organisation. So we work with the builder and the architects and just slide in doing a first fit plan. That means our products will go perfectly into where they're supposed to, and we pass a lot of savings onto customers so we don't need to take such a high percentage off them.
Q: How well is the plan working?
A: On average we're taking orders of about £200,000 to do the full interiors on houses of 5,000sq ft plus. We've just done five houses in Middlesbrough, all priced at between £1.2 to £1.4m. Next year we'll do about £2.2m turnover. Bigger numbers mean more headaches.
Q: How are you managing the broader interiors offering?
A: It's all about collaborations and finding the best people. We work with companies supplying beautiful Italian beds, sofas and furniture. We also work with Bang & Olufsen and with companies supplying swimming pools, steam rooms and saunas. But you can't just say : 'Hey I'll do all this now' – you become a master of none. So we've brought in two interior designers – they're fantastic.
Q: What kitchen brands do you offer?
A: We've brought in Bax Kitchens from Germany. We did the KBB Show with them and we're now their flagship showroom. We also work with Villeroy & Boch Kitchens and Störmer. I'm doing a lot with Störmer and less with Schüller and Next 125. I'm not putting all my eggs in one basket like I was before. On the appliance side, it's brands like AEG, Novy and Küppersbusch.
Q: And is the pandemic driving new trends?
A: Yes, we're doing a lot of stuff on pantries, which is a new big thing, plus boot rooms, cinema rooms and fancy studies now that people are working from home. We also do a lot of home entertainment systems. The smart home element is coming in, but we try to stay away from gadgets like smart dishwashers and cameras in fridges. Nobody is asking for that. It's more about the practical side where you can control all your lighting.
Q: Will the easing of restrictions help business?
A: It depends what the house prices are going to do. You can't get hold of labour at the moment. And the price of products has gone up – things like bathroom furniture; anything imported from China. Container prices have gone up from £2,500 to about £14,000 to £18,000.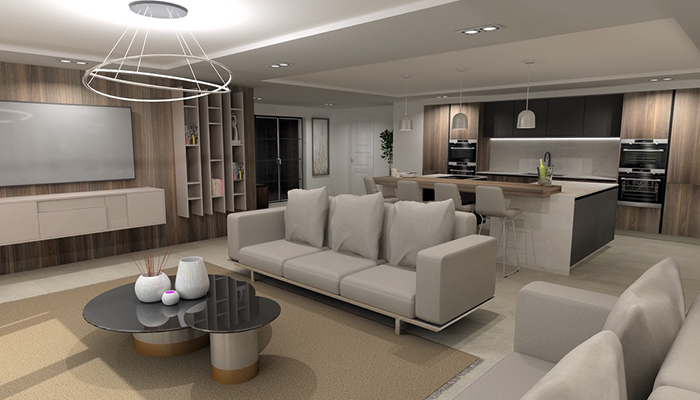 Main image: Amir Kamiabi is pictured with his two new interior designers, Louise Mitchell (left) and Rachel Taylor (right) from L&R Interiors in Darlington.