As InSinkErator reveals that it is teaming up with legendary designer Kelly Hoppen CBE, we catch up with Ashley Munden, managing director, EMEA for InSinkErator, to hear more about the new endorsement and partnership.
Q: What can you tell us all about your new endorsement?
A: We're elated to announce our endorsement and partnership with renowned interior designer, Kelly Hoppen CBE. The endorsement is going to play a key part of our EMEA growth strategy for the next few years, especially with the topics of food waste and sustainability high on the consumer's radar. The EMEA partnership will also see Kelly Hoppen taking on the role as brand ambassador for InSinkErator.
Q: Which InSinkErator products are included?
A: Kelly Hoppen has endorsed the entire InSinkErator portfolio of specialist kitchen taps and food waste disposers. She's well-known for her sleek and timeless approach towards interior design, which complements our modern, time-saving, convenient kitchen products.
We invented the food waste disposer over 80 years ago and today, as the global market leader, we manufacture a wide variety of models, designed to suit different family sizes and home cooking needs. An InSinkErator food waste disposer is a sustainable asset for the modern home, which can be neatly hidden under the kitchen sink, and is the ideal alternative for diverting food waste from landfill, especially where home composting is not possible.
To streamline the kitchen in style the, Kelly Hoppen endorsed, InSinkErator portfolio also boasts an elegant collection of specialist kitchen taps. The InSinkErator taps are designed to eliminate the need for a kettle, reduce water waste and are available in an array of shapes and on-trend finishes, including Brushed Gold or Velvet Black. The top-of-the-range InSinkErator 4N1 Touch tap instantly and safely dispenses filtered steaming hot water, filtered ambient cold water and regular hot and cold water from one combined fixture.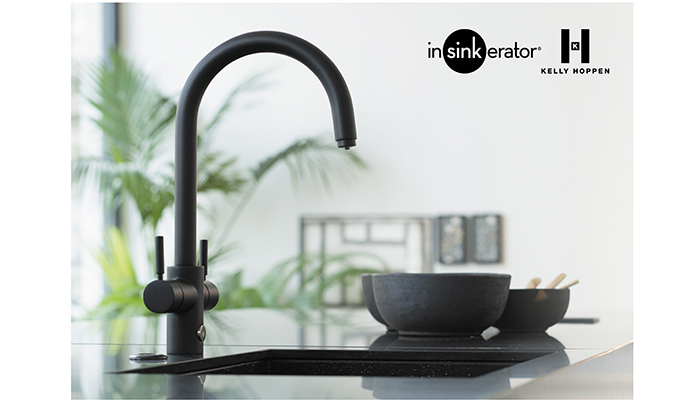 Q: What does this mean for retailers?
A: We're supporting our valued trade partners with a range of POS and marketing materials to highlight this endorsement to their customers, stating that a multi-award winning interior designer has given the full portfolio of InSinkErator products her seal of approval.
Kelly Hoppen is a sought-after interior design expert with strong connections in the industry. The endorsement will raise the profile of our kitchen sink solutions and increase footfall for our retail partners, especially as consumers have been re-evaluating their homes to ensure they meet a wider range of needs, including enhancing the kitchen to support spending more time at home, a rise in home cooking and being more hygienic.
For more information on the Kelly Hoppen endorsed InSinkErator products, please consult your account manager or visit the website at https://insinkerator.emerson.com/en-gb