Appliance and kitchen furniture specialist Caple has just opened a 1,200sq ft state-of-the-art kitchen showroom at its Avonmouth, Bristol headquarters. We catch up with Caple's marketing manager Alex Fuidge to find out all about it.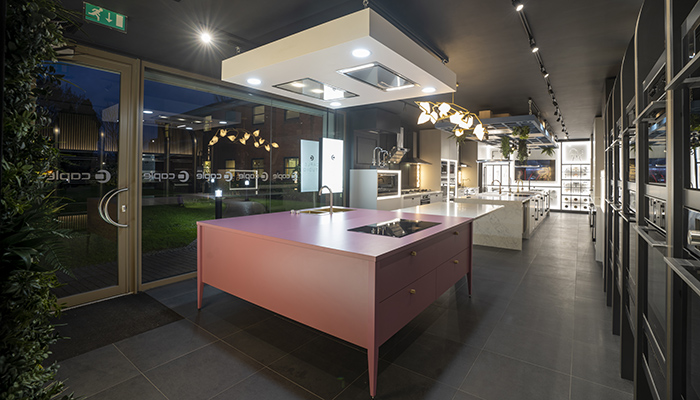 Q: Why did you choose this location for your new showroom?
A: It made sense that our flagship Caple Studio was at our headquarters in Bristol. In addition, it is connected to the Caple Showroom, customers can benefit from seeing both spaces.
Q: How many displays are there?
A: The Studio is formatted into zones – Classic, Sense, and Sense Premium zones. It shows the oven ranges from Classic (entry-level, competitively priced products), Sense (mid-range) to Sense Premium (premium as the name suggests). All the ovens are built on the same platform. Displaying the ovens side-by-side is a great way to demonstrate the sell-up route from entry to premium. We factored in a working kitchen equipped with a hot water tap, a dishwasher and two single ovens side by side. Running down the centre of the Studio is the long island (not the cocktail, unfortunately!). It displays behind the door and built under products with a selection of sinks and a built-in, illuminated door library displaying furniture door samples. A custom-built suspended raft hangs above the island, fitted with halo extraction illuminating the worktop below.
Tucked away at one end of the showroom is the boardroom, with well-stocked refrigeration, wine cabinets and working coffee machines for that much-needed caffeine injection during meetings. This space is divided from the main Studio by a sliding door to give complete privacy, when required, during meetings.
At the other end of the Studio is the interactive accessories wall featuring a 65" TV showcasing taps, accessories, and furniture handles. Visitors can remove handles from the wall and hold them against furniture doors to see which handles best suit the door.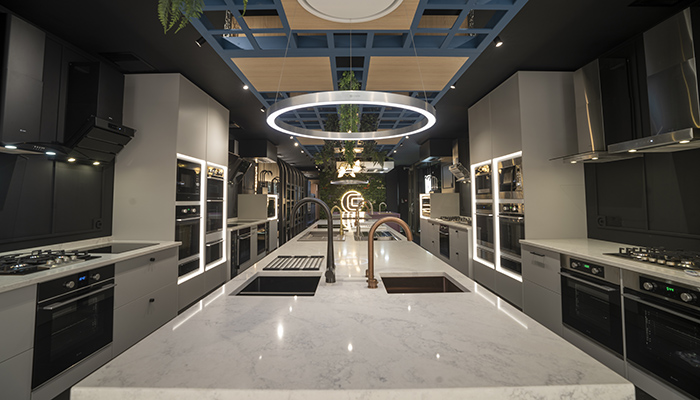 Q: How did you decide on the styles of the displays and which products to showcase?
A: As the other Showroom showcases furniture with 'real' kitchen displays, we wanted to make the Studio different, reinforcing the versatility of the brand. One of our objectives was to show as many products as possible. We have a unique offering as the only manufacturer in the UK to sell appliances, sinks, taps, kitchen furniture and accessories under one brand. We wanted to make it a unique, interesting and quirky space, and also focus on Classic – the bestsellers. It's always easy to focus on the new, innovative products, but the Classic range is the meat and bones of the brand that we are incredibly proud of, so why not showcase the extensive portfolio in a creative display?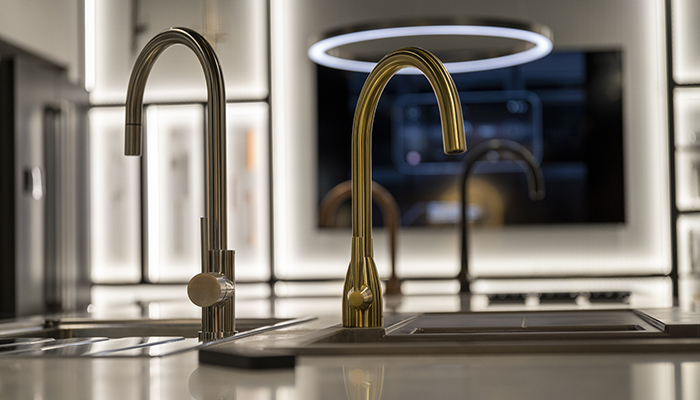 Q: Who are your potential customers and how are you planning to engage with them?
A: Customers include – but are not limited to – independent kitchen retailers, studios, builders' merchants, and consumer days will be available by appointment only. If our customers would like to invite anyone to the Showroom to view a particular product, that can be arranged.
We currently host Experience Days. Customers join our National Trainer, Jo Underhay, for a short presentation introducing the brand, followed by a tour of the Showroom and Studio. Jo then demonstrates cooking on the products, and visitors have the opportunity to get hands-on. Finally, they all sit down for a three-course lunch. The menu is seasonal, so it changes throughout the year. We also cater to all dietary requirements.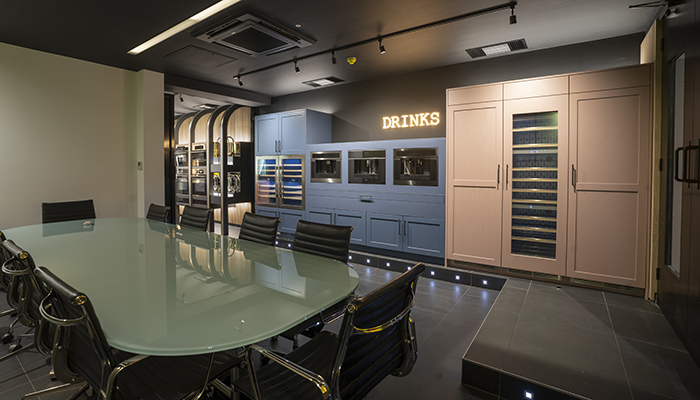 Q: In your view, is there anything different about this Showroom compared to other kitchen showrooms?
A: Yes, definitely! The design is entirely unique. I've definitely not seen a green living wall dividing a meeting. The accessories wall is a great tool; it is visually impressive but functional.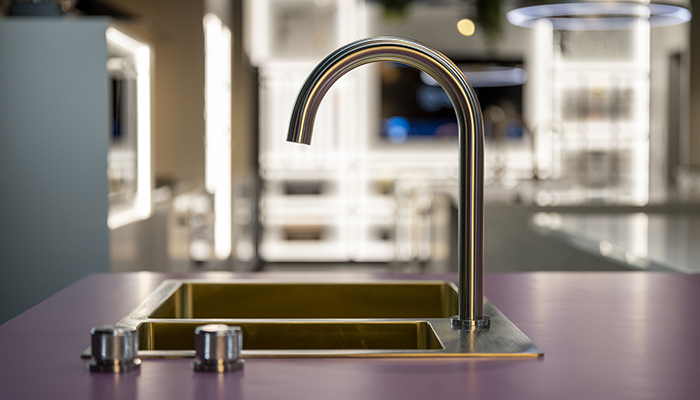 Q: What is it that sets Caple apart?
A: Caple is a family run independent brand with three generations of the family in the company. We offer products to suit every budget from Classic to Sense Premium and sell appliances, sinks, taps, kitchen furniture and accessories under one brand. Dealing with one supplier is always a lot easier than dealing with multiple. We listen to the market and act quickly. Caple isn't a giant corporate machine with layers of leadership. This allows us to get a product to market quickly. There is a wealth of knowledge in the company. For example, more than 10% of employees have 25 years of service or more and over 25% over 10 years.