We catch up with Graham Robinson, design manager of Halcyon Interiors, to hear about kitchen trends we've said goodbye to, why dark kitchens are in for 2023, what inspires him as a designer and why he'll always remember a particular celebrity encounter.
Q: How long have you been in kitchen design, and what was the top kitchen trend that everyone asked for when you first started out?
A: I've been doing kitchen design now for 24 years now, and when I first started we did loads of beech Shaker doors, stainless steel bar handles and Nero Impala granite tops, and triangular stainless halogen lights. There was no sign of – or even talk about – instant boiling taps.
Q: What inspires you as a designer when you're embarking on a project?
A: Initially my thoughts are that it's a different place to visit and new people to get to know (if it's a new client), and for repeat clients it's getting to know them even better – I love hearing about how their lives have changed – then we can talk design. I find it exciting to talk about options and ideas, getting out samples and physically showing them things – it can sometimes be daunting as there is so much choice, but as time goes on it always clicks and the design is born. Then seeing the client's reaction is the best.
Q: Have the trends that were started by Covid lasted, or have you noticed things going back to how they were pre-pandemic?
A: The overriding fact is that kitchens have been used by everyone during Covid – previously there were a few people who didn't cook. We have seen increase in uptake of steam ovens as people are more conscious of health and better results, and not necessarily the time it takes. Food storage has played a big part, so clever storage and bigger refrigeration appliances have been key and certainly something that has continued. The kitchen space became even more multi purpose with more people using it during the daytime than ever before, so areas for desks for home working or study were a must – this has stayed and we've also done a number of hidden areas. Also, as the use of the space has changed, people have looked at ways to separate the larger open spaces to make them flexible.
Q: What key piece of advice do you give homeowners who are embarking on a kitchen project when it comes to kitchen trends?
A: We encourage clients to really think about what they like – not to be influenced by trends as these come and go. We design timeless kitchens that last and don't date so that they are as happy with them today as they will be in 10 or 15 years' time. Using classic materials helps with this and avoiding statement colour in more permanent features.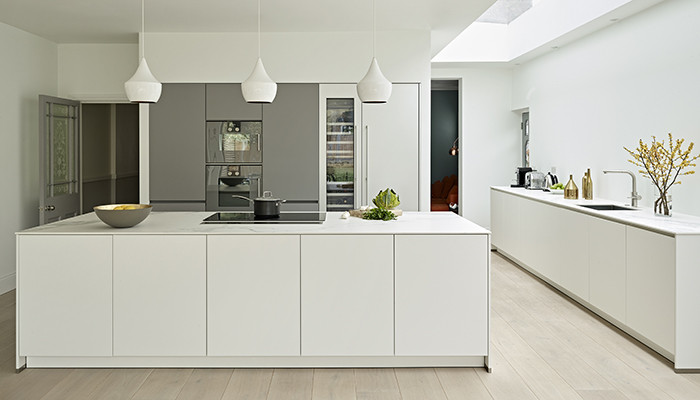 Q: What would you say was the biggest must-have kitchen design element in 2022?
A: An instant boiling tap is a must – we've seen an increase in the number of combination steam ovens, and need for waste disposals too. Unit wise, clever storage is essential.
Q: What do you see coming in 2023?
A: I would say more of what we have seen but warmer in palette and more textural to the touch. We'll see even more dark kitchens that create a nurturing effect in the home. Warmer bronze metallic elements will continue, and we see these as neutrals so they'll stand the test of time, as opposed to brass and copper – those have definitely waned. People are cooking more than ever so appliances that give you professional results at home are going to be the next thing – we've just installed an UnoxCasa oven and Luqel water dispenser that both do just that. Basically, people want their lives to be easy – the kitchen can play a big part in that, so that's a trend that will continue.
Q: In a parallel universe if you hadn't been a kitchen designer, what career would you have chosen?
A: It would have been fashion. I take a keen interest in it, and like things made to my design and specification for myself – the nice thing is that they can be individual as don't need to be commercially viable as they're just for me. Similar principles apply if I can buy something or have something made that I love now and still love in 10 years' time – or even longer in some cases. Then I get a real sense of achievement. Strangely, when I look back at a kitchen project I did as part of an A level course, it involved a full-on model made with individual tiles, a formed sink and the oven even had a light!
Q: Have you ever met someone famous?
A: Quite a few people over the years – some more famous than others. My favourite encounter was with Joel Dommett, as this resulted in him sending me a suit he wore on The Masked Singer!