Creating warmth in an expansive new kitchen extension can be a challenge – DeVol designer Francesca Froggatt reveals how she and her team drew on a combination of styles and materials to transform a cavernous space into a welcoming and cosy kitchen.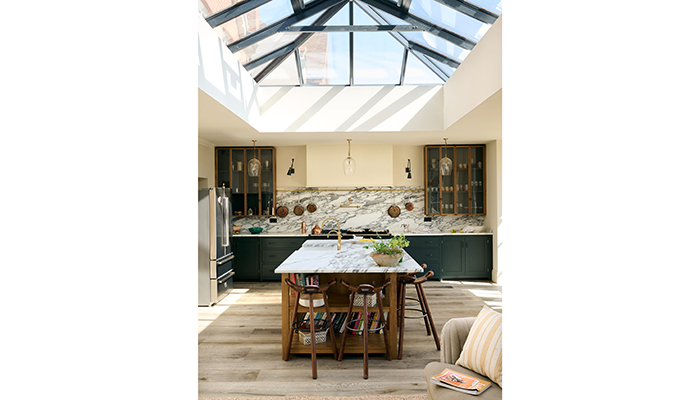 The orangery-style kitchen extension in this Hertfordshire home is blessed with generous proportions, and is flooded with natural light that pours in from the floor-to-ceiling windows that overlook the garden, and via the stunning glass atrium above. But while these elements represent enormous advantages to a designer, they can also have a chilling effect on the ambience that can be difficult to dispel, so first of all, designer Francesca Froggatt set about working up a mellow palette for the space, drawing on a rich mix of materials.
"The customers were keen to include lots of tactile, natural materials in their kitchen and loved the dramatic veining of the Arabescato," she explains. The marble they chose features dramatic dark veining on a creamy background, and Francesca also decided to work with cabinetry from two of DeVol's kitchen collections rather than one. "The warm greys, golds and browns that come through in the chosen Arabescato slabs work beautifully to tie together the 'Haberdasher's Oak' finish and with the dark 'Bakehouse Green' paint on the Shaker cupboards," she says.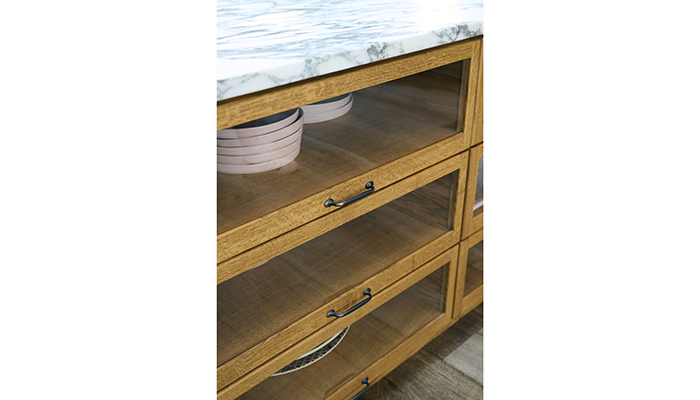 The family inherited an Aga from the previous owners, so they had it re-enamelled in a colour to match the Bakehouse Green of the base cabinetry and enhance the homely vibe. The midcentury look of the Haberdasher's range evokes a feel more reminscent of living-room furniture than kitchen cupboards, and Francesca chose brass fittings and vintage-style products from Soho Home to build up an air of relaxed elegance.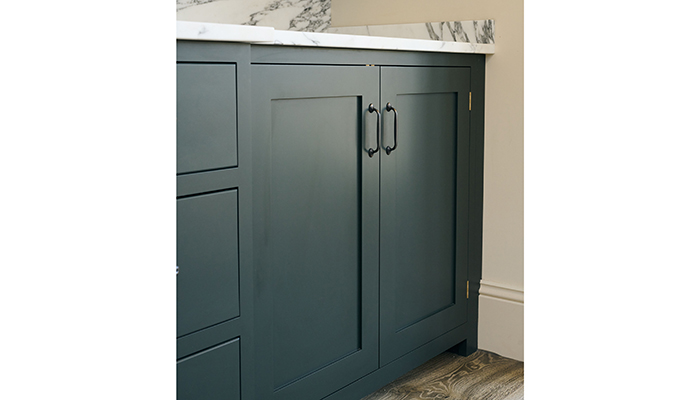 "Our Shaker furniture's easy simplicity makes it the perfect base for an exciting, eclectic kitchen design," she says. "Our artisanally made Haberdasher's furniture feels authentically vintage and when combined with Soho Home's Siobhan Farley's excellent styling, it brings such a warm homely feel to the kitchen, which could have felt quite stark and modern had it just included Shaker cabinetry."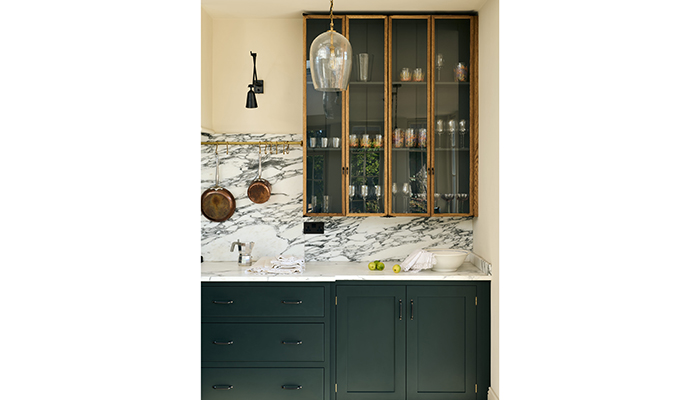 Two substantial, bespoke Haberdasher's glazed wall cupboards steal the show and an all-encompassing central island, made up of both bespoke and standard pieces, is supremely functional but appears quite 'un-kitcheny'. It houses a large double sink, oak tambour doors hiding dishwashers and bins, glazed drawers for some storage and an L-shaped breakfast bar so everyone can pull up a stool and be together. For the handles, it was a mix of brass and matt black bronze.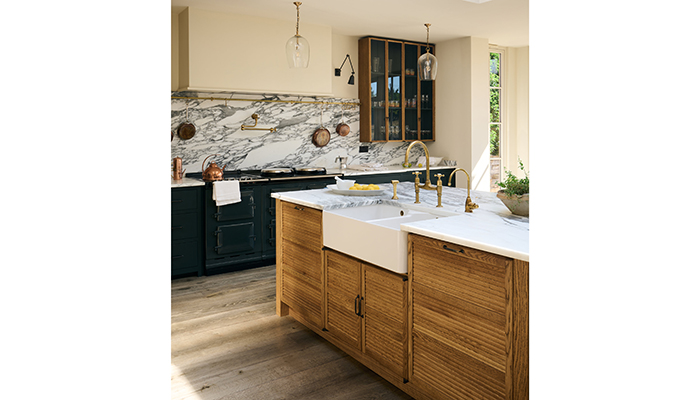 "We hadn't made a Haberdasher's island before this kitchen, so the design for this piece was entirely new to us," says Francesca. "Usually in our Haberdasher's kitchens we feature one of our stunning prep tables as a freestanding piece of furniture but the nature of this kitchen meant we needed to incorporate the sink and dishwasher into the centre of the room, so we needed to create something more solid to house these. For the island we decided to include glazed drawers facing the dining table and open shelving facing the living space to break up the island and give it a lightness within the space."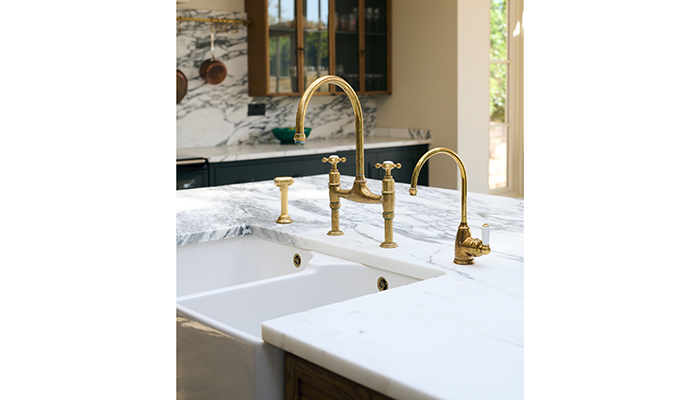 The fusion of two collections, plus the blend of vintage of contemporary styling results in a welcoming family kitchen, which is enhanced with additional touches from the owner. "We always encourage our customers to incorporate unique antique pieces within their kitchens to give each project a sense of individuality and history, but this individuality can also come from mixing in new, unusual furniture or by combining different ranges of DeVol furniture," says Francesca.