Rotpunkt UK head of operations Matt Phillips talks us through the key launches and innovations presented at the brand's 2022 Hausmesse, and reveals how he's going to update his own kitchen when he next does a revamp.
Q: Tell us about this year's Hausmesse – how did it go and was it well attended?
A: We had a massive turnout at this year's event, with a hugely positive response from all visitors who attended our flagship showroom and factory in Bünde, Germany. We completed four in-person dealer trips throughout October, welcoming over 130 customers to our newly revamped HQ where each visitor got to experience our new meeting hub, latest furniture designs and innovation point fully stocked with every option available.
Q: What was the main theme of the event?
A: 2022 Hausmesse was an opportunity for us to present our latest product innovations using the brand concept 'Welcome Home', which reflects our brand evolution year-on-year, all underpinned by our ongoing mission to achieve zero emission. In 2023, our customers will be able to serve almost every room in the home as our furniture range now expands to the kitchen and utility, laundry room, home office, living area and dressing room.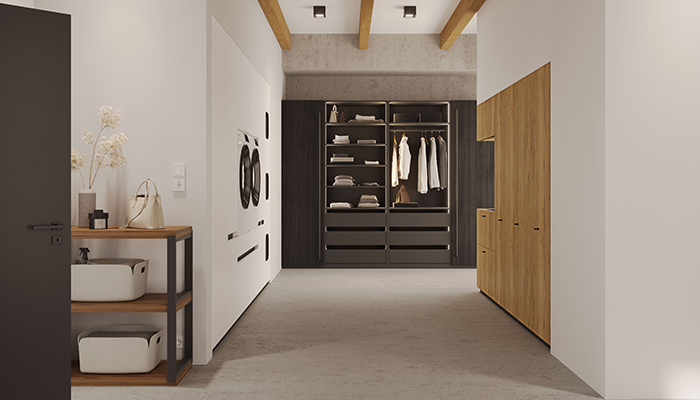 Q: What were the key new innovations that Rotpunkt launched?
A: We revealed a series of new collections set to launch next year, all supported by a range of new doors, colours, finish options, furniture heights and modular storage solutions. Taking the brand into new room categories, our mission is to continue to empower the UK homeowner to make greener choices without compromising on style or quality, which is why our latest furniture designs are hitting the mark in terms of sustainable innovation.
A few highlights from 2023 include our latest range of Loft wood-effect finishes where we champion the raw beauty of natural oak. This joins our new Smala door available in on-trend Velvet Green finish and Tineo frame fronted door showcasing our new Beach Grey colour, which offers a more pinkish hue over taupe, blue or green undertones. Other innovations include a range of cutting-edge Matt Black, Chrome and Bronze Handles, series of Handleless rail profiles, Cube Storage in new colours and our latest Hide & Slide Pocket Door – a specially designed, fully integrated door system with push-to-open technology which is virtually automatic and suitable for single and double doors.
Lastly but by no means least, we have introduced a new line of wardrobe furniture to accommodate the rising trend for walk-in wardrobes and dressing rooms, alongside our latest utility furniture and storage solutions specially designed for compact and complete laundry rooms. These key innovations have now opened our customers up to the rest of the home welcoming hybrid living spaces with built-in desk space, industrial style glass cabinets and complementary interior drawer and wall solutions that answer current lifestyle trends.
Extremely sensitive to the environment, 95% of our furniture are FSC-certified, with the majority also crafted from Greenline BioBoard Gen2; the sustainable, green and environmentally friendly alternative to traditional chipboards, which consists of up to 90% recycled wood. Our one aim is to offer a greener alternative for both home and planet, so our customers don't have to forego the latest contemporary designs and styles.
Q: How do they reflect the broader trends that you see happening in the market?
A: Our market research means we're able to distil the latest trends and present them to our retail network by opening our doors annually so we can continue to be a key part of the interior design community and global response to climate change. We believe the kitchen of tomorrow will be contemporary and spatially ergonomic with the best sustainable furniture forming the basis of each scheme. The latest furniture trends are embracing all of the new design possibilities being achieved when using recycled materials, so renewable wood alternatives will prove their worth as an eco-friendly option that does not sacrifice on style or quality. Innovative solid wood veneers and replica laminate door solutions have become a great way to introduce authentic texture in the modern home and become a sustainable choice that still delivers on quality of materials.
Furthermore, the rise of whole-house interior trends where one brand is now expected to serve almost every room in the home is showing an amalgamation of styles, which continue to blur the boundaries between room function and individual lifestyle preferences.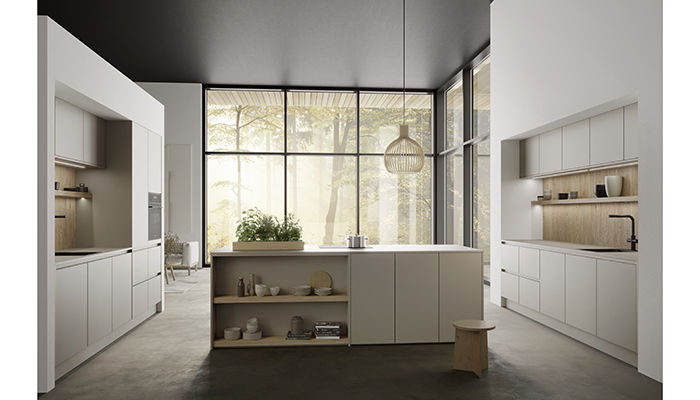 Q: If you had to pick a favourite new product launched at Hausmesse, what would it be?
A: Being able to offer furniture for the whole house is an idea we have been cultivating for some time. As needs change and boundaries continue to blur, I like how furniture is no longer room specific, but lifestyle specific. So with this in mind, my favourite product launched at Hausmesse has to be our new dressing room concept as it combines restful design with ergonomic storage perfectly.
Q: If you were going to redesign your own kitchen, what would you change?
A: For me it has to be the lack of practical storage in my current kitchen set-up. I would definitely redesign the entire layout of furniture and incorporate one of our new pocket doors – the unique one-touch door system for single and double door applications features fully integrated technology that is near invisible!