The right stone worksurface elevates the kitchen space with a timeless sophistication and robust authority that will see it last a lifetime. At Caesarstone, our commitment to design is focused on the heart of the home, the place where we come together in our desire to gather and eat, socialise and connect. And as our customers enjoy these kitchen experiences, they can do so in the confidence that every Caesarstone surface is checked, verified, tested and certificated.
Within our carefully curated range you are sure to find a Caesarstone surface to perfectly match the aesthetic of your project. Here are some of our most recent favourites:
H. Miller Bros – Siatama Kitchen – 5143 White Attica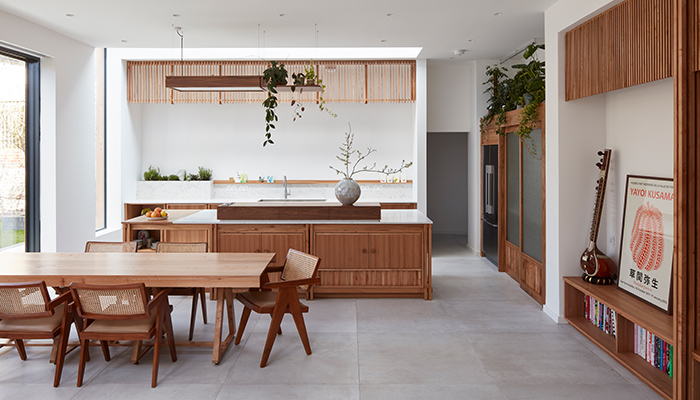 This recent kitchen, handcrafted by H. Miller Bros, in their Liverpool-based workshop, combines traditional Japanese craftsmanship with the sleek, modernity of Scandi-inspired design. It was designed for a client with a passion for Japanese food and architecture, developed during her time living in Siatama, which she wished to see reflected in her new family kitchen.
Caesarstone's White Attica worktops were chosen for both the countertops and island surface due to their delicate blue-grey veining. This design complemented the natural, organic beauty of the handcrafted British Elm cabinetry whilst helping achieve the modern Scandi-edge that the clients were looking for.
"The White Attica quartz worktop provides a sophisticated, polished look with definition across its flawless white base", explained Hugh Miller. "We recommended Caesarstone to our clients as they were both keen cooks and the worktops needed to be non-porous, scratch and stain resistant, whilst looking luxurious, so were an ideal choice for this family kitchen."
Click HERE for the full case study

Kate Feather Kitchens – Art-Deco Style Kitchen – 4023 Topus Concrete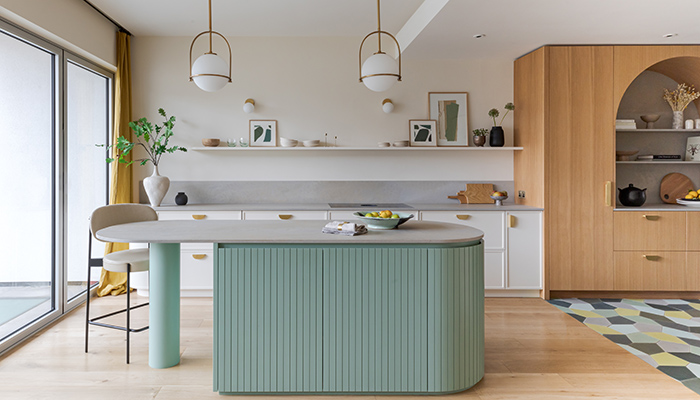 Kate Feather Kitchens recently gave this Notting Hill kitchen a complete overhaul, creating a space full of colour and character that is also perfectly suited to the family's needs. Caesarstone's 4023 Topus Concrete surfaces were the perfect choice of worktop, adding another layer of texture and interest to this beautiful space.
When the client approached Kate Feather Kitchens, they knew exactly what they wanted; an art-deco inspired kitchen complete with curves, colour and concealed appliances. The young French family, with three daughters, felt their previous space wasn't very conducive to their living needs as a family so Kasio Piorko, founder of Kate Feather Kitchens, worked closely with the client to reconfigure the entire kitchen and create a space much better designed for family living.
With plenty of worktop space throughout it was important that the chosen worksurface further complemented the scheme, whilst maintaining the practicality of the space. When speaking of the reason for their surface choice Kasia commented "We presented the Caesarstone 4023 Topus Concrete sample to our client and they immediately fell in love with it. The blush tones, rough texture and mottled pattern totally won them over. Topus Concrete works exceptionally well with the colour palette of the scheme and complements the overall ambience of the design."
Click HERE for the full case study

Inglis Hall – Georgian Period Property – 4044 Airy Concrete
Caesarstone's 4044 Airy Concrete was used to great effect in Renton Hall, a Georgian manor that had fallen into a state of disrepair. The kitchen, created by Inglis Hall as part of the extensive renovations, formed the only inside route between the original house and the new timber framed extension, making it all the more important for the kitchen to mirror both the history of the house as well as its new footing in modernity.
Sawn oak cladding, black Richlite and Caesarstone's Airy Concrete surfaces combine under the tall Georgian ceilings to create a perfect mix of tone and texture. Bringing the outside in and creating a perfect backdrop for the client's array of incredible art and collectables.
"We love the collection of colours and finishes that Caesarstone have to offer." explained Jay Powell, Design Project manager for Inglis Hall. "All their surfaces have a natural look and feel to them which is sometimes hard to find with manmade products. We appreciate the high quality and versatility of their products. We particularly like the texture and movement of the Caesarstone concrete finishes. Paired with the practicality of quartz these offer a natural feeling work surface that doesn't compromise on function."
Click HERE for the full case study
For more information about our range of surfaces, sustainability practises or different Caesarstone applications visit our website: www.caesarstone.co.uk