InstallerSHOW is growing – 2023's event saw the addition of the Bathroom Zone and 2024 will see its expansion into Kitchens – sales director David Ventris-Field reveals why next year's outing will be especially relevant for kitchen and bathroom retailers and designers.
Q: InstallerSHOW 2023 seemed to be a turning point for the exhibition – why do you think this was?
A: This year was the first time InstallerSHOW established itself as a multi-trade event. Installers came interested in heating, plumbing, bathrooms, kitchens, electrical, and renewables. The bathroom part of the event has reached a critical mass, where the volume of brands to see makes visiting incredibly worthwhile, regardless of whether you are a specifier, developer, designer or installer.
Q: Tell us about the Kitchens aspect in 2024 – why are you introducing it now?
A: Over the years Kitchens and Bathrooms have been something our visitors have wanted to see more of. It's been in the top 5 features that our visitors have asked for, consecutively over the last 3 years. We have a multi-trade aspect, as well as more designers, distributors and specifiers attending the show, couple that with the fact that more people are asking about kitchens, it's reached a point where we feel in a confident position that a kitchen area at the show will be a huge success, whilst also complementing the continued growth of the kitchen section of the show. The expansion into Hall 4 at the NEC allows us to provide a dedicated space for Kitchen and Bathroom brands, which ultimately provides clarity for visitors interested in this sector.
Q: Which key exhibitors on the kitchens side do you have on board?
A: We have technology companies such as Samsung and Panasonic, who will bring more of their technologies to the event, distributors such as Wickes and Travis Perkin and on-the-ground advice from experts such as Simon Acres and BiKBBI. Manufacturers involved in the Kitchen of the Future attraction include Symphony Kitchens, Quooker, Havwoods Floors, AirUno, Blum UK, Cosentino, Eurokera, Corian CDUK, Milo, Blanco, Linak, Dalbergia Ltd, Gould and Williams, Cecence, Minitec, Quality Mouldings, Beach Bros, Alex Zdankowics tiles, and more.
Q: Tell us more about the Kitchen of the Future element?
A: The Kitchen of the Future will form a central feature at Installer Kitchens & Bathrooms in 2024. The feature is a 4Gen Kitchen – the brainchild of award-winning designer and author, Johnny Grey, and expert in ageing, Professor Peter Gore – which has been designed to meet the needs across the life course, from young children to older adults, and everything in-between.
The prototype was originally installed at UK National Innovation Centre for Ageing, and we are delighted to be able to offer our visitors an exclusive opportunity to visit the feature in the flesh. With multigenerational living becoming ever more prevalent, we understand the need to ensure designers, retailers and installers are equipped to make informed choices about the products and technologies available. The Kitchen of the Future allows us to do that in a meaningful and visually engaging way.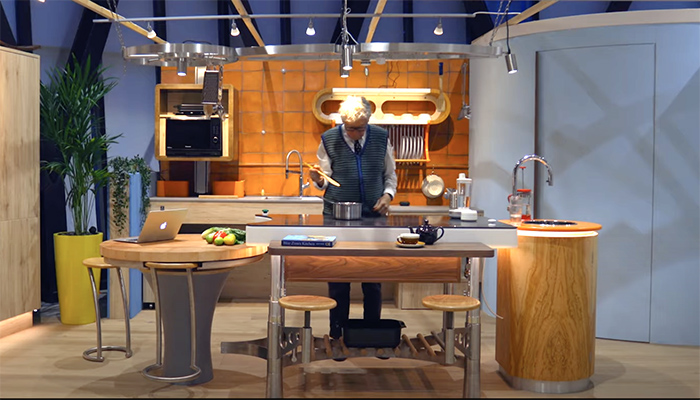 Q: What other highlights can we expect to see?
A: In addition to the Kitchen of the Future, Installer Kitchens & Bathrooms will offer a packed content programme covering topics such as water and energy efficiency, design innovation, sustainable and smart technology, and changing legislation. It is backed by a number of organisations including the BMA, BiKBBI, NKBA, AMDEA UK and the Unified Water Label, as well as a host of leading manufacturers.
Other features at the show include the NEW InstallerTRADES feature, dedicated to tools and workwear, Installing the Future. NOW!, a working showcase demonstrating the installation and operation of renewable and energy efficiency products in both retrofit and new build settings, and the Housing Hub, a content-led feature focusing on decarbonising homes, to name a few.
Q: There's always a lot for installers to gain from visiting the show – how about kitchen and bathroom retailers and designers?
A: InstallerSHOW 2024 offers kitchen and bathroom designers and retailers the ideal opportunity to immerse themselves in a world of innovation, knowledge, and networking. By attending the event, they can enhance their product offerings, strengthen their industry connections, and position themselves as leaders in the dynamic and evolving field of kitchen and bathroom design.
To get involved with the feature, or for more information about exhibiting, sponsoring or speaking at InstallerSHOW 2024, please contact David Ventris-Field at dventris-field@lyricalcomms.com