InstallerSHOW 2023 turned out to be the biggest yet, with bathroom manufacturers having an increasingly significant presence at the event – Emma Hedges reveals 8 key product innovations being showcased at NEC Birmingham.
This year's InstallerSHOW managed to break its own records – from 27th-29th June, 14,774 industry professionals flocked to NEC Birmingham to engage with more than 450 exhibitors, and take part in a live content programme focused around the future of heat, water, air and energy. In addition, the Bathroom Manufacturers Association put on a rich programme of talks in the Bathroom Zone, with speakers including TV presenter George Clarke proving to be a great draw.
All this bodes well for next year's show, which is set to include kitchens for the first time, and has received the backing of organisations including the BMA, BiKBBI, NKBA, AMDEA UK and the Unified Water Label Association. Organisers predict it will bring together 20,000 visitors, 600 exhibitors and 200 speakers.
"The appetite for InstallerSHOW from both exhibitors and visitors has allowed us to grow the event fourfold over the past two years, and we'd like to say a big thank you to them all for their commitment and enthusiasm," said Mike Costain, MD of organisers Lyrical Communications. He added: "We won't be resting on our laurels – and we have huge plans for next year's event as we continue to support the industry in delivering the solutions needed to secure a stable future."
Here are 8 innovations we spotted at InstallerSHOW 2023:
1. ENVI
Triton Showers' ENVi is the first electric shower to balance personalised profiles, settings to encourage behaviour change by reducing water and energy usage, and an installation solution that creates the most minimal electric shower design. The new product hosts a control panel that enables users to remotely adjust water temperature, set a timer, and monitor water and energy usage. The electric shower unit, Tri-Hub, can be located up to 3metres away from the control panel, making it suitable for installation in a surrounding loft space or an airing cupboard, depending on homeowner preference and household layout.
"Our latest offering is an industry first and showcases our commitment as the most sustainable shower brand in the UK – taking us one step closer to our target of net zero by 2035," said Triton Showers MD, David Tutton, pictured below. "The innovative shower leads the way in the future of efficient, more sustainable solutions in the bathroom to save water, energy, and money, while providing a stylish showering experience​​."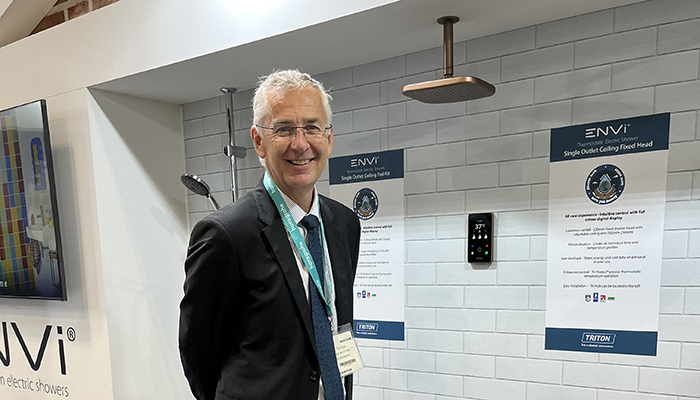 2. Hydro In-Tank WC
Roca's Hydro In-Tank WC, created in partnership with SIAMP, was making its UK debut at the show and the working model on display was proving to be a huge hit with visitors. The toilet eliminates the need for a separate cistern or power source, as all flushing is integrated into the bowl and powered purely by hydraulic pressure from the mains supply. The result: a super water- and energy-efficient WC, which saves time on installation as no electrical work or installation of a concealed cistern is needed.

3. eVOLVE
Aqualisa was highlighting its brand-new eVOLVE electric shower line-up, which comes in a choice of Arctic White, Space Grey or Midnight Black with a satin silver trim and three power options (8.5kW, 9.5kW or 10.5kW). A-rated for energy efficiency, each model is equipped with an over-temperature protection system, low pressure indicator and a digital display that show the temperature at all times. Aqualisa's five-second phased shut-down technology minimises the risk of limescale build-up. The eVOLVE also incorporates eight water and electric entry points for easy installation.

4. iBox 2
Hansgrohe launched the iBox universal – a universal base set for concealed installation – more than 20 years ago, and its innovative iBox universal 2 (set to launch in September this year) was being showcased at the show. Promising to be a game changer and make concealed installations easier, safer and faster, iBox 2 can be used with all existing and future pre-fab sets from Hansgrohe and AXOR, and is compatible with digital shower solutions.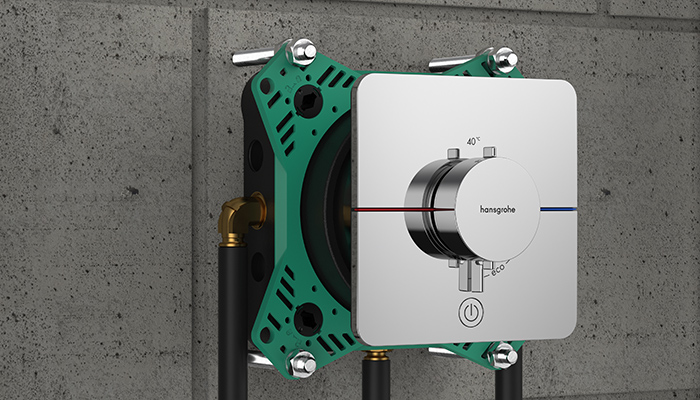 5. Aqua-Grade
Impey was highlighting its Aqua-Grade modular wetroom system, and encouraging visitors to ask questions about product specification, installation, and level-access best-practice, as well as offering free wetroom demonstrations on the purpose-made interactive display units, led by expert Shaun Hunt, technical and trade marketing manager, pictured below. Impey says that Aqua-Grade enables the installer to build the perfect wetroom drainage on any concrete floor, whatever its specific requirements. Colour coded modular sections click together to form any size of matrix, which is then simply filled with screed, reducing installation time by up to 50%.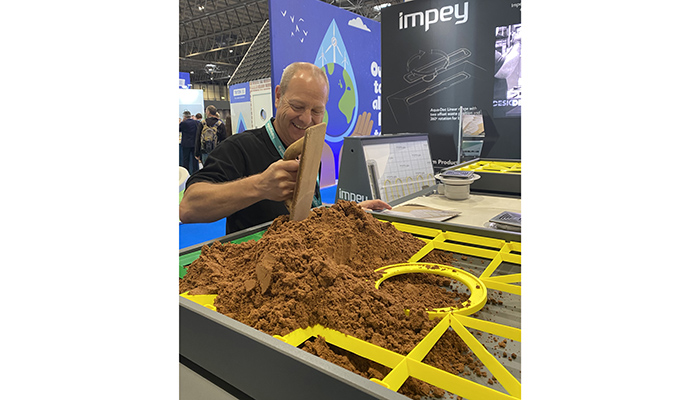 6. DITRA-HEAT-PS
Schlüter-Systems was focusing on its range of underfloor heating solutions which comprise both electric and water-fed systems. The new DITRA-HEAT-PS is a peel and stick version of the company's established electric system. The membrane enables simple, clean and quick installation of electric underfloor heating with a thin layer of pre-applied pressure sensitive adhesive on the underside. The membrane is ideally used with timber and tile backerboard substrates. It is said to be a great solution when tiling on P5 or green chipboard; and will work with other substrates provided they are rigid, even, load bearing, clean and dust-free. Installers at the show were able to see for themselves how well it sticks and there were plenty of samples to take away.

7. VitrA frames and concealed cisterns
VitrA was inviting visitors to get hands-on with its new VitrA frames and concealed cisterns, which it says are among the easiest to install on the market, and also to learn more about its award-winning V-Care Smart shower toilets and Aquacare WCs. Additional product highlights included the Vitrus frame, which provides the perfect retrofit solution for wall-hanging WCs, and the striking Origin brassware collection. An added attraction on the stand was a basketball court, complete with toilet seat hoop. Anyone shooting three hoops was able to try and crack a safe containing a pizza oven from Ooni.

8. BetteLevel
Bette was demonstrating its new BetteLevel shower tray installation system with its self-locking, telescopic feet that are simply glued to the shower tray. The shower tray is then raised to the desired height and the feet lock in place automatically. If any adjustment is required, the lock can be released by lifting the shower tray, and the process repeated to lock the feet at the correct height. Once level and at the correct height, the waste can be installed, and the tiling can be done. Also on show was the BetteAir shower tray and its invisible anti-slip finish for shower trays and baths, BetteAnti-Slip Sense.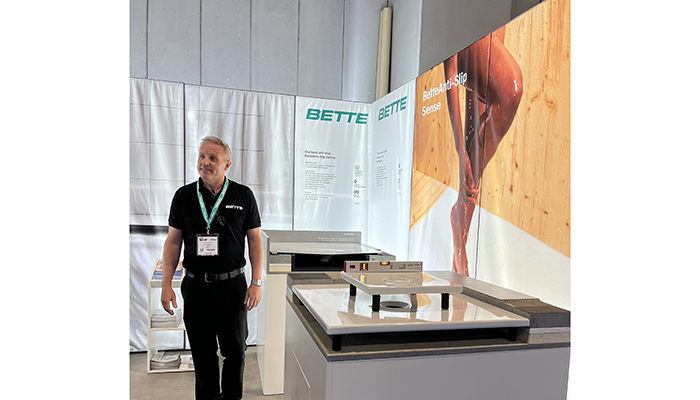 Installer Kitchens & Bathrooms is to debut alongside the InstallerSHOW 2024, which will place at Birmingham's NEC from 25th - 27th June 2024.