When Geraldine Tan, AKA @littlebigbell, decided it was time for a bathroom makeover, she turned to Jo Sangster, senior designer for Ripples London, for input.
Keen Insta browsers will be familiar with Geraldine Tan's distinctive interiors aesthetic – a scroll through her @littlebigbell account offers up a delicious confection of serene elegance and curved contours, soft pastel shades and daring pops of colour, all assembled with a faultless eye for detail. When she approached Jo Sangster of Ripples London to help update her beige bathroom, Jo knew the project was going to be a design collaboration with a difference.
Firstly, Jo visited Geraldine's home to gain an understanding of the brief. The property is a Victorian terraced house in North London with five bedrooms, one bathroom and a shower room, and Geraldine blends her choice of contemporary decor with the house's period features. "She wanted her new bathroom to feel light, colourful and happy, and to fit seamlessly with the decor of the rest of the house, which is very unique to her personal style," says Jo. The previous bathroom, which was 10 years old, was "very beige, brown and uninspiring", she recalls, so it was time for an upgrade.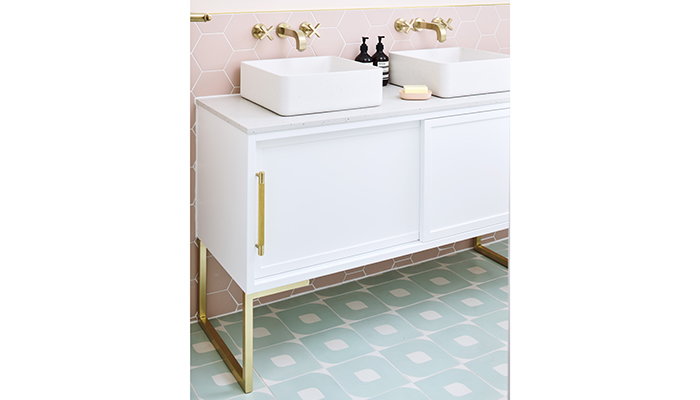 "Once I understood the type of style she wanted to achieve, I selected a few products for her to take a look at in the Ripples London showroom," says Jo, and Geraldine then visited to view them, and get a true sense of the colours and surface textures Jo had proposed. "It was a collaborative meeting, which sparked more ideas, and once I'd felt I really understood the practical needs and preferred style, I set to work on a hand-drawn design."
"The biggest challenge was trying to fit in so many things into a small space without it looking overcrowded," says Jo. "We worked hard on the configuration of the bathroom, and sourced a smaller-than-usual roll-top bath to make sure it fitted well within the space."
The previous bathroom had stainless steel fixtures, but Geraldine was drawn to the warmth of brass. Jo introduced her to brushed brass brassware and the team was even able to source a brushed brass radiator to match the rest of the scheme. "The brushed brass brings an elegance and is more muted than shiny brass options," says Jo. "It works so well against the pastel tones."
When scrolling through the Ripples Instagram feed, Geraldine had spotted a concrete basin that she instantly fell in love with and decided she would like to have.
But Geraldine's favourite part of the finished project is her roll-top tub. "She loves the bath we chose because the inner contour supports her back and it's also deep, which means you can have a relaxing soak," says Jo. "A freestanding roll-top bath had always been on her wish list, so this bathroom refurbishment was the perfect opportunity for her dream to become a reality!"
All products are available from Ripples.