There are many lessons to be learned from the pandemic, but the evolution of hybrid trading that borrows from both e-tail and retail is a model that offers consumers both choice and convenience, says Brett Jenkinson, head of retail customer experience for PJH.
"Few would argue that there will be many positive legacies of the COVID pandemic, but the one that stands out the most must be the huge role technology has played in allowing a level of trading continuity during the recent lockdowns. For those in the KBB industry that have and continue to invest greatly in this area, it will have been a much easier time, but it will also position them ideally to take advantage of the many sales opportunities that lie ahead.
"Take for example our own online sales channel, PJH Partners Portal, which since its launch in 2015 has evolved considerably with the addition of new features and functionality, as well as continuous back-office upgrades to improve response times and speed. Sales through the Portal had, pre-pandemic, been increasing month-on-month, but during lockdown it came into its own with near-exponential growth. Encouragingly, as lockdown has slowly eased, growth has continued, but feedback has also indicated that its use by retailers is evolving to make more use of its wide functionality. In addition to 'sales', the channel is now being used as an additional sales support tool, with retailers using it to check stock and track orders, but also show their customers other options and finishes, etc, within product ranges, and all at the click of a mouse.
"Virtual showrooms are also on the increase – the 'digital shop window' for this new age of e-tail. We recently launched our new virtual showroom, which is also supporting the sales process by allowing sales reps to walk-through with retailers many more product ranges within our Bathrooms to Love collection than would ever normally be possible or for a brochure to fully detail. In fact, it has helped us win new accounts, secure displays with existing customers, as well as inspire retailers to mimic ours. It is used also for showcasing product launches, as well as post-launch product follow-up and helped those customers naturally concerned about the pandemic to avoid travel to our Cannock showroom.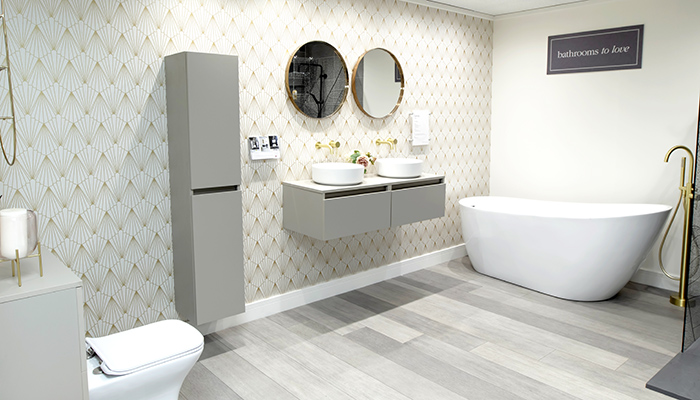 "Of course, we have had to match these new front-end sales tools with back-office technology too and companies looking to capitalise on such features need to ensure that the customer support they offer is of the highest quality. PJH itself has had to boost its support across the board, to keep pace with the growth of its online sales channel, which has seen a large increase in sales post-lockdown, but it has also helped to support its more traditional sales routes – for example, more staff have been added to reduce telephone waiting times and support enquiries, and the under-pinning technology of all systems and processes improved to ensure a smooth, fast, accurate and error-free user experience. We have also greatly invested in our next-day delivery service to ensure the streamlined user experience doesn't end with the computer interface but extends to the whole sales cycle.
"It is also important to ONLY give your customers what they want and not what you THINK they want. New customer-facing technologies must be built in response to need, and adapted and improved continuously from solicited feedback. After all, technology is a big investment, and you need to get it right first time. PJH's 'together we're better' culture and drive to be the customers' first choice has underpinned our approach and coupled with our voice of the customer initiative will help shape the future of all our activities.
"A note of caution: whilst there has been a big shift to the way we work, shop and do business, it isn't simply a move to online only. What we at PJH are seeing is a more 'hybrid' shopping model where retailers and their consumers enjoy multi-channel options. This means there is still a need for real-life showrooms, hard copy brochures, and face-to-face contact, but with technology there to support in a capacity dictated by the needs of the retailer and ultimately the most important component – the end consumer!"