Taking pressure off the main kitchen, a walk-in pantry proved a godsend in lockdown offering endless possibilities in terms of food storage and organisation. It's also the ideal opportunity for retailers to showcase cabinetry and clever storage options. Lisa Hibberd takes a look at some inspirational designs and gets the low-down from the experts.
Originally a small room designed to store bread and bakery items, the word pantry comes from the Latin phrase "panna", meaning bread. It's the ultimate addition for those with the luxury of space, especially in open-plan settings, and its popularity has been on the rise. "The pantry has always offered a nostalgic trip to a treat-laden Narnia," says Peter Humphrey, design director and founder of Humphrey Munson. "More recently, however, it has become a peaceful inner sanctum for weary cooks to retreat to with a gin and tonic after the monotony of cooking three meals a day for months on end during lockdown. Primarily for storage, the walk-in pantry's greatest victory is its simplicity; a room for storing large quantities of non-perishable foodstuffs, but also all the things consumers want in the kitchen but perhaps don't have a spot for; large wicker baskets can hide a multitude of kitchen gadget sins."
Even before the pandemic, people were beginning to shop differently, with a desire to keep a greater stock of non-perishable food items. Steve Tough, sales director at Masterclass Kitchens, suggests that the kitchen pantry must adapt to the needs of today's customer. "With a whole host of ideas available, it can be completely tailored to the family and how they plan to use it. In addition to this, the COVID-19 pandemic has seen a shift in the buying habits of customers. Today, more customers are opting to do one 'big' grocery shop a week, which means there are stocks of groceries that need to be housed in one go, as opposed to several top-up shops that may have been the case before the pandemic."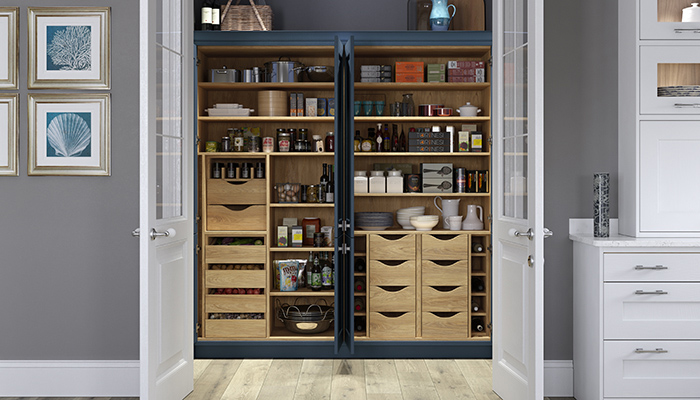 A bespoke walk-in pantry is high on many clients' wish lists, with an element of charm and nostalgia playing a part, as well as the obvious practical benefits. Simon Taylor, MD of Simon Taylor Furniture, offers his take on both location and storage options: "A walk-in pantry or larder needs to have strong ventilation to keep dry goods free from humidity. Therefore, if it is part of a new kitchen extension it ideally needs to be located against an outside wall or where it can still be ducted and vented. It also has to be easily accessed directly from the kitchen as it will be full of cooking staples that will be used daily. Many period properties still have original storage larders or rooms next to the kitchen that were used for storing coal, or ice, and these can be brought completely up-to-date with the installation of additional ventilation to become the perfect walk-in pantry for today's busy cooks."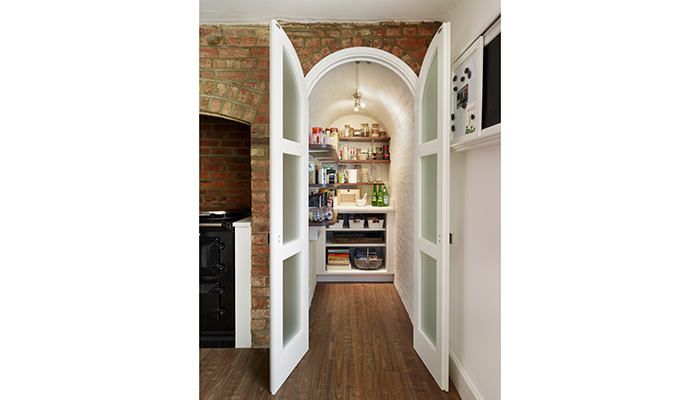 Zoe Holland, marketing manager at Sustainable Kitchens, adds: "We work with all sizes, from walk-in pantries big enough for food prep, baking and white goods storage, to smaller spaces with just enough space to turn around – as long as there is enough space to store dried foods and hide everything away, we see them as a worthwhile element of the kitchen. We often build walk-in pantries around areas with boilers that cannot be relocated as a space to use for both white goods appliances and storage."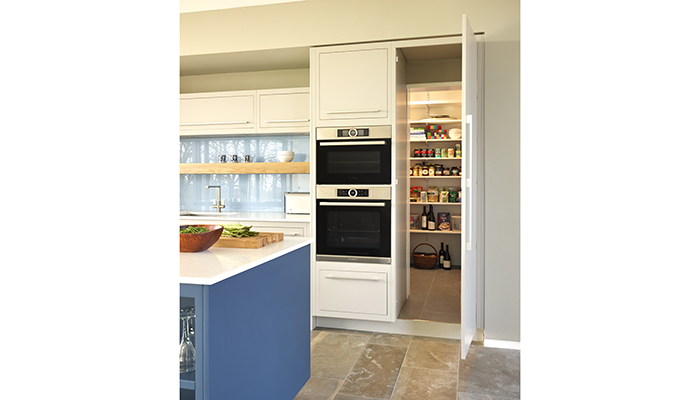 Tom Howley, design director of Tom Howley, suggests that the first port of call when planning a walk-in pantry should be to consider how much space can be allocated to it, as this will determine the overall design – either straight line, L-shape or U-shape. "Ideally, the pantry should be a natural extension of the kitchen," he says. "Maximise floor space by opting for pocket or sliding doors. Where space is at a premium, consider a sliding door or a sleek bifold door. This is great way to keep this zone off-limits and stow any mess away. The key to a successful pantry is for the consumer to be able to walk in, take a look and quickly grab what they need. Consider running shelves or cabinetry all the way to the ceiling for more storage." Different heights of shelving should be considered, to allow easy access to both smaller and more bulky items, as well as drawers and cupboards to accommodate other essentials which clients may wish to store away from the main kitchen.
"From judiciously positioning cool stone or quartz worktops/baking prep zones so there is also somewhere that shopping or deliveries can be stashed until put away, to the size and height of shelving, to adjustable features and appropriate lighting, these rooms have their own set of rules," says Jane Stewart, design director of Mowlem & Co London. "We have been refining these solutions over time and even if there is no space for a separate room, there are ingenious ways to add the kind of specialised storage that makes life easy, comfortable and pleasingly neat for the end-user," she adds. "At one extreme these spaces can become design features in themselves, celebrated and framed by fluted, frosted or Crittall-style glass doors, while at another they can be the most discreet of cornucopias, only revealed when handleless pocket or folding doors are effortlessly tucked away."