The ultimate in streamlined simplicity, handleless designs have proved a hugely popular choice for kitchens, with this trend continuing to impress. Lisa Hibberd takes a look at what's behind the enduring appeal of this seamless, sophisticated style.
"The trend for handleless cabinetry has remained popular as consumers continue to demand defined multifunctional kitchen and living spaces," says Tony McCarthy, commercial director for Crown Imperial. "We have seen a stronger shift to zonal living and handleless styles are the perfect pairing to ensure a seamless fusion is achieved between zones." As a manufacturer of both classic and contemporary handleless designs, Crown Imperial offers retailers access to a versatile palette of finishes and eight profile colours to cater for consumer demands.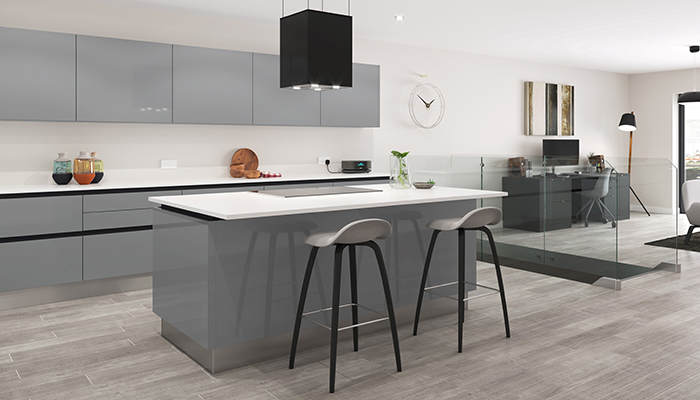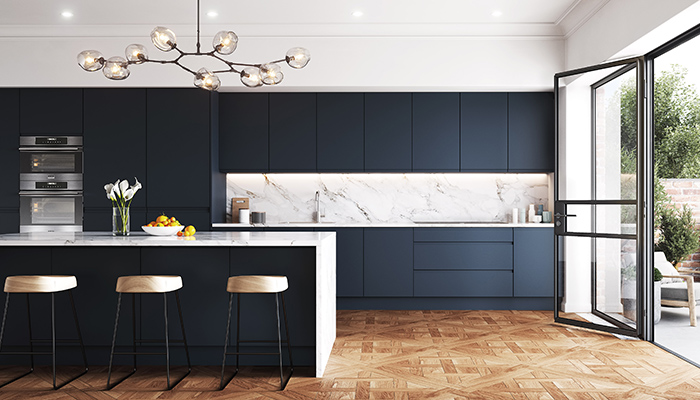 Richard Turner, Pronorm's national sales manager for UK & Ireland, agrees. "The continued popularity of open-plan living means that the kitchen is an integral part of a wider family area, so consumers want a kitchen that doesn't dominate the space. Handleless kitchens have been very strong sellers for Pronorm for some years thanks to their sleek, unfussy profile and compatibility with open-plan homes, but they're really having a moment now as they offer streamlined surfaces that are easy to clean." Over the past 18 months home hygiene has become more important than ever to consumers and so cleanability is a key selling point for retailers – they can also highlight fingerprint-resistant finishes which help to make this sleek look even easier to maintain.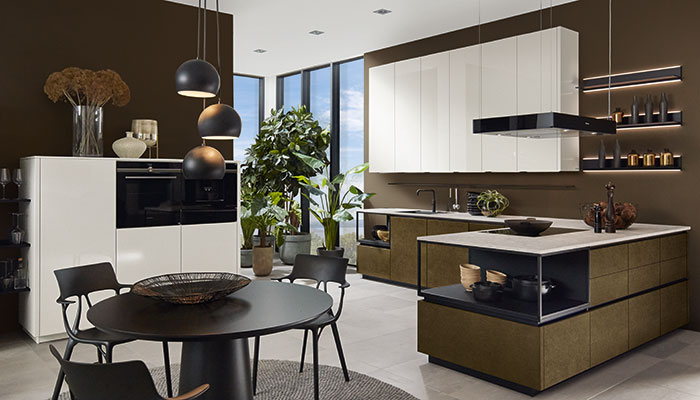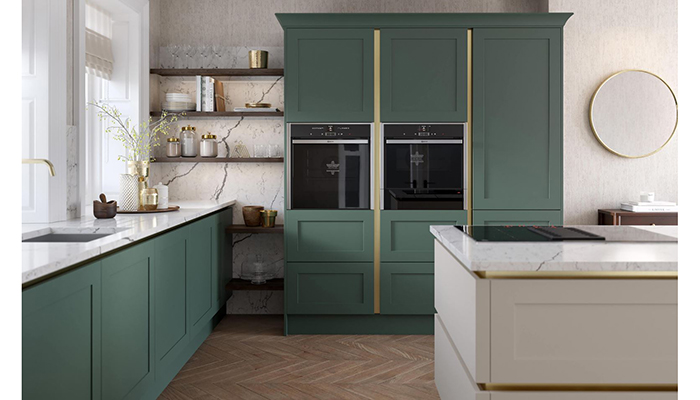 Once a client has decided to dispense with handles, how can they be confident that their new family kitchen won't look too utilitarian? "Clever use of lighting with pendants or back lighting, along with open shelving and worktop and splashback textures really help soften the space of a modern handleless kitchen, avoiding a scheme that can easily become too clinical for a client's taste," says James Bishton, retail sales director for Omega Plc. In conjunction with a well thought out lighting scheme, high-gloss finishes can really help to give the impression of more light – especially important in projects where space is at a premium.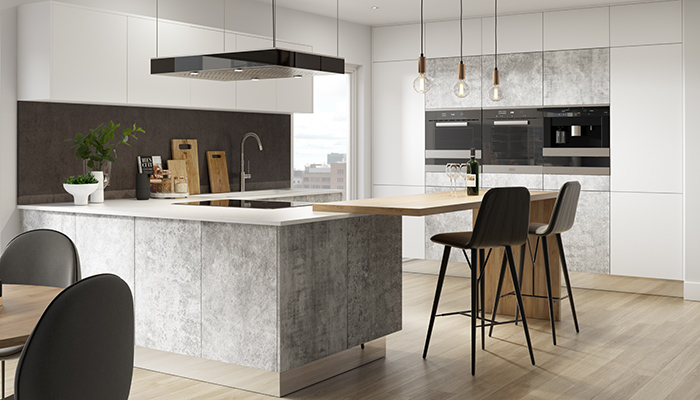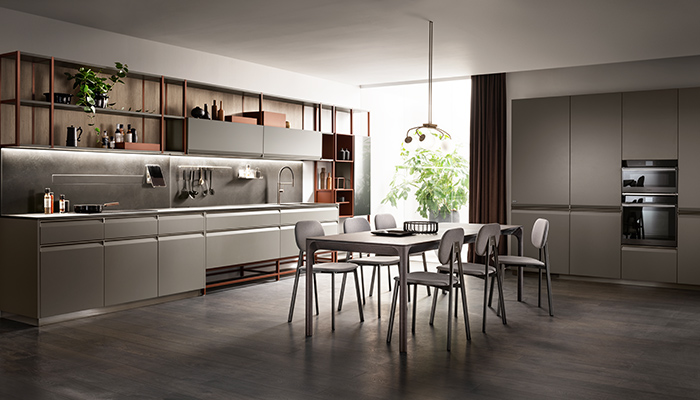 Steve Tough, commercial sales director for Masterclass Kitchens, reveals that handle rails provide a perfect opportunity to infuse a little colour into the design and make the kitchen truly personal to the client. "If they have opted for a single-tone handleless kitchen, a handle rail with a contrasting colour will add depth to the design and really emphasise those beautiful clean lines. Alternatively, use textures for a beautifully subtle design statement for the handle rail, such as wood or metallic finishes."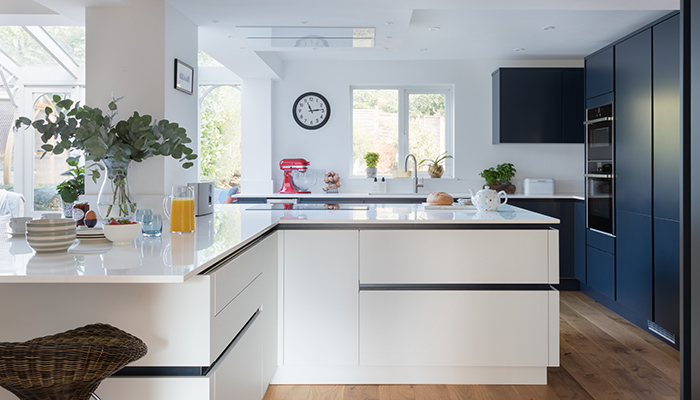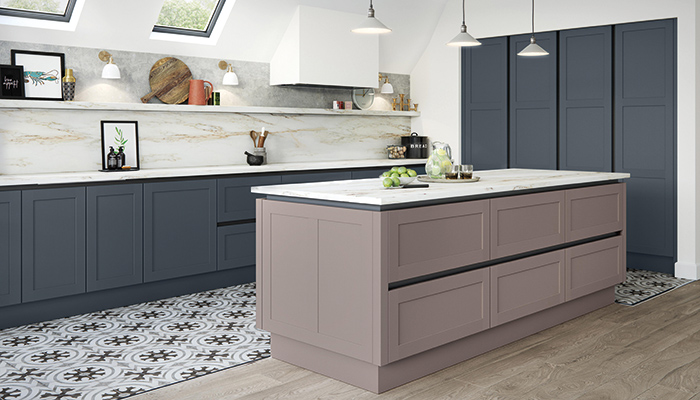 Clean, unbroken lines are a big part of the appeal of a handleless kitchen, and the absence of handles provides an opportunity for creativity in other ways. Emma Stuart Stephenson, head of marketing for Mereway, says: "When the look is not going to be broken up with handles it opens up all sorts of possibilities for kitchen designers; experiment with different texture, colours and finishes and or incorporate a mix and match look which work wonders in any space."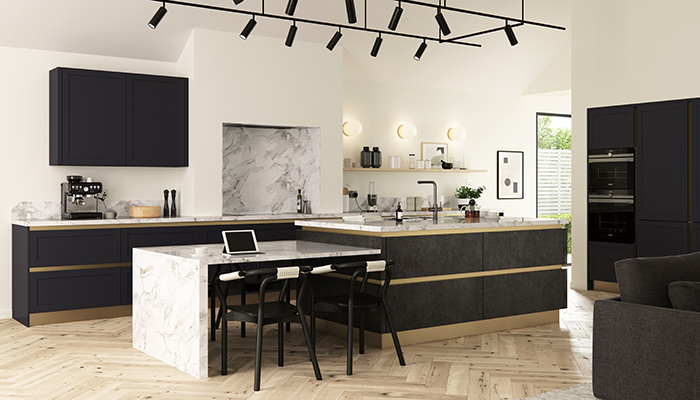 Matt Phillips, head of UK operations for Rotpunkt, shares this view. "The handleless kitchen presents the ultimate blank canvas for the kitchen designer, allowing them a huge amount of freedom to express the end user's personal style and to complement their lifestyle and living arrangement, whether kitting out a vast open-plan area or working with a studio apartment that is limited on space."