The new KI Bathrooms showroom in Tillicoultry near Sterling is all part of the brand's wider ambition to enter the interiors market. We take a look around and talk to Nicola Whyte, KI Bathrooms sales designer, about the design of the space. Photos by Paul Mavor Photography.
Q: Why did you choose this location for the new showroom?
A: We already have a highly successful kitchen showroom within Sterling Furniture's Tillicoultry flagship showroom so it was an obvious expansion to include bathrooms next door. We are often asked by clients who are delighted with our service if we can provide bathrooms so diversifying into bathrooms was the next logical step.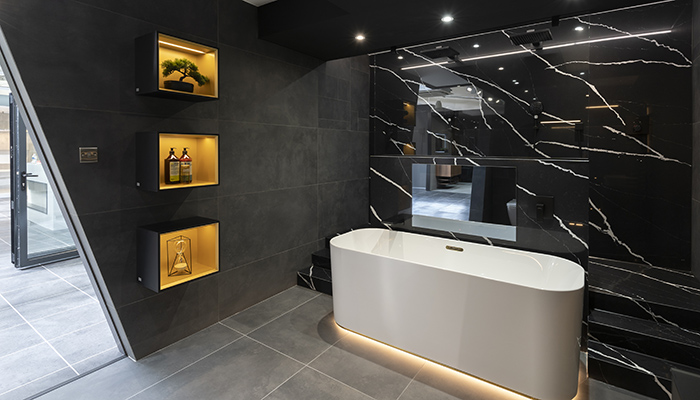 Q: What is the concept behind it and how long did the build process take?
A: We want to offer clients the chance to re-design both their kitchen and bathroom from one showroom, as well as offer a fresh and unique approach to the world of bathroom interiors. The essence of the showroom is luxury with large stunning displays and a place where you can indulge your aspirations. The build process took about 6 months, but this was not helped by the lockdown earlier in 2021 when we had to cease the installation.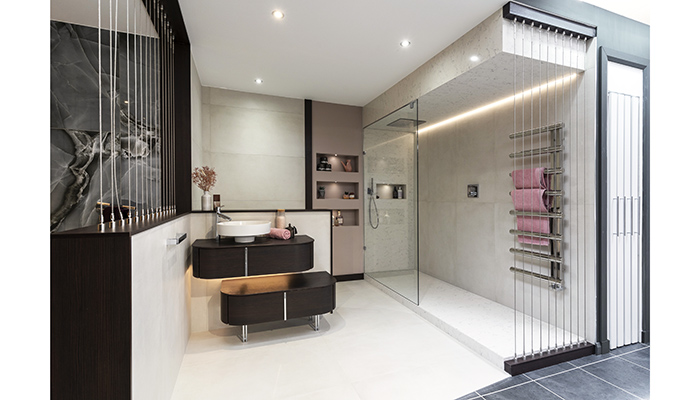 Q: How many displays are there?
A: There are nine displays showcasing a range of products from leading manufacturers including: Villeroy & Boch, Keuco, Waters Baths, Corian, Dekton and Silestone by Cosentino. The showroom also features a Spa enclosure and working Hansgrohe/Axor Display. Each display was designed around a theme ranging from natural/organic to futuristic/high tech.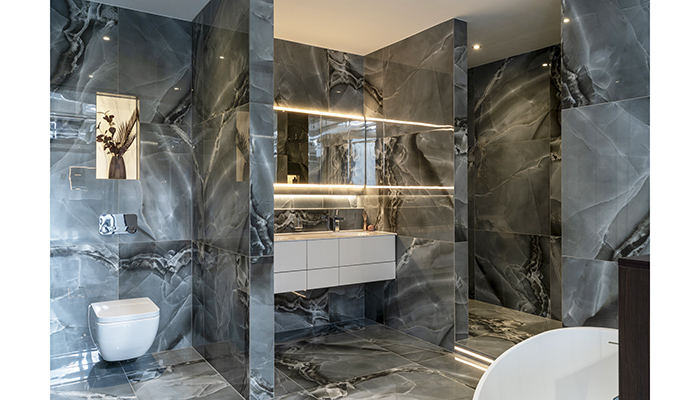 Q: How did you decide on the styles of the displays and which products to showcase?
A: At KI we have a consistent approach to studio design, which ensures that the client journey and overall experience is relaxed and enjoyable no matter which studio they visit. Our luxury bathroom showroom offers a wide range of the finest materials and feature lighting creating a warm and inviting ambient atmosphere to inspire clients.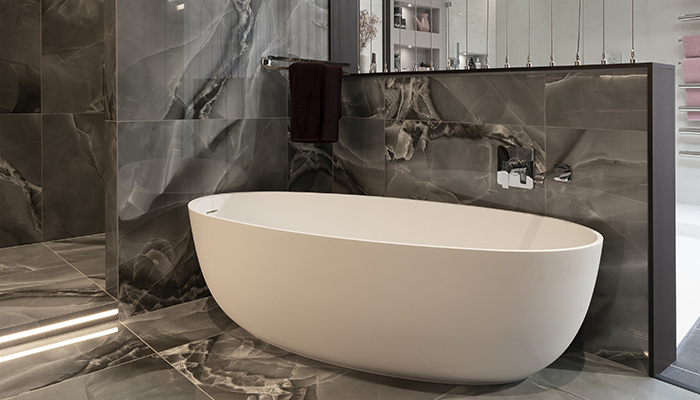 We wanted to showcase products that inspired clients and oozed luxury so they could really see and feel how their bathroom could look. For example, the bespoke spa and steam enclosure situated in the centre of the showroom captivates their attention as soon as they walk in. As a large tranquil place it shows how a calming atmosphere can be re-created in a client's home.
Q: In your view, is there anything different about this showroom compared to other bathroom showrooms?
A: As our first ever bathroom showroom we feel it has a very luxurious atmosphere. Each display is large and sumptuous and showcases as many different products, systems, finishes and colours as possible in complementing schemes. By including a large dressing room featuring Callerton furniture demonstrates what can be done beyond the bathroom. The showroom also has a live working Hansgrohe/Axor display demonstrating a range of shower and taps all working, allowing designers to demonstrate the wide range of shower spray patters available to clients. With shower systems from Rainfall powder to full force body jets this is a highlight of the showroom.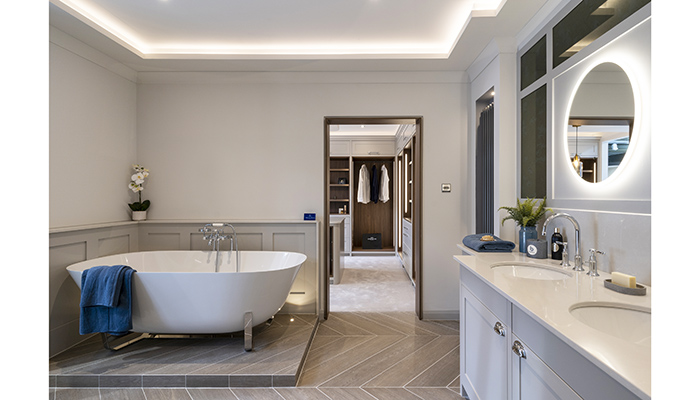 Q: In general, is KI moving into whole house projects and interiors?
A: KI has always provided innovative design, exceptional service and unbeatable value. Although kitchens remain the heart of the home it is a logical step to offer design and installation of other rooms, particularly living rooms, bedrooms and bathrooms as they often flow off the kitchen. With living now more open plan we have, for a few years, offered wider house interiors but this is the first showroom dedicated to bathrooms under the KI umbrella.