Available in countless colours and with the flexibility to be cast in any number of shapes, concrete is fast becoming the must-have material in the bathroom. Emma Hedges rounds up 10 concrete basin creations that the style-savvy homeowner will love.
1. The Round basin from The Poured Project is the result of the company's collaboration with Mandarin Stone and is their most popular design due to its flexibility. Working perfectly in an en suite or cloakroom, but looking equally effective as a pair in a master bathroom setting, the basin measures 422mm in diameter and has a depth of 140mm. It is pictured here in Crimson.
2. The Aura Double is one of a trio of recent launches from Kast, all featuring a distinctive slim 'pill' shape. The twin concrete basin has a central vanity space with a striking fluted surface pattern, which cleverly conceals the waste. Designed for use with wall-mounted taps, it is suitable for wall or surface mounting, and comes in a choice of 28 colours – pictured here is Blue.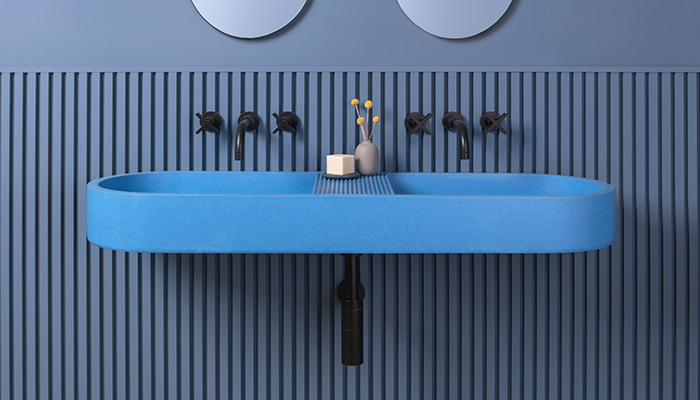 3. The Belle basin from London Encaustic measures 150 x 600 x 350mm, weighs 27kg, and is hand-poured for a unique 'imperfectly perfect' finish. Pictured here in Blush Pink, it is also available in six other colours to appeal to a broad variety of tastes, and to suit both bold and neutral bathroom schemes.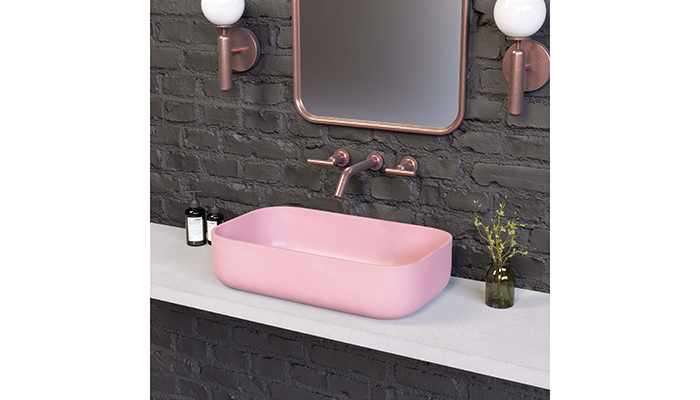 4. The rose-shaped Assisi basin from Ca' Pietra is designed by Elle + James, and said to be inspired by the rose windows on the Romanesque facades of the Unesco churches in the Italian town it is named after. It comes in two sizes – 380 x 380 x 135mm and 435 x 435 x 150mm – and in 22 colours. Pictured here is Blush Pink.
5. The Koro basin by Formed has a geometric design of narrow sweeping ribs wrapped around the surface that create shadows and highlights, which makes for a smooth tactile surface. It measures 550 x 350 x 550mm, and can be wall or surface mounted, and is suitable for a wall-mounted tap. Available in a total of 40 colours, it's pictured here in Peacock.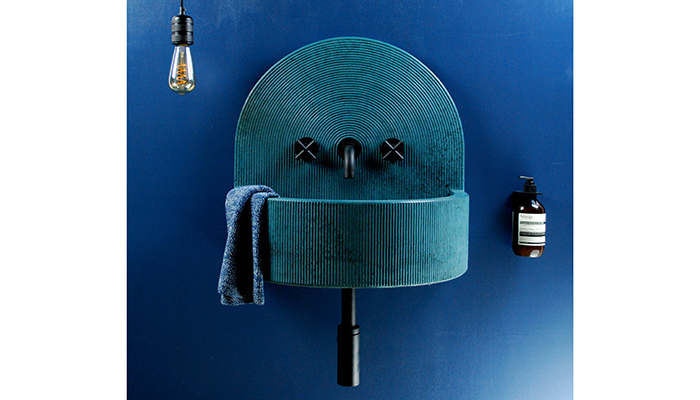 6. The Cero basin from Kast has a clean, simple shape incorporating an extended vanity area, and comes in left- and right-handed configurations. Suitable for wall or surface mounting, it is compatible with all standard wastes and is designed for use with a wall-mounted tap. Measuring 830 x 420 x 100mm, it is pictured here in Peach.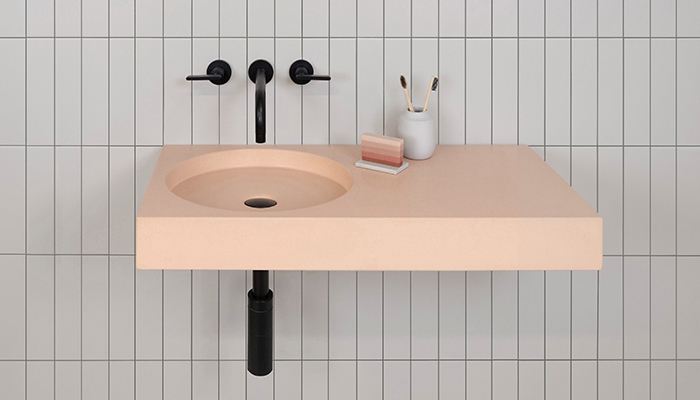 7. The Rectangle basin from The Poured Project's collaboration with Mandarin Stone is said by the company to be a versatile size, measuring 538 x 360mm, making it equally suitable for a cloakroom or a family bathroom. Pictured here in Olive, it's available in the brand's full selection of colours, from Black and Wine, through to Pink and Hoose Green, and can also be colour matched, if required.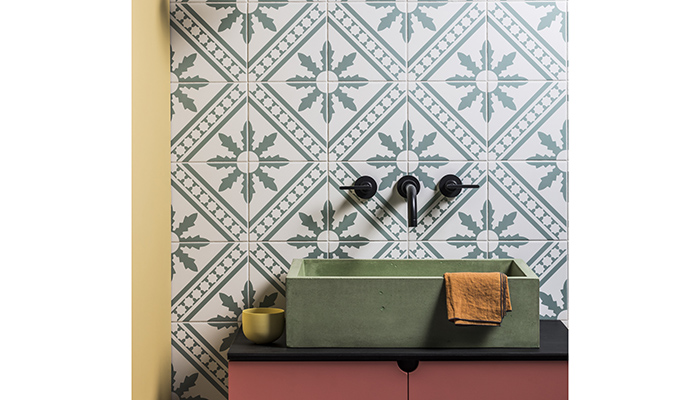 8. The Arch range is part fo the Arc series of basins from Formed, featuring an arched bowl within a mono block form to provide generous vanity space at the back and sides of the basin. Suitable for wall or surface mounting, it is available in 10 single sizes and four double basin sizes with a central waste. The Arch double is pictured here in Blue.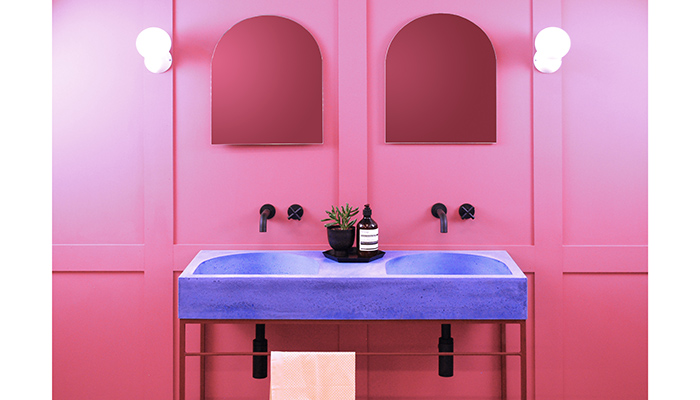 9. The Mae concrete basin from London Encaustic is a clean-lined, wall-mounted sink with integrated splashback. Suitable for use with wall-mounted taps, it measures 450 x 600 x 350mm, and weighs 50kg. Pictured here in a colour inspired by the 1950s – Lemon Yellow – it also comes in six other shades, including Storm Blue, Liquorice Black, Blush Pink, and Industrial Grey.
10. The Siena concrete basin by Elle + James for Ca' Pietra is inspired by the Italian city with the same name, which has a central piazza that is also fan shaped. The half-hexagon form makes it ideal for cloakrooms and en suites, and it comes in four sizes for added versatility. Available in 22 colours, it is pictured here in Lavender Pink.