Although consumers' love of entertaining at home was born out of necessity over recent times, it continues to be a popular alternative to going out for drinks, with many people embracing the new trend for knocking together cocktails in the comfort of their own kitchens. Lisa Hibberd explores the latest designs for integrated home bars, which are proving to be much more than just a passing fad.
"Throughout the pandemic, we have all had to come up with new ways to entertain ourselves at home," says Steve Tough, commercial sales director at Masterclass Kitchens. "Doing so taught us that we don't necessarily have to spend a fortune in bars and restaurants to have a good time. Instead, consumers are now choosing to redesign their homes to include personalised entertainment spaces. Home bars and cocktail stations offer a dedicated social space where they can relax with family, host guests, or simply unwind with a glass of wine."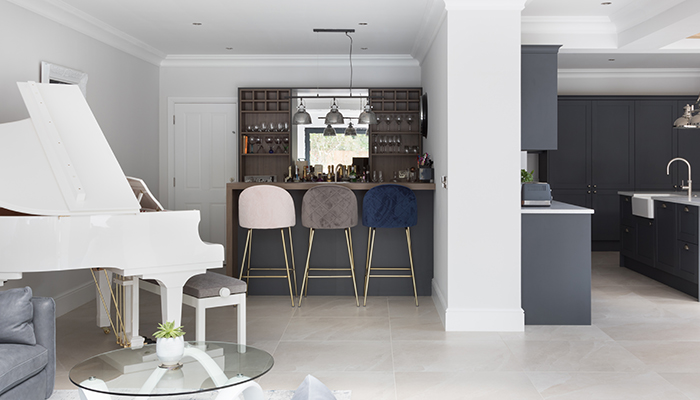 Matt Phillips, head of UK operations for Rotpunkt, agrees. "In the past 12 months the ready-to-drink market has really expanded and I think this is here to stay, especially as consumers are adapting to the 'new normal'. The home bar has therefore become very popular, especially throughout the colder months when the garden is off limits. With this in mind, it is no surprise to see demand for fully-fitted bars complete with sinks and space for cooling now entering the kitchen space," he says.
"The days of the drinks trolley for special occasions are long gone as home entertaining has soared over the past decade," explains Julia Steadman, commercial director at Brandt Design. "As the UK has developed an extensive food and drink culture with everything from artisan gin to craft beer, the kitchen has become the key room in the home for socialising. It therefore makes sense to incorporate a dedicated bar area which will cater to all tastes, so that family and friends can enjoy all the comforts of a favourite café or public house complete with specialist equipment such as bar sinks and Champagne troughs."
According to Richard Turner, national sales manager for Pronorm, UK & Ireland, the size of the space available is key in determining how a client's bar area should be designed. "Great results can be achieved in compact spaces with say a 2-2.4m run of cabinetry, with base units for storage and glass fronted cabinets on the wall to display glasses, bottles or wine coolers. Racking to suspend glasses is a simple and very effective way to make it feel very 'drinks club', while a small sink and a pull-out bin for empties are both useful additions."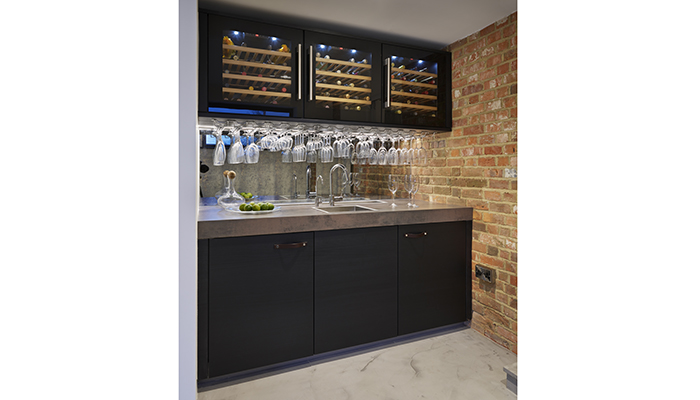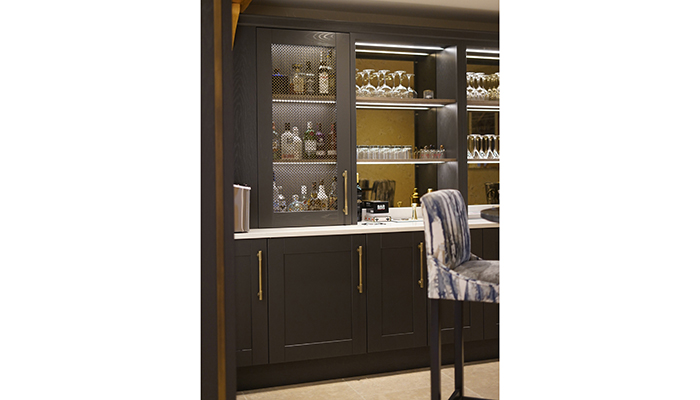 Careful consideration should also be given to whether the client prefers their bar area to be on show, or hidden away while not in use. "For a recent project for clients that love to entertain friends and family, we were asked to create an integrated bar cabinet for storing wine, spirits and for making cocktails and canapés," comments Darren Taylor, managing director of Searle & Taylor. "Because their open plan kitchen is a multi-purpose space, we suggested concealing the central aspect behind pocket doors so it would seem like a free-standing cabinet by day and then, when the doors are hidden within recesses, become a fully operational bar area by night."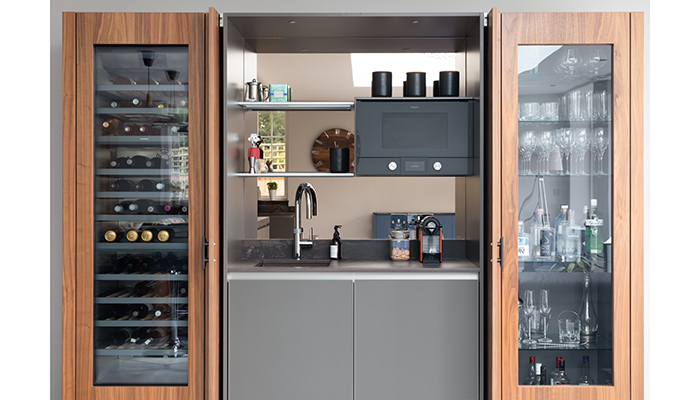 Peter Humphrey, design director and founder of Humphrey Munson, suggests that, since lockdown, a drinks cabinetry area in the home has practically become de rigueur. "So many embraced making their own cocktails, or marked the end of the week by trying different wines. Having a bespoke drinks bar designed allows clients to create exactly what they need in the space. Always think about what you want to include and design accordingly, choosing practical materials that will stand the test of time. Quartz worktops are amazing for ensuring low maintenance and easy-to-clean counter areas."
Helena Myers, director of The Myers Touch reports that many of their clients are looking to recreate a bar environment in their own homes, and are integrating everything from larger drinks cabinets to bespoke bar cabinetry, with separate seating areas for entertaining. "It's essential to understand how clients will use the space – from families to big groups of friends, or perhaps the creation of more intimate social gatherings," she says. "It's also important to use the right materials in order to complement the rest of the kitchen. Antique glass is hugely popular as a splashback in adding a touch of sophistication, whilst the use of metals like brass or copper add warmth and glamour. These can be paired with beautiful natural or engineered stone to work in harmony with other areas of the living space."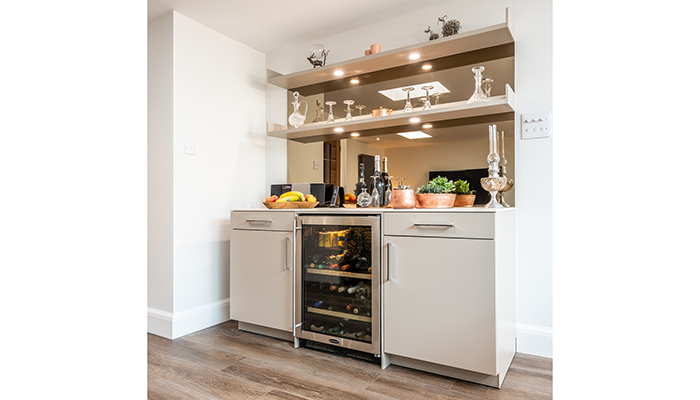 "If integrated in a kitchen diner, then we consider the layout so that the bar area is part of the 'entertaining zone' and therefore near the dining area," reveals Simon Taylor, managing director of Simon Taylor Furniture. "We also ensure that the materials used work with the rest of the kitchen cabinetry because most integrated bars are concealed behind door fronts, or pocket doors so when they are closed the aesthetic must work with the flow of the room."