Laura Davie, marketing manager for Cosentino UK, reveals the inspiration and innovation behind the new Silestone Ethereal collection, and tells us how the company is going about supporting its retail partners.
Q: Why have you launched the new collection now?
A: The recent evolution of Silestone with its new emblem and character inspired us to launch Ethereal – a collection which represents a quantum leap in terms of design, innovation and sustainability. This is in line with the transition that Silestone is undergoing externally and internally with the introduction of cutting-edge HybriQ and HybriQ+ technologies, which ensure 99% of recycled water and 100% renewable energy are used throughout the production process.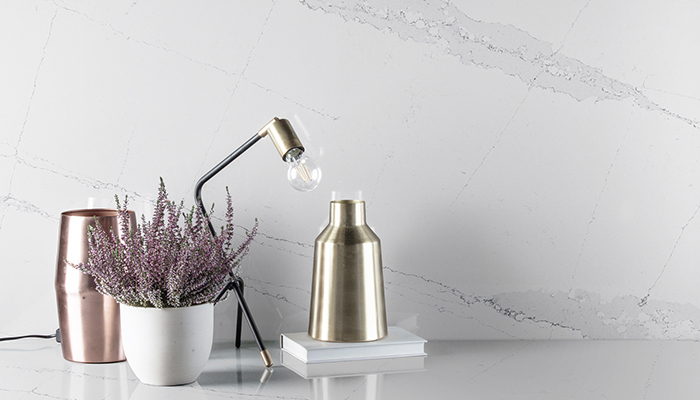 Q: Is it in response to any particular trend?
A: Neutral worktops including white, grey and marble-inspired designs will always have a place in the market, as they deliver a premium feel and are completely timeless. We wanted to continue adding marble-look designs to our portfolio as they are ever increasing in popularity, and we want to ensure designers are able to source the one to bring a homeowner's dream kitchen to life.
Q: Is there any particular aesthetic theme running through it?
A: For this collection we have taken inspiration from the sky, and its dream-like beauty. The result is a collection of white canvas surfaces with intricate veining reminiscent of marble, emitting feelings of calmness and tranquility – something we can all feel when taking a moment to sit still and watch the clouds or stargaze.
Q: How does the new collection differ from previous Cosentino products?
A: In many ways, Ethereal is an evolution from our very popular Eternal collection of marble inspired surfaces. Ethereal Glow can be compared to our widely recognised and acclaimed Eternal Calacatta Gold colour. Both colours embrace golden and grey veining throughout, with Ethereal Glow's finer veining resulting in a more delicate look. As we continue to research and dedicate ourselves to offering sustainable solutions, we're very proud that Ethereal surfaces include at least 20% recycled material in their composition. The new designs are elegant, yet still characterful and providing depth and contrast.
Q: How optimistic are you feeling about the market looking ahead?
A: The construction market in the UK is growing steadily, and retail sales continue to be strong. There has been an unexpected boom following the COVID-19 pandemic outbreak, but it is important to never be complacent. Cosentino continues to make huge strides in product innovation which in turn has set us apart from our competitors and created an increase in demand for our products. Our commitment to sustainability and multimillion investment into initiatives such as creating the biggest solar farm in Europe by a private company gives our customers added value and peace of mind, knowing that they are buying a sustainable product from a company with minimum environmental impact. This is an increasingly important consideration and priority for all of businesses and consumers.
Q: What support are you currently offering UK retailers who have been facing challenges regarding COVID-19, and supply problems?
A: We recognise the importance of supporting and elevating our retail customers. Throughout the pandemic we have been keeping our retailers constantly updated and informed to make sure we are offering the best possible service to fabricators and their retail customers. We've been offering virtual presentations and webinars and one-to-one meetings as required, as well as a service to consumers to view material virtually either with their studios or on their behalf. In addition, we are investing millions into our digital platforms, Cosentino We and Pro, to source valuable leads that we can send directly to our VIP studios.