Marble in the bathroom has always been a guaranteed way to create a luxurious interior, but the high cost of the real thing, plus the problems around transporting and installing such a heavy material, make specifying it a daunting prospect. Added to that, the ongoing potential maintenance headaches for homeowners in placing a porous product near water, not to mention mounting questions around its sustainability, make it a challenging choice.
Enter the porcelain tile – water resistant, non-slip, easy to clean, straightforward to both transport and install, and with a lower environmental impact. With high-definition digital inkjet printing and new technology that enables manufacturers to recreate the exact feel and texture of marble, it is also increasingly difficult to tell that a porcelain product is not the real deal. With a growing appetite for bolder interiors and stronger colours, it seems the marble-effect tile is now coming into its own.
"At the moment we've noticed that customers are looking for more decorative materials and moving away from the minimalistic style of previous years," says Pedro Miralles, commercial director of Apavisa. He adds that the company has been investing in new technologies that enable it to produce much stronger colours in its ink printing. Its recently launched Amethyst tile – a highly polished marble-effect porcelain in a rich purple with a cream background – is a perfect choice for a homeowner looking to go for bold.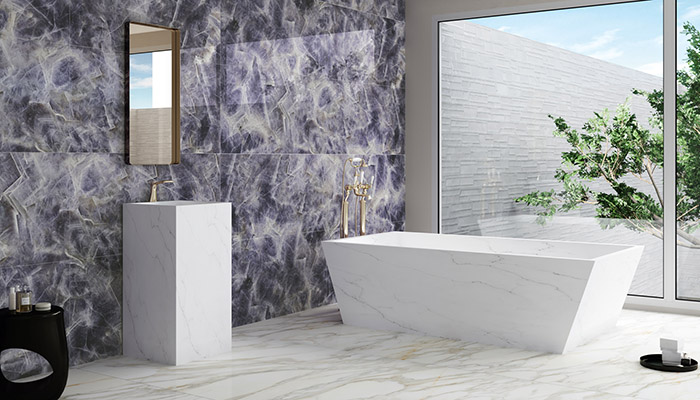 The large formats of many of these products, as well as the rectified edges that reduce the appearance of grout lines, give a seamlessly realistic look, however the prevalence of hyper-real colours in some of them mean that any similarity with the natural product often ends there. The Marble Nouveau tile by Roca may mimic a marble perfectly, but its vivid azure tones make it unlikely to be found in any quarry.
Pamesa has also unveiled a raft of dramatic marble effects this year. Among them is the CR Lux Ossola tile – a porcelain marble-effect tile that is inspired by Palissandro marble and streaked with blue and lavender tones.
Also from Pamesa is the CR Arno tile which comes in two colour ways – Antic ochre and Azurro blue – and has intense veining that contrasts with a white background. Teaming it with a contrasting plain tile – such as here with Pamesa's Koncept cement-look tile – creates balance.
The bold marble look is particularly suited to designing feature walls, and providing a scheme with a dramatic focal point. Here, four of Pamesa's large-format rectified CR Lux Danae tiles create a stunning backdrop to an elegant freestanding tub.
Similarly, the Bahia tile by Geotiles – a super-polished marble-effect grès porcelain in vibrant blue – adds plenty of wow factor here in a bookmatched pattern on a feature wall.
But it's Apavisa's showstopping Fluid tile with its swirling marble-effect design inspired by the flowing energy in nature that wins the prize for its sheer colourful daring. Launched this year and available in two colour ways – Multicolor, shown here on the wall, and Black, pictured on the floor – it takes the bold marble-effect look to a whole new level.