We talk to Shehryar Khan, MD of Twickenham-based kitchen design studio Sheraton Interiors, to find out how the team went about creating a new design in keeping with the aesthetic of a Victorian family home.
Traditionally, the kitchen in a Victorian house was used only for cooking, with the scullery reserved for scrubbing vegetables and washing dishes, and the concept of an expansive, sociable, open-plan space is a purely contemporary one. So when tasked by his clients to create an authentic design in a new rear extension including plenty of storage and space for entertaining, Sheraton Interiors' Shehryar Khan decided a classically elegant inframe Shaker style from the company's bespoke collection was the logical way to go.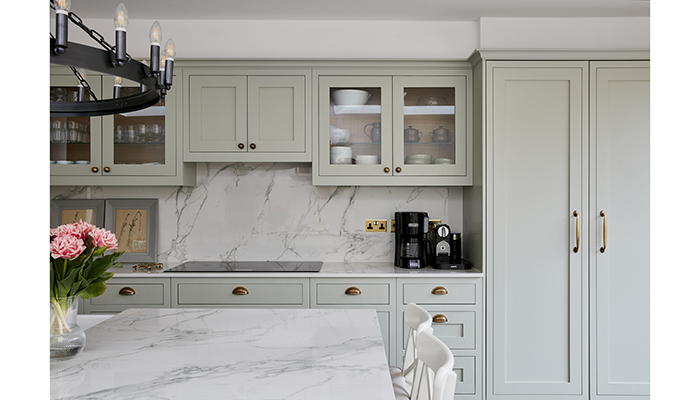 "It was a beautifully presented five-bedroom Victorian home arranged over four ample floors. Shaker style suited the house and also the type of quintessentially British look that our clients were aiming to achieve," he explains.
As the homeowners wanted a light and airy feel but hadn't settled on a specific colour palette, the team suggested smooth painted tulipwood in Mizzle by Farrow & Ball – the soft grey/green shade brings a fresh feel and works well when it comes to maximising natural light.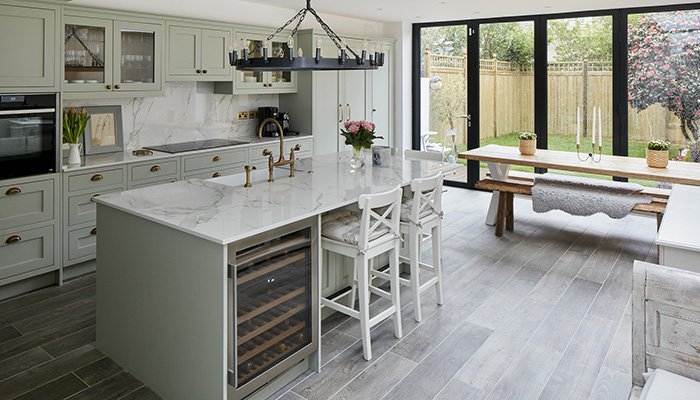 The focal point of the design is a majestic kitchen island, which offers the best of both worlds in terms of practicality and sociability.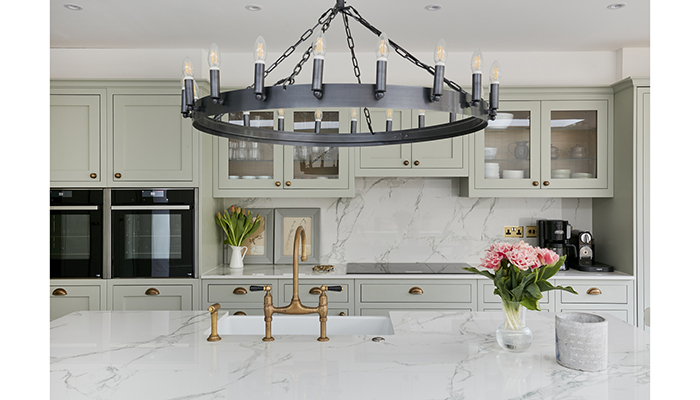 Dekton Natura worktops offer a more practical modern solution compared to real marble, and continue the bright theme throughout the rest of the space.
"The island houses a Belfast sink, storage on the rear of the island, a dual-zone wine cooler and seating for four. To top it off, we added a handmade antique brass Perrin & Rowe French-style tap and a pull-out rinse, matched to the Armac Martin brushed brass handles," says Shehryar.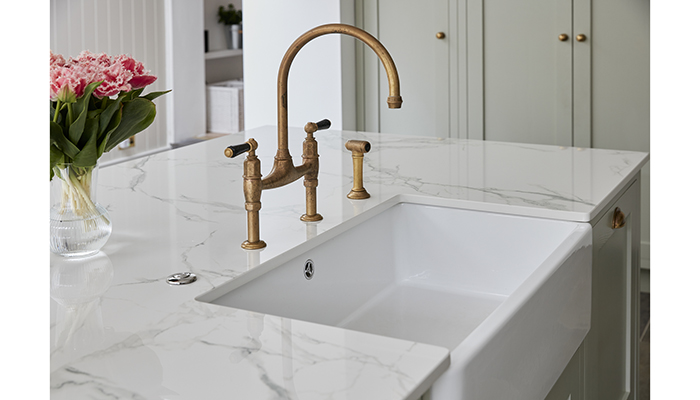 "On the main run, we designed tall units on either side to give the client plenty of storage including a full-height fridge and freezer, and two Neff 'slide-and-hide' ovens. We centred the induction hob creating a perfectly symmetrical space, and decided to use see-through glass cabinets on either side of the canopy hood to avoid the run looking too heavy," he says.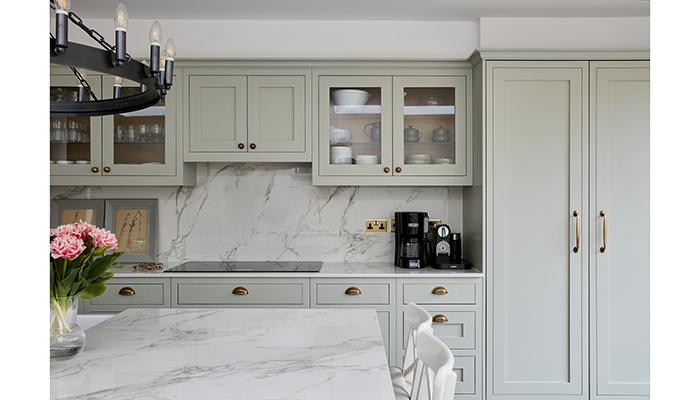 Mindful of the requirement for plenty of storage, Shehryar incorporated a full-size breakfast pantry and tall larder offering the homeowners scope to minimise clutter, and it's this feature that turned out to be the clients' favourite once the kitchen was complete.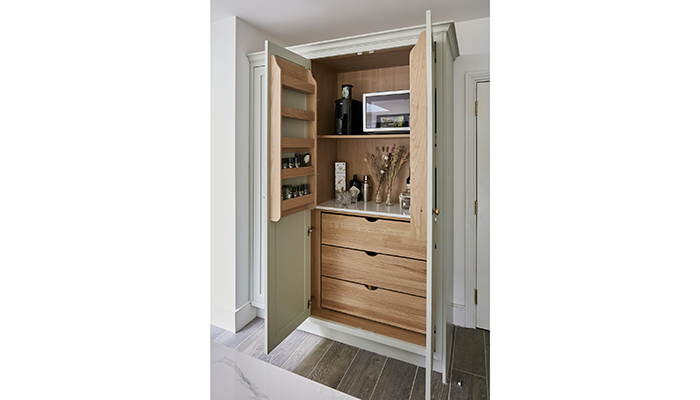 In terms of challenges to overcome, the project was a joy to work on as the straightforward layout of the space dictated many of the key decisions. "Due to the shape of the room and where the windows and entrance are, we knew that the run of units would be along the wall with an island directly opposite the hob to be used as prep and entertainment space," says Shehryar. And when it comes to his favourite element of the design? "The island," he says simply.