As Caesarstone presents its Pebbles Collection at KBB Birmingham, we talk to Jon Stanley, VP marketing at Caesarstone UK & EMEA, to hear how the new quartz surfaces are a response to our longing for the outdoors during lockdown, and a reflection of consumers' newfound love of neutrals.
Q: Tell us about the new collection – how many different products does it consist of and why have you launched the new collection now?
A: The Pebbles Collection is shaped by nature and contains new surfaces that have all been inspired by tumbled pebbles commonly associated with nature's streams, rivers, and oceans.
The collection comprises five new quartz surfaces: 1001 Riverlet, a gentle off-white with discreet brown capillaries reminiscent of beach pebbles from the shore; 1002 Wyndigo, featuring warm earth gradients and foam grey capillaries across its 'greige' base, with a honed, matte finish; 1003 Raindream, a slate grey created from two close monotones, with dark grey capillary streaks finely outlining its lighter tones; 1004 Stoneburst, composed of two shades of sage grey, to perfectly complement pistachio coloured kitchens; and 1006 Agger Grey, characterised by a warm, grey smoky base with clay undertones, making it a versatile surface suited to anything from urban kitchens to country houses.
The pandemic and our confinement to our homes made us all yearn for the outdoors. This new collection, with organic colours, patterns and textures at its essence, responds to the growing global trend for nature-inspired interiors. Over the last few years, we've continuously introduced more and more collections – from our multi-award-winning Metropolitan range to the Whitelight and Dark collections of the past two years – and our expert team of designers based at Caesarstone HQ are constantly looking at the latest trends in kitchen design and new ways of working with quartz to ensure we keep our offering fresh and exciting for homeowners and designers.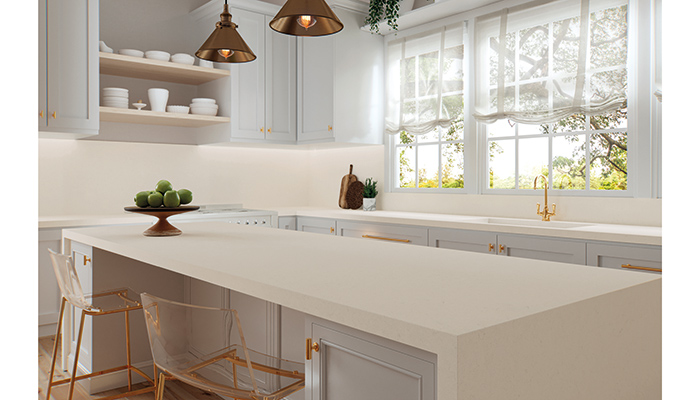 Q: What is the inspiration behind it?
A: As the name suggests, this latest collection was inspired by the humble pebble; slowly smoothed over time in rivers and oceans, it is special and distinct. Each one symbolises many sensations and meanings, from shaping ancient tools to creating the spiritual serenity of a rock garden. It embodies the same elements of calm and serenity that you get from a simple pebble, and we're looking to carry this feeling of tranquility into people's homes in the UK and beyond.
Q: Is it in response to any particular trend?
A: This collection addresses a desire for a different approach to veined work surfaces. Plus, after a dramatic increase in bold dark or striking white surfaces over the past few years we're now seeing shades of grey, beige and similar muted colourways proving popular – they work in a variety of different kitchen designs, from classic to contemporary, and a neutral work surface provides the perfect backdrop for pairing with bolder accessories or brighter colourways to create a distinctive look.
Q: What does the new collection offer retailers and designers in terms of design potential for their projects?
A: This collection can offer both retailers and designers a level of variety. Retailers can choose from a wide range of bright and soft tones, creating the perfect backdrop for everyday life in the kitchen. Along with previous collections that feature similar bold veining, dark tones, and white and bright visuals, this collection completes a versatile offering for designers, meaning we can now offer something for everyone.
Q: How sustainable are the new surfaces?
A: Our quartz surfaces are long-lasting and durable, delivering both improved life cycle costs and additional investment value. This buy once, buy better principle can help minimise unnecessary replacements – cheaper work surfaces may need to be replaced far quicker than you could have initially imagined. Furthermore, Caesarstone works with the leading sustainability organisations in the green building sector as part of its sustainability leadership. Our certifications for our manufacturing sites and products support our customers' needs for green and healthy building products and contribute to green building projects. This is reflected in the development of our first ESG (Environmental, Social and Governance) report, which evidences the many changes we have already made to create more sustainable products and the ambitious goals we have set to continue further along our sustainability journey.