Once seen as a purely functional addition to a bathroom, the latest heated towel rails offer far more than just a way to warm towels. New models come in a variety of finishes, and boast enhanced heating abilities as well as low energy consumption – Lisa Hibberd investigates.
"The bathroom heating sector has evolved substantially over the last decade, and the bathroom radiator is now firmly established as an important design element in any type or size of bathroom," explains Richard Eaton, product manager at Bathrooms to Love by PJH. "While the 'designer radiator' is very popular, the original ladder-style rail still maintains steady sales, due to continued design innovation in this category. Not only is it super practical with maximum options for warming towels over the rails, but there are many on-trend colours and finishes available to coordinate with individual bathroom styles. Take for example our new Matt Black Grada heated towel rail which is a perfect choice for industrial-themed or monochromatic interiors. Team with other matt black products such as brassware, showers, bath screens and enclosures, against the backdrop of pure white baths, basins and bathroom furniture, and the look is both sleek and striking."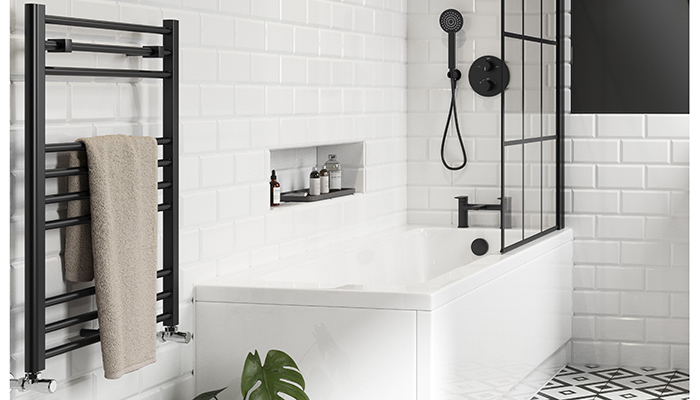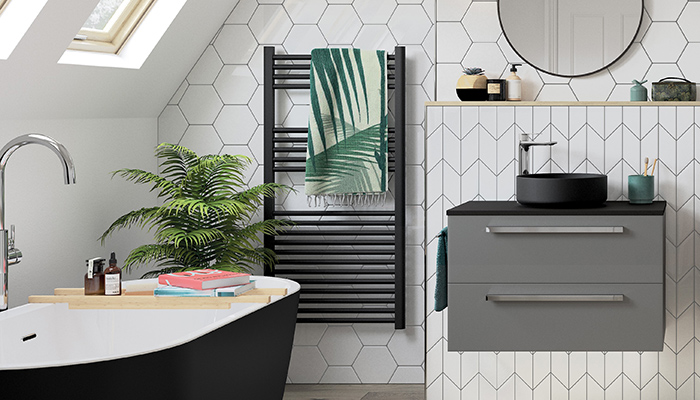 Alex Bradley, operations manager at MHS Radiators, suggests that, although chrome towel rails have been at the forefront of the market in previous years, colour has been waiting for its return to the bathroom. "Consumers are now embracing the idea of injecting pops of colour with accent products. Our ever-popular Nina towel rail in Denim Blue is flying off the shelves, as consumers want to bring colour into their bathrooms, so much so that we've made it a stock colour allowing designers to capitalise on this trend without delay.
"The trend for warm metallic finishes has dominated kitchen design in recent years and we have seen homeowners incorporating brass and copper accents in bathrooms, particularly for brassware and shower enclosure trims. However, consumers are becoming bolder and embracing bigger splashes of metallic finishes using towel rails to add more industrial and elemental styles. At MHS Radiators, we're seeing increased demand for our Lara towel rail in Antique Copper and Antique Brass, with these must-have metallic finishes outperforming the once popular chrome."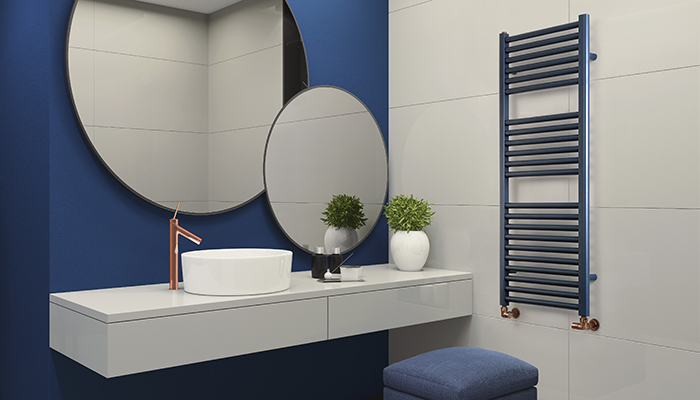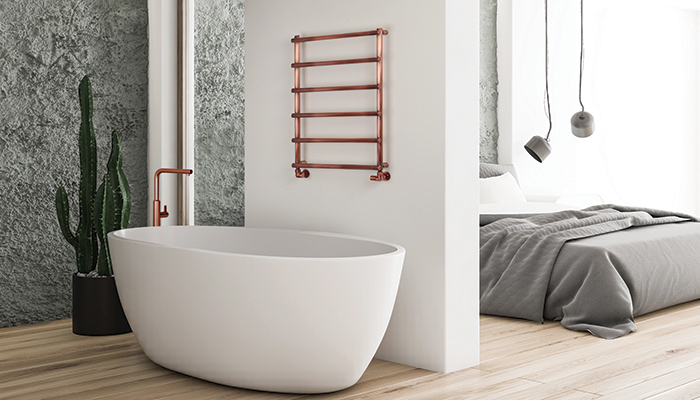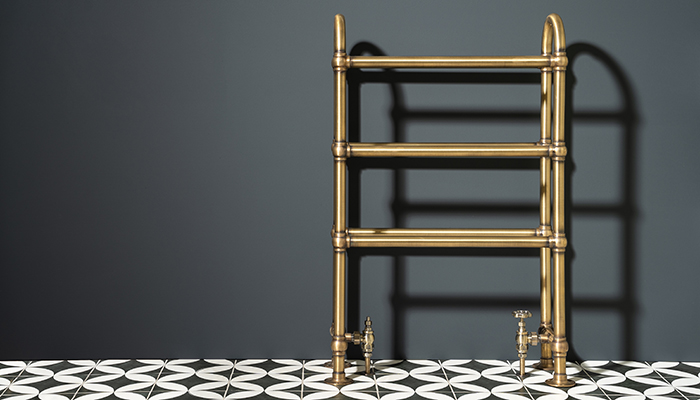 Aside from the the all-important visual appeal of a heated towel rail, what do bathroom designers need to consider? Richard Ticehurst, Crosswater brand expert, recommends starting with the basics of functionality and client needs. "Does your client require a towel rail to heat the room or to simply warm the towels? If the latter, you are best opting for an electric towel rail. These work independently to the rest of the heating system. So, if there's no central heating or it's been turned off for the summer, you can still have warm fluffy towels all year round.
"Space for towels is also important. If you are designing a family bathroom a taller towel rail is key to hold the number of towels likely to be used on a daily basis. Heating output is also a key consideration, and the required output depends entirely on the size of a room. For example, the average UK bathroom, measuring 2m x 2m, would require a heated towel rail with a heat output of around 1150 BTU."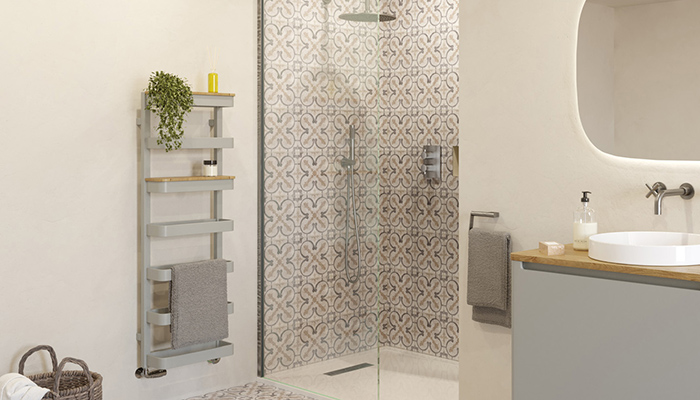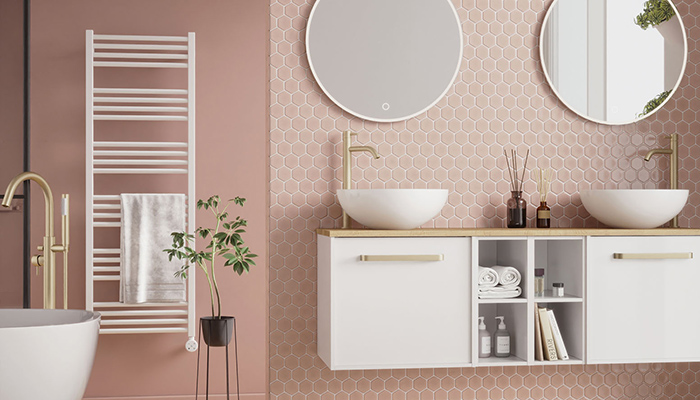 Steve Birch, sales director at Vogue UK, reports that the latest innovations in technology and design are key to making heated towel rails universal with a choice of electric-only or dual-fuel options, if required. "The desire for versatile, energy-efficient solutions in the home has given leading manufacturers the opportunity to create new designs which are lightweight, non-polluting, durable and most of all, visually appealing. Specifying aluminium towel rails will increase the design possibilities as this recyclable material enables installation on all types of internal walls: stud or solid. I believe that the growing shift towards eco-friendly products and a more sustainable home and lifestyle will only encourage a greater emphasis on the bathroom, defining it as a wellness space in the home where finishing touches like the heated towel rail come forward as a design staple."