There's no doubt that natural stone can look stunning in a bathroom environment, but what are the challenges during installation and the practicalities involved once it's in situ? Oliver Webb, sales and marketing director for Cullifords, reveals the pros and cons.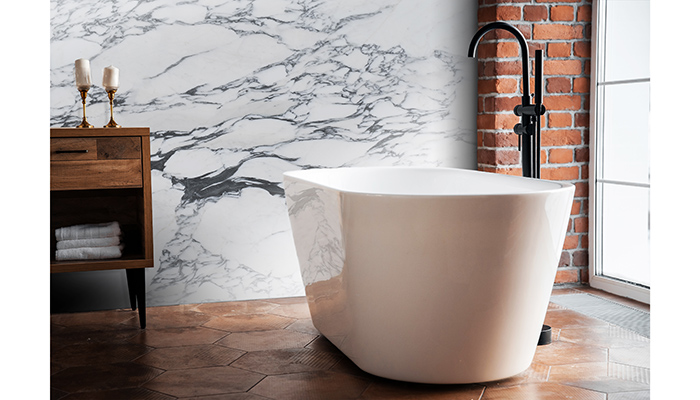 Q: How suitable is natural stone for a bathroom environment? What would your technical recommendations be to a bathroom designer?
A: Natural stone has been used in the bathroom environment for millennia and has been the go-to product for palaces, public buildings and private houses not only because of, in some cases, its opulence, but also its practicality. Natural stone is a very broad category and with all applications, some thought needs to be given to the type of natural stone being used, and the type of use this will get, also, to the customer and the type of maintenance regime they are thinking of, or are happy to afford. The more durable the stone, the better the longevity.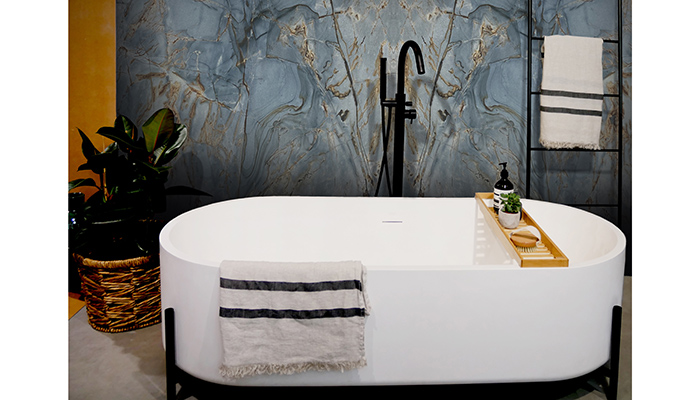 However, in many cases, the more durable granites may not be the soft colour palettes that a designer may want to incorporate into a bathroom. But there are softer granites that could work very well. Marble is often the go-to for a bathroom, and this has been tried and tested. I would avoid dark marble in a wet area, and opt for honed over polished finishes as this will be more durable and make the floors less slippery when wet. Limestones are very popular too, and offer a natural feel to the touch when used as flooring.
Q: What are the pros and cons, and what should designers make clients aware of regarding ongoing maintenance?
A: As mentioned, the softer the material the more likely it will etch or soak up some of today's more complex beauty products. Choosing limestones with fossiling, or marbles with some veining will reduce the opportunities for marks to show up. If you do want to go plain, there are plenty of restorers or products that homeowners can use themselves on the market to get problems out. If you do opt for a softer material, this does at least mean that in general it will be easier to restore and make good again if there is any damage.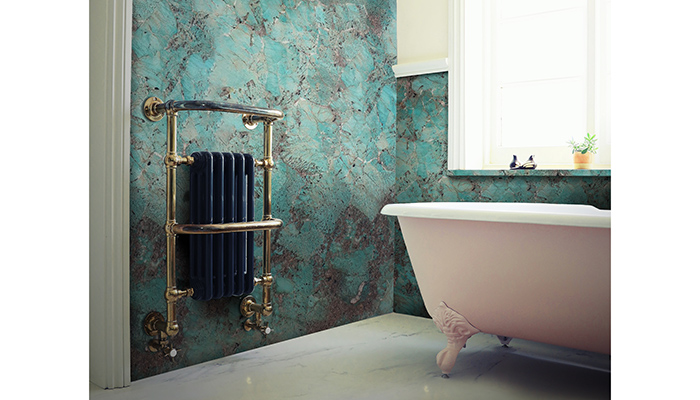 Q: How about installation challenges – what should bathroom designers bear in mind?
A: Architects and designers are often inclined to go for a 'big is beautiful' approach – stretching the boundaries of what is achievable. This will look amazing, but often this can be impractical, and particularly tricky for the fabricators and installation teams. It will depend on the performance of the stone, but if there are problems in the space, it is much more difficult to remove a massive sheet to get to a leak, rather than a smaller panel for example, so I would always be careful not to go oversized just for the sake of it, and rather think about the practicalities.
Access to amenities is always quite important, we have seen quite a few rip outs in the past because it's not easy to get to a leak, and good tanking of the wet areas will aid in stopping problems in other areas. This goes for both natural and man-made really though.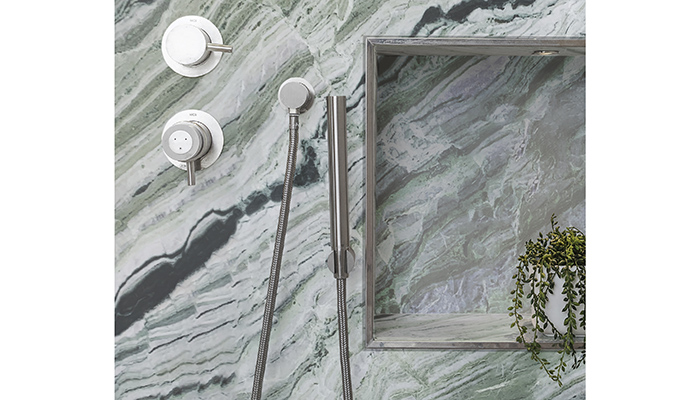 Q: How suitable is natural stone for a shower floor area?
A: It's absolutely suitable if well sealed and a good solid stone is used. A hard natural stone such as Lundhs Real Stone wouldn't need sealing and would last longer than the house itself, however a softer limestone will wear over time, but always remember, it can be refurbished and is a more sustainable choice than a resin or plastic shower tray which will deteriorate over time too.
The eternal question about slip resistance often arises, with never a straight answer. I've been in hotels who have polished floors in their showers, and the human bare foot is pretty adept at sticking to it. I would generally advise to opt for at least a honed finish, or even some grooves perhaps, and if your fabricator has the tech, perhaps a sandblasted area.
Q: What design effects and flourishes can be achieved with natural stone?
A: Many different design effects can be produced with natural stone, it's such a versatile material. At the moment it's great to see more elaborate edge details coming back with rounded basins, and edge profiles like 'lamb's tongue' bringing back the more traditional Victorian bathroom looks. I love seeing fluting detailing more reminiscent of more Art Deco periods too. We are finding that some of the older French materials are more popular, and antique-looking materials are popular too, giving the look and feel of timeless wash closets or French chateau chic. We're also asked for smaller pieces and stone for capping off things such as refurbished dressers, sideboards in the bathroom, or just a small vanity. Often less is more – a well-placed piece of 'natural art' can really set a room off and a 'feature wall' can often look amazing – although personally I think this may have been overdone, over the years!